Family Swim Bag Essentials
Summer is coming, and my family just can't wait! We live in a community that has a clubhouse with a pool and we spend every day there with our kids. I have very fond memories of summers spent in the pool with my family and I really love creating new memories with my boys each summer now as a mom!
To gear up for swim season, Baby Theo and I  joined a group of moms and their babies along with Huggies for a fun Mommy & Me Pool Part and Swim Class at the gorgeous Annenberg Beach House in Santa Monica last week.

   The party was decked out in a fun beach theme (thanks to the amazing Hostess with the Mostess) and there was plenty of snacks and drinks for the kids and moms alike!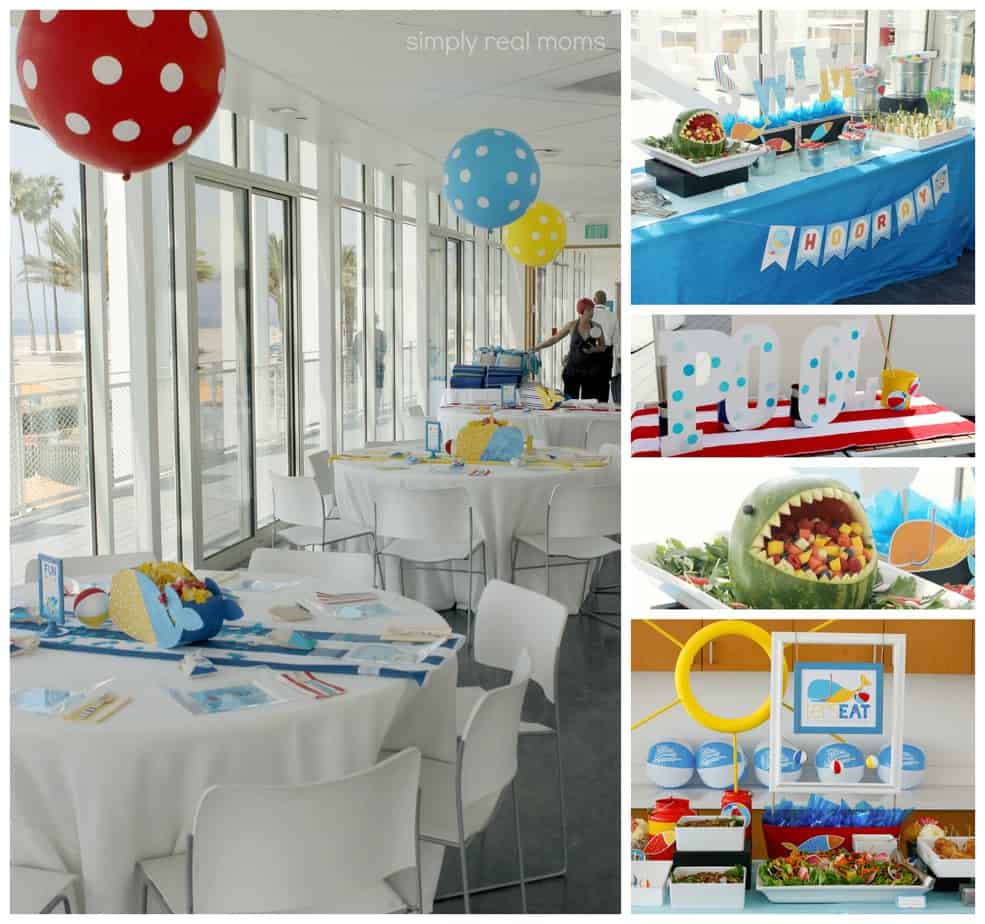 When it came time to change into our pool gear, Theo was ready and willing to sport the adorable Nemo print on his Little Swimmers! They slid right on so easily and at just 6 months old, he was ready for his first time in the pool.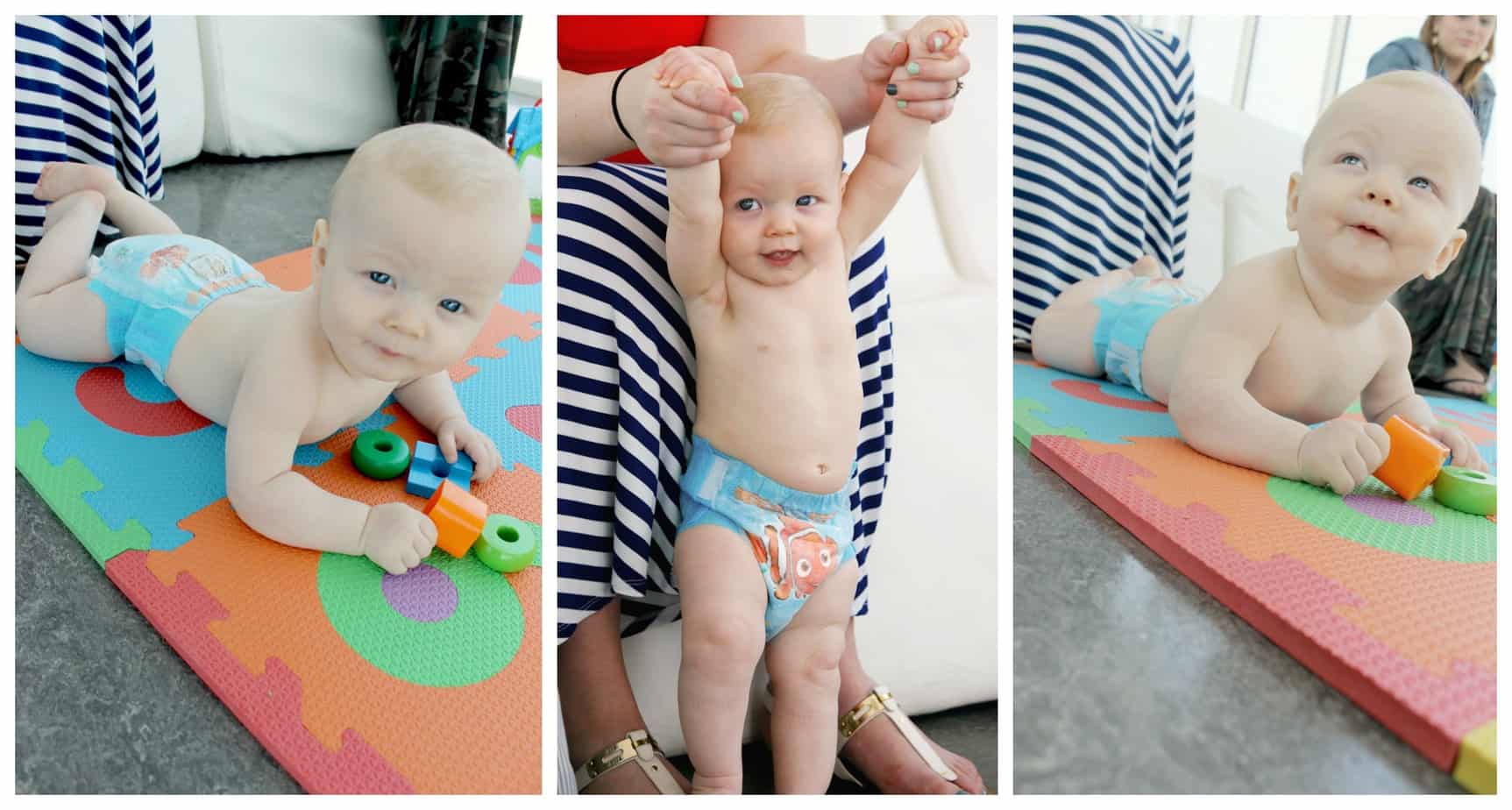 We made sure to slather on the sunscreen, since my Simply Real Baby is pale and not used to being out in the sun too much. Safety first!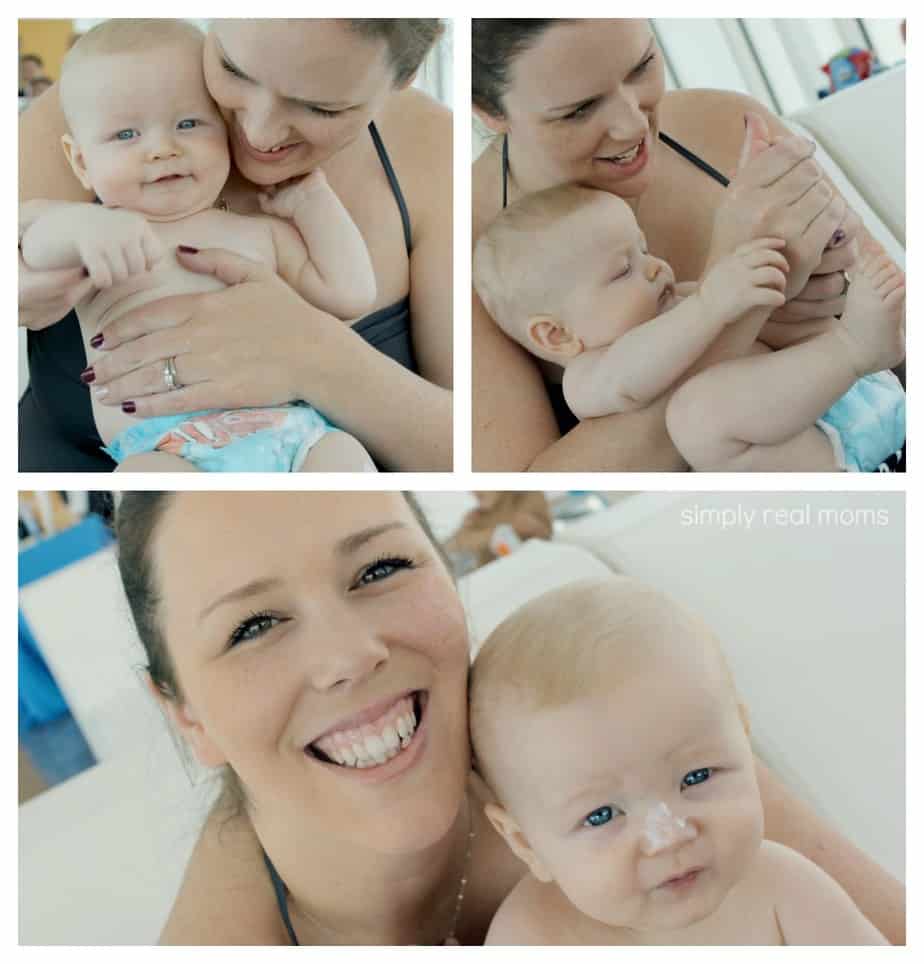 Our swim class was too fun! Lasting thirty minutes, it was enough time for all the little ones to get comfortable in the pool, but short enough that no one had any meltdowns! We sang some songs, practiced kicking and scooping our arms,
…and tested out the back float! Now, I have helped many children learn to swim in my years as a nanny as well as my older son so I knew that back floats are usually not welcomed by little ones. My Theo couldn't have been more cool and calm when I laid him on my shoulder! (Make sure to watch the video below!!)
Theo loved splashing (although now that we have taught him, my bathroom gets soaked at every bath!) and using a toy in front of him helped to teach him to splash and use his arms. That was a great introduction to the motions we use in swimming!

When we went to change into dry clothes after our swim class I had no problem dressing Theo thanks to the easy open sides on his Little Swimmers! They literally just tear open, making it no problem to get him dry and warm as fast as possible.
My family always keeps our swim bag stocked with everything we need so that there's no delay when it's hot and we are ready to jump in! Huggies made sure to supply us all with everything we needed for our fun pool party, and it included everything we use at home, so I felt prepared for anything!

Along with what Huggies had in their swim bags, we always keep a few extra items ready as well!
My Family Swim Bag Essentials are:
Towels
Sunscreen We always use baby sunscreen! It's usually a higher SPF and doesn't hurt your eyes.
Swim Diapers Huggies disposable or reuseable washable swim diaper
Water Make sure you have one bottle per person!
Snacks This is the ONLY way we can get the kids out of the pool.
Water Toys Dive Sticks, Toypedos, a Paintbrush (our favorite pool toy!) & Floaties
First Aid Kit (We had a VERY unfortunate accident and wished I had a kit handy!)
Change of Clothes
Dry Underwear
Wet Clothes Bag You can bring a plastic bag or a "wet bag"
Goggles
Why do we pack paintbrushes?! My kids love to "Paint" with the pool water all over the concrete. It dries fast in the hot summer sun and they start over. Hours of watery entertainment!
*Most photos are my own, but some-including the underwater shot-were provided by Pinky Blue Photography (she was awesome!)
 Compensation and travel was provided by Huggies® via Glam Media.  The opinions expressed herein are those of the author and are not indicative of the opinions or positions of Huggies®.