Tegu Mobility: Magnetic Wooden Cars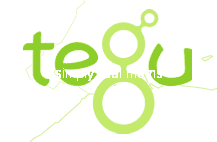 I recently was lucky enough to try out Hatch, the new line of Mobility Compacts by Tegu. I brought Hatch into my preschool class (four- to five-year olds) for a week, and the children loved it. Every single child in the class wanted to play with it, so I had to set timers for them to take turns.

Tegu blocks are one of a kind. Each block is magnetic, lightweight and very easy to work with. They recently introduced their mobility sets: Riley Roadster, Hatch, Maddy Micro and Dart. Each mobility car comes with a set of four wheels so you can build a car.
Tegu mobility cars are fun and educational. Not only are children experimenting with building when they use Tegu blocks, they also are learning to problem solve and how cause and effect works because of the magnets. I love toys that are educational on multiple levels. What better way for a child to learn then through play? For my class, the Hatch couldn't have come at a more perfect time. We have been doing a lot of work with magnets in my class, so the children were very excited!
The best thing about the Hatch set (as well as the other block sets from Tegu) is there is no right or wrong way to use the blocks. They are completely open ended! I sat with the children in my class as they worked with these blocks and took many pictures. Not one child put the blocks together in the same way. Here are some examples of what various children came up with: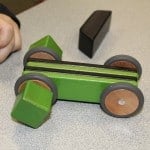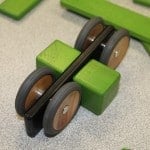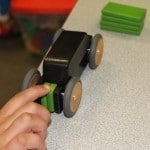 Notice how all those cars look completely different? Toys that are open ended, with no right or wrong answer, give children a boost to their imagination and confidence. This is absolutely the best feature of Tegu blocks.
Tegu is a fascinating company. They work to create a positive social impact in Honduras through their business. I personally love the fact that they have planted more than 34,000 trees! Tegu strives to be environmentally and socially responsible.
"Tegu has gone from the seed of an idea (2006) to a budding sapling (2011). Now we're watering and nurturing, so that we can see this tree flourish for the benefit of children everywhere and for the people of Honduras. These are the little toys that could …"
You can read more on the Tegu website. You can also follow Tegu on Facebook and Twitter.
Here are some of the things children in my class are saying about Hatch from Tegu's Mobility Line: 
"It's great!"
"I love these magnet wheels!"
"Woah! These blocks have magnets in them!"
"Can I be next? I'll get the timer!" (after having just finished playing with them for 15 minutes)
I received a product to review but all opinions are my own.