Thankful Everyday ~30 Days of Thanksgiving day 30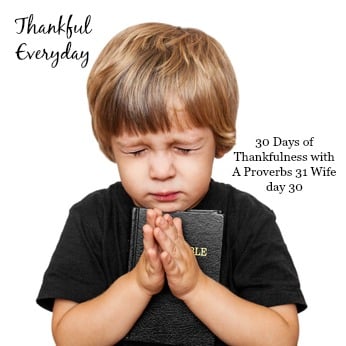 It's the end of November. I'm pretty sure that at this point everyone (except for the Scrooges), has dove into their Christmas prepping. Thanksgiving is over and so is the "season of thankfulness". Now everyone is thinking of what they "need", but should it be that way? I would like to be thankful everyday.
Colossians 3:15 And let the peace of God rule in your hearts, to the which also ye are called in one body; and be ye thankful.
My challenge to myself is to focus on the good. To be thankful everyday no matter what.
Growing up I loved the story of Pollyanna. In the story, her Glad Game basically changes the entire town, including her aunt. I want to be like her. I want to always find something good in whatever my current situation is.
I am a child of God, bought with his blood, and redeemed. I am freed from sin and given an eternal inheritance. This life is short and fleeting, the trials that I endure, and go through here will someday be forgotten. When I remember to step back and look at the big picture, one thing becomes clear.
God is in control and if nothing else, I can always be thankful for that. No matter how dark and crazy life gets, God will always be there; and in face of the variables of life, I know above all things that I can count on God.
I don't have to always understand what he's doing,. But if I can trust that he is in control and that he will use all things to his glory, then I can rest in peace.
Will you join me in being thankful everyday no matter what? (And if we are friends on fb or in real life and I complain… can you remind me to be thankful? 🙂 )