The Bitsy Bag: Say Goodbye to Swaddle Struggles!
The hospital nurses have the swaddle down to a science.  We studied them closely to learn how to swaddle our baby, but no matter how hard we tried, when we got home, we could not seem to figure out how to swaddle our babies correctly (yes—I say babies because now we have managed to have two children without mastering the swaddle!).  Both our son and daughter were little Houdini's and would always manage to break their arms free.  So, eventually we just gave up on swaddling our kids but I always worried about keeping them warm.  I was worried about just putting a blanket over my children in case the blanket would ride up and cover their face so I usually just resorted to dressing them very warmly. My husband would always make fun of me because I would put our children in fleece pajamas in the middle of summer!
After my second child, Maelie was born; I was introduced to The Bitsy Bag, the perfect solution for keeping my daughter warm and safe while allowing her to have use of her arms!  The Bitsy Bag is a wearable blanket that secures itself around your baby's torso so he or she can roll, kick, play and sit up without it coming off.  Not only will this blanket stay put, it is also soft and plush, just like a lovey so your baby will be comforted by the soft touch of the plush fabric—just like mom's touch!
Maelie LOVES her Bitsy Bag—we like to call it her Itsy Bitsy Blankie! The bag is reversible so we can decide which side we want to use so it will coordinate with my little girl's outfit of the day!  When she is ready for a nap, I just snuggle her in it and she sleeps peacefully for hours.
I also love that they are so fashionable—let's face it moms, we want even our little babies to have a sense of style.  There are several styles to choose from for both boys and girls and they even have gender-neutral styles—perfect to suit anyone's taste! The Bitsy Bag does not disappoint, it is my daughter's latest fashion accessory and she never leaves home without it!
Mandi, the founder of The Bitsy Bag, created these blankets out of frustration when her little baby boy refused to be swaddled or zipped up in a traditional wearable blanket. She looked for a blanket that would keep her baby safe and warm but jut couldn't seem to find the perfect fit for her son.  She then decided to take matters in her own hands and make her own wearable blanket! She created The Bitsy Bag; a wearable bag that is plush and cozy and that will cover a baby's legs and feet. She created a comfortable non-roll elastic waistband to keep the blanket in place so your baby will stay safe and warm all night!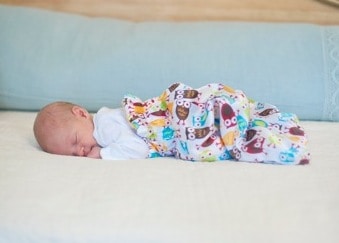 The Bitsy Bag Highlights and Features:
 Baby is able to roll, kick and sit without the blanket falling off.
 Doubles as both a soothing blankie and functional sleeper.
 Comfortable non-roll elastic waistband keep the Bitsy Bag in place.
 Made with soft fabrics that are soothing to baby and provides security and   warmth.
 Stylish designs for girls, boys and gender neutral that suits to every taste
Affordable
Easy access for diaper changing.
No bulk around the neck or face and allows baby to freely move their arms.
Made with lightweight fabrics so you don't have to worry about your baby overheating.
The Bitsy Bag is the new mom-to-be must have!  Expecting moms—be sure to add a couple of these adorable bags to your registry. To purchase your very own Bitsy Bag, visit BitsyBrand.com to shop all the trendy styles. Also be sure to follow them on Facebook and Twitter for product news and updates.
*I received this product for review but these words are strictly my own.