The Christmas without Real Presents
There was a year when I was 10 or 11 that we didn't get real presents.
The Christmas without real Presents.
We did get gifts, my sister an I opened a gift together and my two brothers opened one a piece.  But we didn't think they classified as real gifts. We each go new bedspreads. We had moved to a new house and things were tight and the warmer bedspreads were needed. There was also a beautiful picture that would be hung in sis and I's room. But no toys, nothing "fun"
I remember thinking "is this all?" and I probably had a grumpy attitude. The boys were fine with it, if I remember right, they had loads of fun whopping on each other with their new bed spreads. My sis was young enough that she probably didn't realize she was missing out. I remember feeling rather displeased with it all.  Looking back at that young girl who had everything she really needed and was so spoiled, that a new, warm, very pretty bedspread wasn't a "real gift",  I wish I could sit her down and explain a few things….
I would tell her that there are kids, who would be thrilled with the old bedspread on my bed. A new one like the one I unwrapped would be heaven. Then I would explain that the blanket was likely all they slept on.  I would tel her that many children don't even have parents to care for them.
Even more so, I would like to tell her that there are some girls her age who would just be happy for a safe place. A place where they wouldn't be hurt, a place to feel secure and know that they wouldn't be abused any more.
I would tell her that she is loved, and safe, has plenty to eat, and truly lacks nothing. I would tell her that with all the blessings she has, she is richer than 90% of all the other girls her age. Blessed beyond comprehension for most people.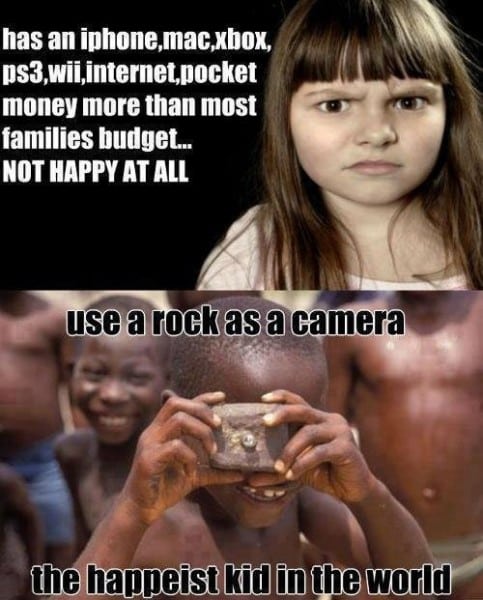 source
So tell me, why is it we feel this overwhelming need to have stuff? Why do we feel that it's not a real "present" if we get things we really need, instead of things we want?  Something about our culture has taught us that we are entitled to, to this STUFF. Why? Which brings me to this question, what are you doing this year to remind yourself, or your children, just how blessed we are?