The Dream Blanket: Your Toddler's Best Sleep Ever
Ah, baby blankets. Pretty much as soon as you announce you're pregnant, they will start to roll in—homemade blankets, receiving blankets, knit, fuzzy, light-weight and everything-in-between blankets.
I think we can all agree some are more useful than others and some are … well, just for decoration. And then there are those blankets that you simply cannot live without.

In my case, my favorite blanket when my daughter was an infant was the Aden + Anais Classic Muslin Swaddle blanket. Super lightweight and a nice, large size, I used these blankets for everything from swaddling to light covers over the stroller during nap time (they worked great to protect from mosquitos!).
But as my infant turned into a toddler and summer became winter, I needed something with a little more weight. I hate fleece because it doesn't breathe and kids always end up sweaty, and I wanted something that would be good for fall and spring, too. Aden + Anais came to the rescue again with their Classic Dream blanket.
It's the perfect weight for my little one. It keeps her warm without smothering and is easy to fold up and take along with us on trips. Here are a few of the features I love about this blanket:
• Made of 100-percent cotton muslin
• Fabric is soft and breathable
• Generously sized at 47" x 47"
• Uses four layers of fabric, making it nice and warm
The Dream blanket is also available in a silky rayon made from bamboo fiber muslin if you want a slightly silkier feeling blanket.
My very favorite part of the Dream blanket is all of the adorable patterns available! We have the Star Light pattern, but it was a tough choice. All of the options are modern and cute enough to design a nursery around.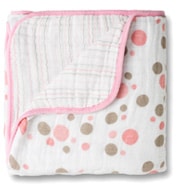 Like all of Aden + Anais products, these are a home run. And, if you really love it, they just started making them for adults! Check out the Daydream blankets here and treat yourself to the same luxury you treat your baby to!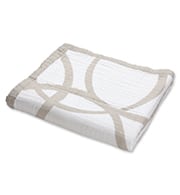 *I received a blanket for review, but all opinions are my own.