The Reset Button for Healthy Living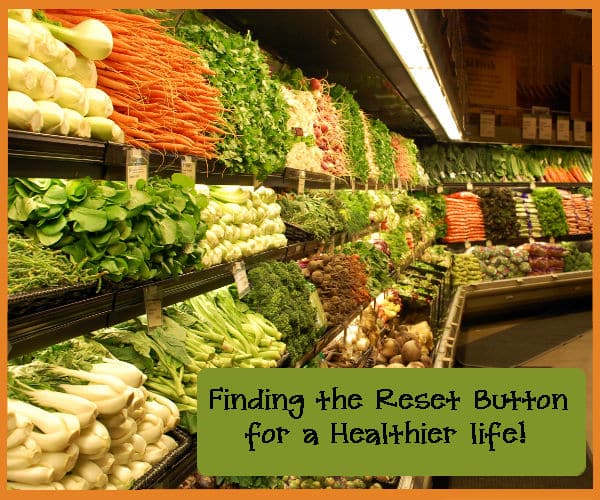 Do you ever wish there was a reset button for healthy living? Ever look in the mirror at that body with yet another 10 lbs. and just wish you could go back and try again?
The next 15+ days I am going to be pushing the reset button for healthy living. How? Recently I bought a book (ad)Tugboat: My Voyage Out of Obesity. This book was written by one of my favorite bloggers and seeing the results from her journey really inspired me.
She lost weight and gained back her health by going on a 60 day juice fast! Whole foods, in a juice form for 60 days! It sounds extreme, but I was inspired and decided to check out the site that inspired her; Reboot with Joe. While reading there, I began to get excited.
Do you remember back in September when I was part of the Shapely Girl fitness team and blogged about that journey? I never did lose weight with that, even though I did really well with working out, and even built up a bit more endurance to working out. One of the reasons I wasn't losing weight was toxin and hormone related. The foods we eat on a daily basis can contribute to both of those problems.
After looking around on the Reboot with Joe site I determined that a 60 day juice fast wasn't for me at the moment, (or maybe that just seemed too intimidating lol) But, there were several plans called Reboot plans. After looking through them, I felt very confidant that I could do the 15 day plan.
What does the 15 day plan consist of? Eating whole foods (veggies, fruits, grains) in a mix of whole and juice form for 5 days. Then 5 days of juicing only. Followed by another 5 days of whole and juice mix again. I like the idea of easing in and out of a strict juice fast. Hopefully by easing in, my body will have a less difficult time adjusting and by easing out, the weight will not come back.
Why whole foods? Whole foods, in their natural form, are designed to give our bodies the nutrients we need. When foods are processed, they are broken down to a point that there are no nutrients and worse, our bodies see them as poisons and toxic to our bodies. Next, in a way to protect us, our bodies will pack fatty tissue around these toxic cells to prevent them from harming us further.
By eating only veggies, fruits and grains in their most natural form we give our bodies a chance to naturally detox.
So, for the next two weeks, I am pushing the reset button for healthy living. I plan to share how it's going twice a week. Why? Because, I learned with the Shapely Girl fitness challenge we did, that I am much more motivated when I know I have to come back here and tell you guys how it's going!
I'm going to push the reset button for healthy living starting Sunday. That will give me three days to get used to a new way of eating before I need to leave the house for work. So, check back Wednesday when I will share my goals that I hope to reach on this plan. 🙂
Want to know what juicer I will be using? You can find it here (ad).
Disclaimer: You are responsible for your own health choices, and this is not recommended for pregnant or nursing women.