The Sidekick Bliss: Baby Bag and Carrier—All in One!
Moms, are you overwhelmed with always having to carry your purse, a diaper bag AND your child? Well, I have the perfect solution for you—meet the Sidekick Deluxe by Go-Go Babyz; a diaper bag, purse and baby carrier all in one!
I'm a mom who's always on the go and I honestly don't know how I got along before I had this innovative diaper bag. The Go-Go Babyz Sidekick diaper bag makes everything so easy for me; I used to have to rush around the house to grab everything I needed before leaving the house but now, I just grab my bag and my toddler and go!
The Go-Go Babyz Sidekick Deluxe Diaper Bag can be used solely as a baby bag or simultaneously as a bag and a child carrier. Constructed with all the organizational elements of a well-made diaper bag, along with an innovative baby carrier, it's a must-have for families on the go! And this diaper bag isn't just for moms—turns out dads love it too! As the 2011 winner of the Great Dad Recommends Award and 2011 Mr. Dad Seal of Approval, it would be a perfect gift for dad on Father's Day!
This diaper bag rocks; it holds everything I need for TWO children—I have a 21-month-old toddler and a baby on the way in just two short weeks. I have already packed my diaper bag for everything I will need for both kids and it fits everything comfortably! Not only that, but it holds everything I would need to put in my purse so all I have to do is grab this trendy diaper bag and go!
Before I became a mom, I was sort of dreading having to retire a purse for a diaper bag, but I gladly have said goodbye to my purse in exchange for this bag. It's very trendy and I LOVE the color; I don't miss my purse one bit!
When researching this diaper bag, I figured the bag wouldn't support a toddler's weight, but I was pleasantly surprised that it does. It holds up to 35 pounds! My toddler is almost two years and weighs 28 pounds, so I think we should at least get another good year of use out of the carrier for him and I am expecting about three years of use out of it for my new little one on the way.
Product Features and Highlights:
Luxe interior fabric with contrasting pattern design
Leather bottom & trim features
Additional pockets for storing essentials
Versatile—wear over your shoulder, around your waist, or across your shoulder
Adjustable strap allows you to carry your baby on either hip
Baby-friendly fabric easily wipes clean
Key clip, cell phone pocket, and many easily accessed pockets for essentials
Double side pockets for bottles or sippy cups
Removable insulated bottle/snack pouch and changing pad
Designed for use by babies with good head control, weighing up to 35 pounds
Dimensions: 12″ high x 15″ wide x 4″ deep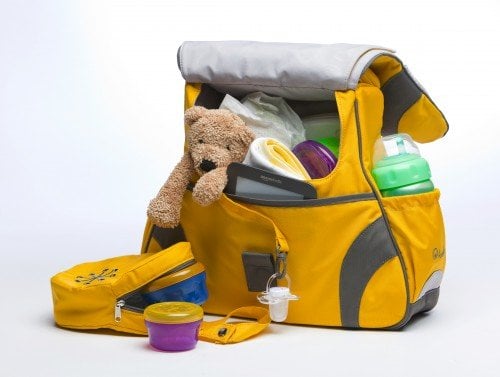 Go-Go Babyz has won so many baby awards that there are just too many to mention—check out all of their awards received. Want to find out more? Go-Go Babyz offers a few different diaper bag options with several trendy colors to choose from. They also offer innovative travel solutions for moms on the go, so be sure to check out their other great products at GoGoBabyz.com. You can also follow them on Facebook and Twitter for recent product news and specials.
Stay tuned for tomorrow: Go-Go Babyz has a special surprise in store for Simply Real Moms Readers!
* I received this product for review but these words are strictly my own.