Top 10 Family Activities ~Cheap Family Fun!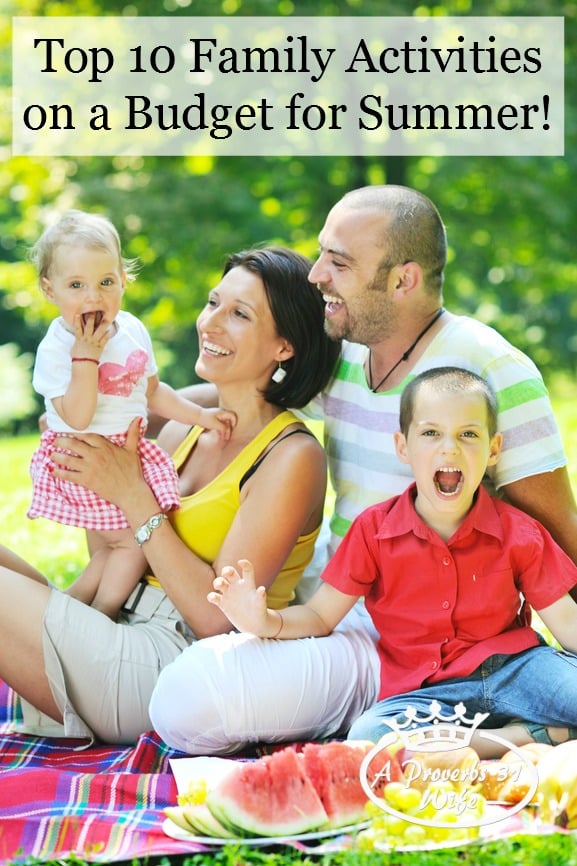 With summer coming on, and school being out, what do you do? Growing up, summer was our busy time. Farm families have lots to do during the week and you would think that the kids, just like the parents would be ready for Sunday.
Well we were, but we didn't want naps, we wanted fun activities. Today I'm going to share what I would consider the top 10 family activities that won't break the bank. Some of these were things we did growing, others are things we wanted to do. 🙂

Top 10 Family Activities for Summer Time:
#1 A family picnic. Last summer there were several times that I packed a lunch for the then 3 year old and we would walk down to a little park for a picnic.  Once when we were younger, mother packed a picnic lunch for our Easter Sunday lunch and we ate it beside a little woods and then went hiking. I remember how much fun we had to this day.
#2 Go for a bike ride.  Occasionally on Sunday afternoons we would convince daddy to ride bikes with us (to young to go on our own) down to a creek where we would then proceed to jump in and swim for awhile.  Other times we would all ride bikes over to Grandpa's for supper. Then he would load the bikes up and take us all home.
#3 Camping. Camping is an amazing way for a child to experience the outdoors. Tents aren't horribly expensive and we always put our air mattress in ours. We are softy campers. 🙂  Check out this post for over 30 great ideas for camping.
#4 Backyard camping.  If you cannot get the time to go camping, why not construct these little tents for the kids and let them "camp" in the backyard. Chairs, blankets, pillows, books, and other stuff will keep them occupied for hours. Finish off the day by grilling out, and eating out in the yard.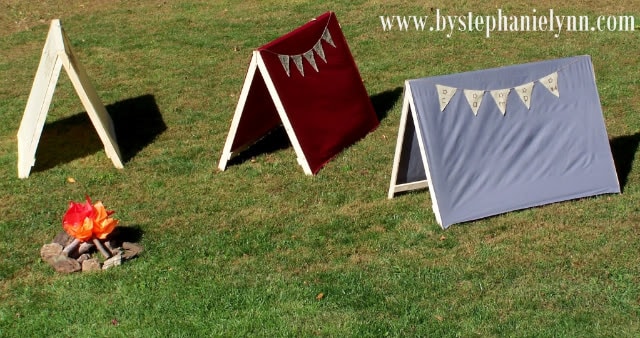 #5 Geocaching. Gone are the days of boring hikes. Why not introduce your kids to the fun of modern day treasure hunting? Learn more about geocaching here.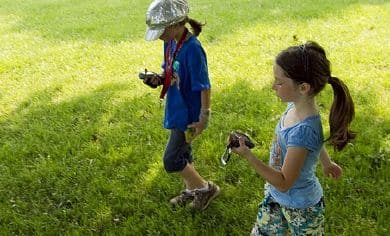 #6 How about an outdoor movie night? I really don't think I have to say too much about this, except I now need a large white sheet!
#7 How about a redneck slip and slide? Rolls of plastic can be bought for crazy cheap at a home improvement store. The only other things you need would be soap or oil and running water. I think a sprinkler would be fun here.
#8 Swimming. Do you live near a beach? Definitely make a trip to the beach sometime with the kids. No beach? Look in your area for state parks and public swimming areas. Pack a picnic lunch and make it a day. 🙂
#9 Have lots of boxes around?  Why not try something like the awesome creation below? Not that? Then check out this post with 31 different and totally awesome things to do with boxes.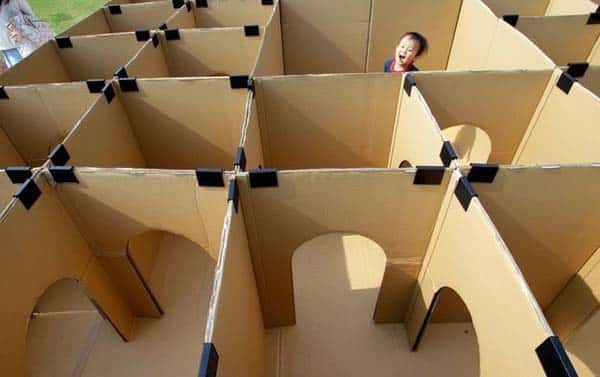 #10 Water Fight! Water guns, water balloons, buckets, garden hose…..  Water fights take little more than a bit of ingenuity and lots water. 🙂  For even more fun, try making these water sponges!
So there you have it, the Top 10 Family Activities for Summer time on a Budget!
What are your favorite things to do as a family in the summer time for cheap?