Tranquil Turtle Makes Bedtime More Fun!
My 2 year old son has always been great about bedtime! He loved snuggling up under his blankets and usually went right to sleep. then all of a sudden about 6 months ago he decided he was done being easy. He would fight bedtime and usually ended up getting out of bed many times before falling asleep exhausted. I was fed up with the nightly fight and needed a break!
That break came and I kid you not, my son BEGS to go to bed now!  Want to know why? The Tranquil Turtle
! From Cloud b,  the makers of the Twilight Turtle and the Sleep Sheep comes a brand new sleep aid for kids that is a must have for bedtime!
The brand new Tranquil Turtle from Cloud b combines the sense of sight and sound in one fun product! Tranquil Turtle projects a magical underwater light effect with a gentle wave motion and plays two soothing sounds to help children sleep. And boy, does it help!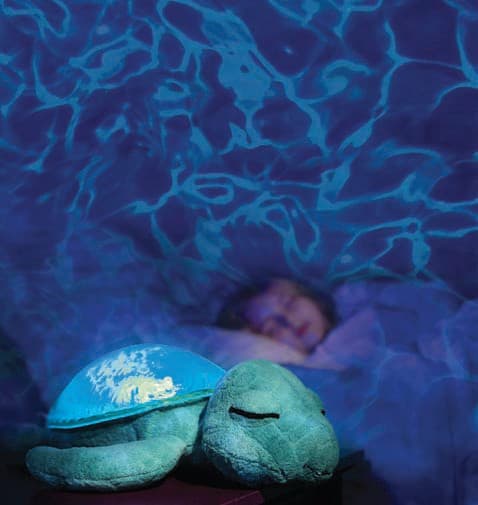 I was skeptical as to how well the underwater effect would work but I was absolutely amazed by it! We have pretty high ceilings and the blue waves show up all across my son's room. The first night we used it, my husband and I just sat in Miles's room with him just to watch it!
There are two soothing sounds to choose from, Tranquil Melody & Ocean Waves. Miles loves the tranquil melody, and even tries to hum along to it. The Tranquil Turtle also has an auto shut off after 23 minutes and that has proved to be the perfect amount of time to soothe my son and have him sleeping! The adorable little turtle comes in Aqua or Purple and fits in nicely with my son's bedroom decor!
We no longer have fights at bedtime-in fact, Miles will ASK us to go to bed! He comes to give us hugs and kisses and asks us to turn on his turtle.
No question. The Tranquil Turtle is my new favorite toy in our house! I love it, and so does my son.
*I was given a Tranquil Turtle for review purposes, but all opinions are my own.