How to Transition from a Nursery to a Toddler Room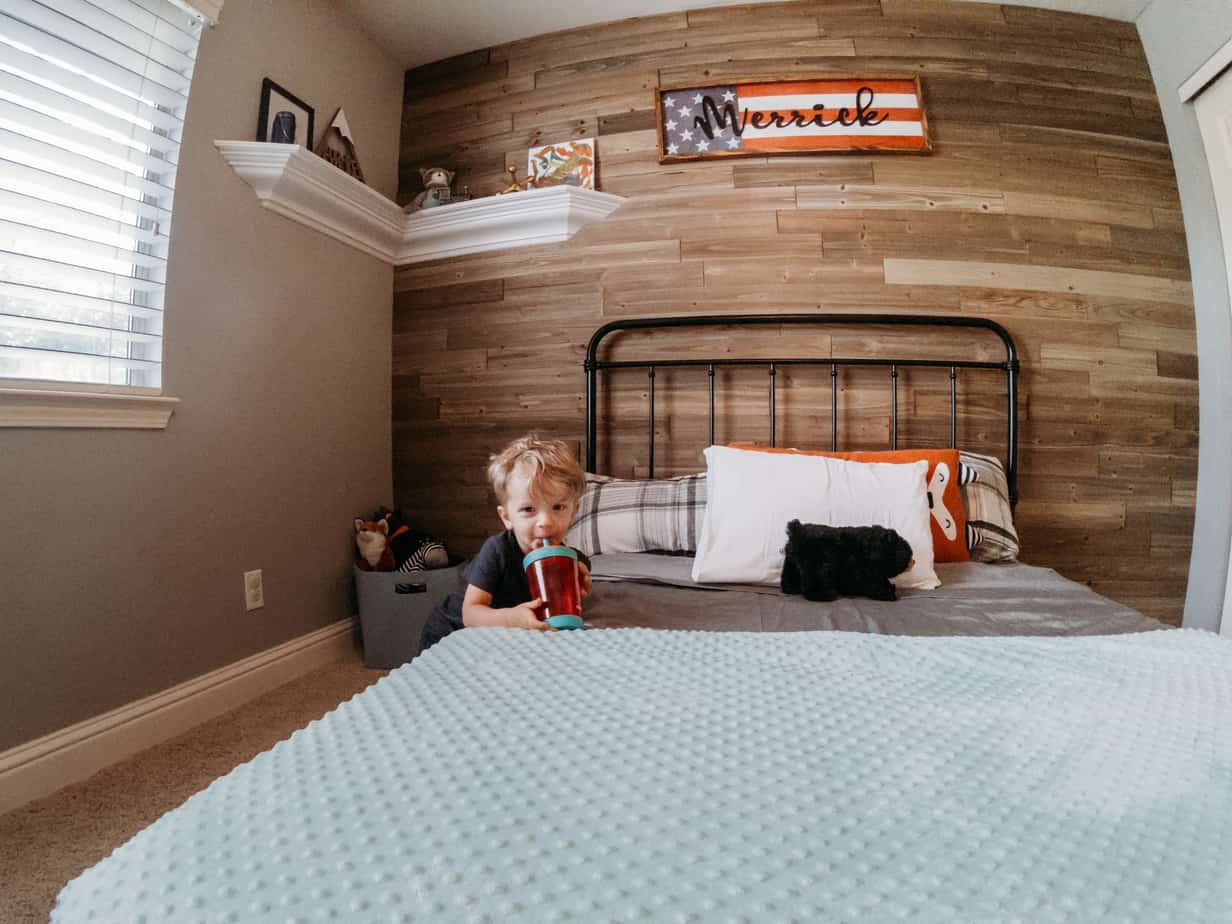 When you find out you're pregnant, you spend so much time thinking about all the little details. What your newborn will wear when they come home from the hospital, what car seat will safely carry them, if you'll breastfeed or bottle-feed, what their nursery will look like, and what crib and mattress they'll sleep in. For me, I spent months planning our son's nursery.
When my son started getting bigger and outgrew his crib, I did what most parents do, I transitioned him into a toddler bed. After all, isn't that what we're supposed to do? This isn't my first rodeo. I've raised two kids so far, one of whom is about to turn 14 years old, so I thought I knew the steps that I needed to take with my third. Ever since I can remember, I've been told that once a child outgrows their crib to put them into a toddler bed. However, that was not the best choice for my family.
My youngest son, who is 2 years old, is a mover. It doesn't matter how he starts off when he goes to sleep, he will end up in different spots all over his bed. After we hired a sleep trainer, we thought our problems were solved until the waking up started back up just a month later. Desperate, we thought we needed to transition him into a toddler bed. Moving him to a toddler bed only worsened his sleep. He'd wake up like clockwork and end up in our room every night between 1:00-2:00 am. It wasn't until we were well beyond sleep deprived that we decided we would try a bigger bed in hopes that he could move around without rolling into something.
That's when LuuF came in and changed our lives for the better. No joke, for the first time in 2.5 years, not only did we all get a full night's sleep, but we all got a GREAT night's sleep! Don't get me wrong, he still moves quite a bit, but he is no longer restless, rolling and hitting the sides of his bed. This mattress is incredible. He has space and the comfort his little body needs to sleep through the night. Their weighted blanket has also helped tremendously is putting him right to sleep without needing us in his room to rock him.
Thanks to our friends at LuuF Mattresses, we have some incredible discounts to offer our readers!
Use code: SRM75 to get $75 off Little LuuF mattresses.
Use code: SRM10 to get $10 off Little LuuF accessories.
So how do you transition your child's nursery to a toddler room? 
Declutter the toys –
If you don't have a toy box or basket, you can get one affordably at Target or online on Amazon. Toys are bulky and can make a nice space look a mess. Getting a toy box not only will keep the clutter down, but it'll make clean up time a lot easier. It's also a great way to teach your toddler how to clean up their toys!
Choose universal wall art –
Replace some of the nursery decor with decor pieces that are more universal. Pieces you can keep around as your child gets older. Make a fun art day out of it and have your toddler paint a few canvases and place them around their room for personalized pops of color.
Find a new bed frame –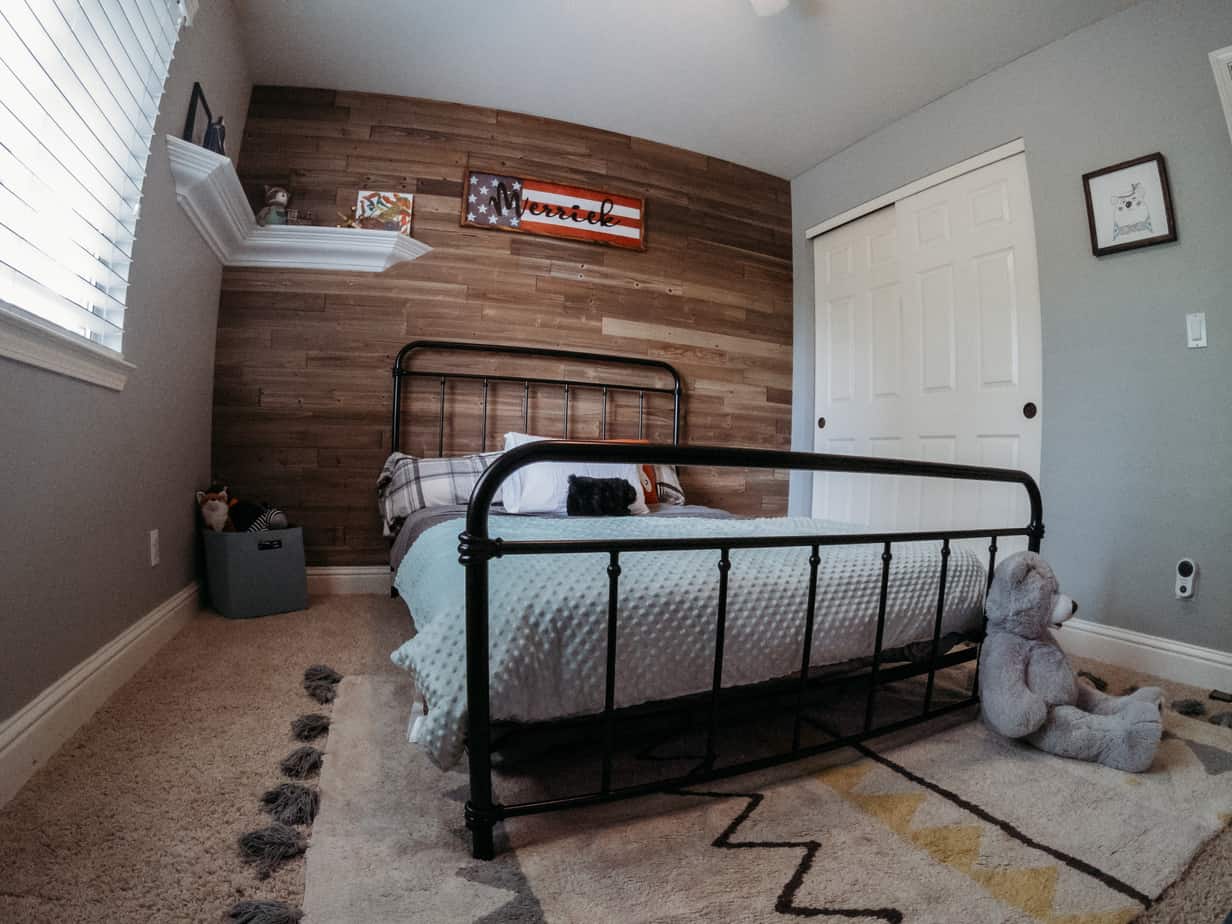 Since you'll be transitioning your toddler from their crib, it's essential to find a bed frame that can grow with them. We personally love this bedframe from Wayfair (seriously, both Emily and I have this frame for our kids). This bed frame has two different height settings to choose from. Right now we have it on the lowest setting, so it's easier for him to get on and off the bed, but once our son grows, we'll move it higher.
Get a toddler pillow –
Now that they're older, they can finally start using a pillow! We love the Little LuuF Shilouette Support Pillow. Not only is it a perfect size for their little heads, but this patented two-piece pillow packs contoured comfort and allergen relief into every squeezable square inch. One side of this pillow has a hypoallergenic down alternative fill and the other side has a memory foam shell.
Invest in a mattress that's made for their growing bodies –
What your toddler is sleeping on is important. Knowing how the mattress is made, what's in it and where it's coming from should be something parents should research. Children spend at least 12 hours sleeping and we need to make sure what they're sleeping on is safe. We focus so much on what ingredients are in the foods that they're eating, and we should be equally focused on the items in their environment they are living in.
A great mattress doesn't have to cost a fortune, which is why we recommend Little LuuF. Not only are these mattresses 100% hand-crafted in the USA and sourced using local American made components, but they are designed for children!
Most kids are sleeping on mattresses and springs that were designed for much heavier adults. Those beds are often made of suspect, inferior materials that are imported OR assembled in the USA with imported materials which can leave your child at risk of sleeping on questionable materials and getting low quality.
Little LuuF mattresses have a custom coil system that is designed to support bodies weighing 30 – 175 lbs. The coils are individual and not connected, meaning they will contour and adjust to each area of your child's growing body and all of their sleeping positions.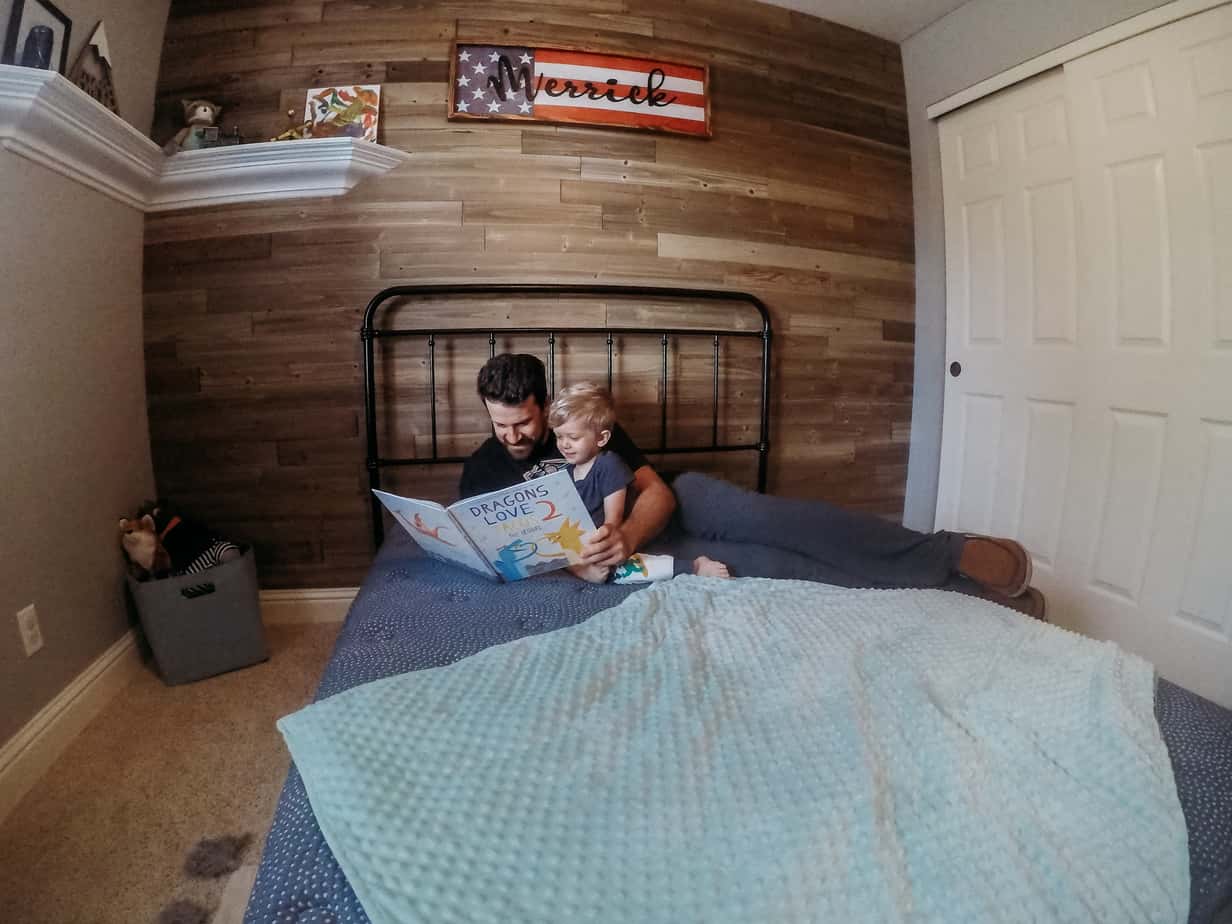 We love that Little LuuF has a mom behind the company. A mom that was so determined to make honest, safe sleep products that wouldn't cost a fortune. A mom that was inspired to make an impact due to her child's seizures and wanted to fill a void that the industry was lacking. A mom that I've personally had the pleasure of talking to and is so kind and incredibly passionate about the products she's creating and the materials that are going in them.
So what sets Little LuuF apart from the rest?
Little LuuF is Oeko-Tex certified which is one of the highest independent ratings in fabric for babies and children. It guarantees it is free of harsh chemicals and carcinogens. It's also Certipur Certified, meaning all of the foams are certified through a third party for quality and safety ensuring the foam is:
Little LuuF is also affordable. If you are seeking to buy a safe mattress and limit environmental toxins in your home, most mattresses are anywhere from $800-$2000 on an "Organic" mattress that has no regulation and is often marketing jargon. Starting at just $449, you are getting an incredible value.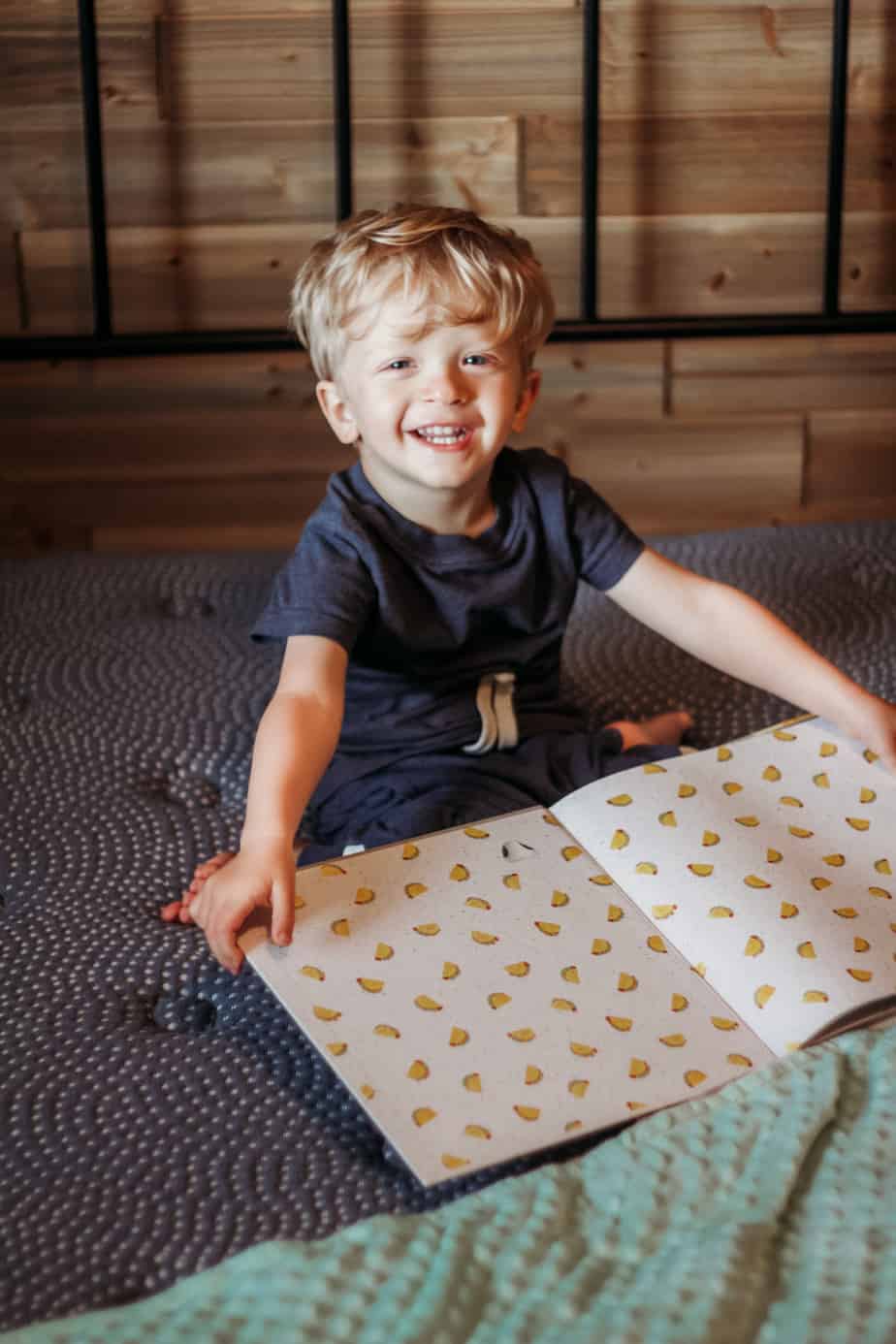 But wait, there's more!
Thanks to our friends at LuuF Mattresses, we have some incredible discounts to offer our readers!
Use code: SRM75 to get $75 off Little LuuF mattresses.
Use code: SRM10 to get $10 off Little LuuF accessories.
If you're looking for a mattress for yourself or maybe some amazing accessories (we highly recommend their weighted blanket), check out these additional discount codes LuuF was so generous to give.
Not only will you be sleeping peacefully and on safe products, but a large portion of your purchase will go directly to The First Responders Children's Foundation. Each purchase also keeps the LuuF employees busy during the economic slow down from COVID-19.
We partnered with LuuF for this post. While we do make a small commission from our affiliate links, all opinions are our own!