Trials ~30 Days of Thankfulness Day 21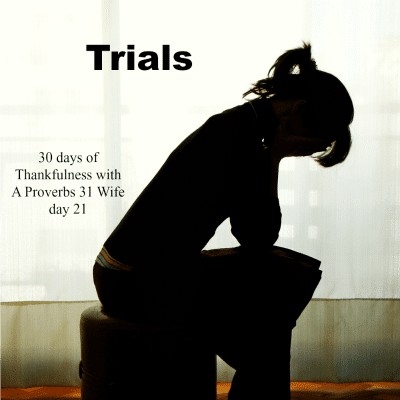 At first I wasn't sure if I wanted to include trials in my list of things to be thankful for.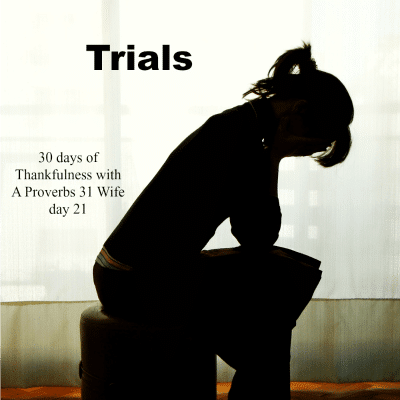 1 Peter 1:7 That the trial of your faith, being much more precious than of gold that perisheth, though it be tried with fire, might be found unto praise and honour and glory at the appearing of Jesus Christ:
No matter who you are, or where you are in life, trials happen.
God created man in his own perfect image, and a perfect world. After man chose sin, nothing was perfect anymore. Man was cursed and so was the earth he lived on. From this fall, we have all came. From this fall, came trials.
Trials are never pleasant. In my short life, I've encountered several trials that I would have rather not been through; I know that throughout my life, this pattern will continue.
As Christians, we are not exempt from these trials, in fact, we may have more. Jesus himself told us that we would be hated by the world for his sake, and to count it a blessing when that happens. However, when trials do happen we have a place of refuge, and we can trust that God is still in control.
Have you ever watched a glass blower at work? He takes sand and begins to heat it. Hotter and hotter this sand gets until it melts. Once melted the glass blower can start.
He molds, shapes, heats, molds, cuts, shapes and heats. Every time the glass gets too cool to work with, back into the fire it goes. This continues until the artist is satisfied with his creation.
So it is with us. God takes our "dust" and begins to heat it. Until we melt, he can do nothing with us. Once we have melted, then God can begin his work. He can shape us and mold us, and start making something beautiful. But every time we get too cool, back into the fire we go. Our trials can keep us close to God and each time we get "heated up" God can use that time to do just a little more work on us.
I still struggle with being thankful for actual trials, especially when I'm right in the middle of the fire and it seems like I will be completely consumed by it; but I know that my God is preparing me for a little more shaping, and I am thankful for that. I am thankful that he is using my trials for his future glory!
If you would like to see a glass blower at work, check out this video below.