Unplug Me! 10 Activities for Kids to Do Without Watching TV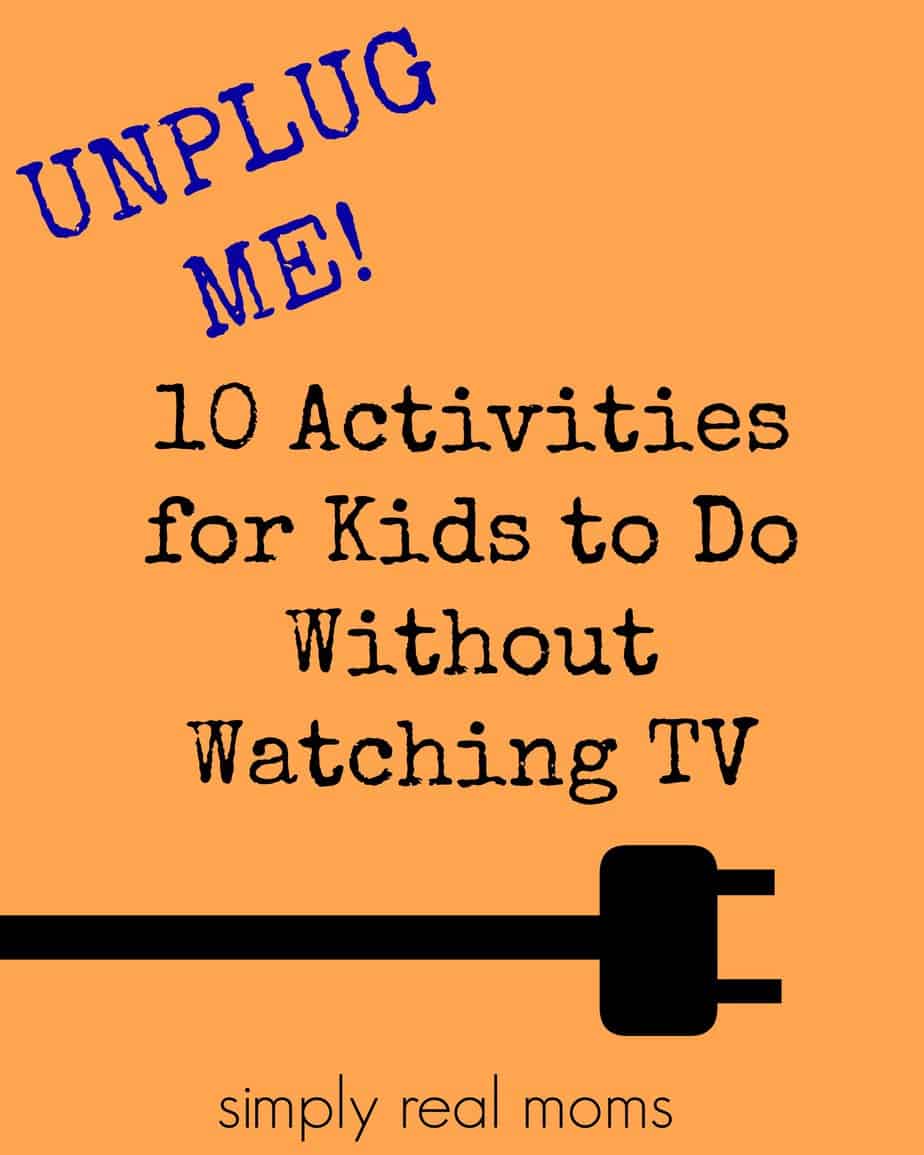 Kids today are surrounded by technology. According to the American Academy of Pediatrics, children are spending an average of 7 hours a day in front of a screen. Seven hours?! Wow! The American Academy of Pediatrics recommend making a screen free zone. In our house, my son isn't allowed any technology in his room and doesn't have a TV in his room. We also have screen free zone times at dinner.
Sometimes we become so accustom to it that it's hard to think outside the technology box of fun and new activities to do. Don't fret! We've got great ideas here that will get your kids unplugged and doing activities without TV.
1. Photo Frenzy! Get out the camera, dress up in fun or goofy outfits and have a blast taking each other's photos. Seriously-your kids will LOVE taking your picture with pretend jewelry on and a bow tie! This easily leads into dress up and pretend play as well. 
2. Scavenger Hunt Scavenger hunts can be tons of fun for kids of any age. Have an older kid? Try a glow in the dark, nighttime scavenger hunt! Preschooler at home? Try a letter scavenger hunt! Check out this Scavenger Hunt article packed full of ideas for both younger and older children.
3. Play dough Fun Spend time making your own play dough (check out these recipes) together. Then simply play with the play dough!
4. Shaving Cream Playing with shaving cream is something that never gets old. My middle school daughter loves it as much as my preschool son. Our favorite way to play with it is to simply squirt it on a table top and go to town! Let your child draw pictures, write letters, and get messy! It's a blast! Check out 5 Ways to Play With Shaving Cream.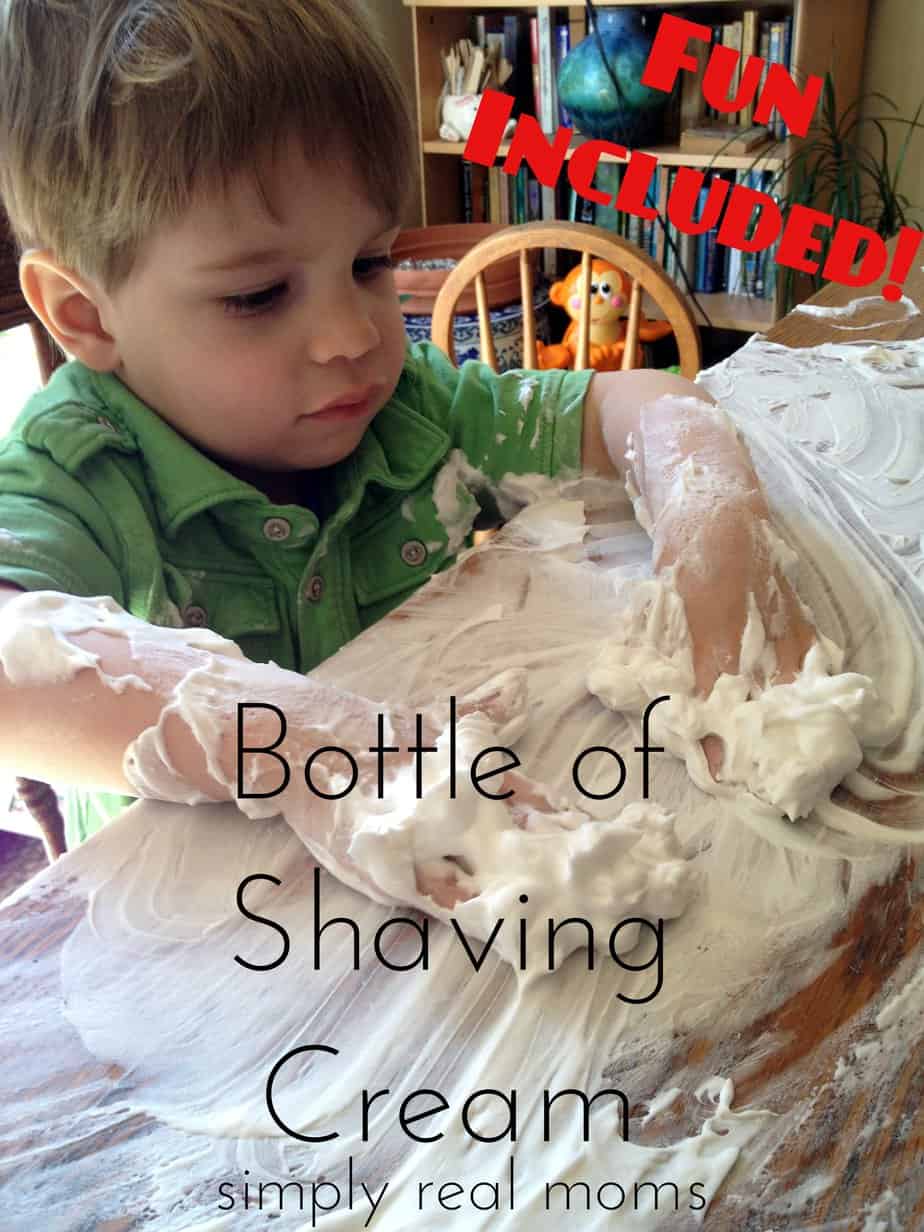 5. Read, Read, Read! You can never get enough of reading and your children-no matter what their age-can never hear you read to them enough. Even children who can read on their own still enjoy being read to. Children can comprehend stories being read aloud at a much higher level than what they can read. Enjoy reading time as a family when everyone can be quiet and looking at/reading their own books-even the children too small to read!
6. Board Games My family can't get enough of board games. Whenever my brother and sister-in-law come to visit from the other side of the country, we all get together to play games! Every weekend, my preschooler and I play a couple of board games together. He's still VERY MUCH wants to win every time, but we're getting there. Plus, we're having fun, spending time together and building relationships instead of watching TV!
7. Build a Fort Who doesn't have fond memories of building a fort as a child? I know I do! I remember setting up chairs, stretching out sheets and blankets, and mangling things so the blankets and sheets would stay put. So.Much.Fun! Do this with your kids! Better yet-build a fort with your kids and then eat dinner in the fort! That will be something they'll remember forever.
8. Bake Cookies Or a cake-or whatever strikes your fancy! Kids love to help out in the kitchen and this is another way to create lifelong memories. Take cookie baking a step further by taking your baked goods to neighbors or grandparents as a surprise.
9. Get Moving Whether you live in a cold climate or a hot one, chances are there's a time of day you can get outside (except of course in extreme cold and extreme heat). In the article Moving and Grooving, there are 15 suggested activities to keep your children moving indoors and outdoors. In the summer, we love going for walks in the morning and swimming in the afternoon. This winter, we discovered Snow Painting!
10. Spending time at a Library, Park or Playground! Nothing beats getting out of the house for a few hours and into a different setting as a family. Make it a family tradition to go to the library on Thursdays. Do you have a favorite playground? Make a tradition to go there every week and get ice cream afterwards!
What do you do to get your kids to unplug?