Useful Lawns – Don't Spray Your Yard!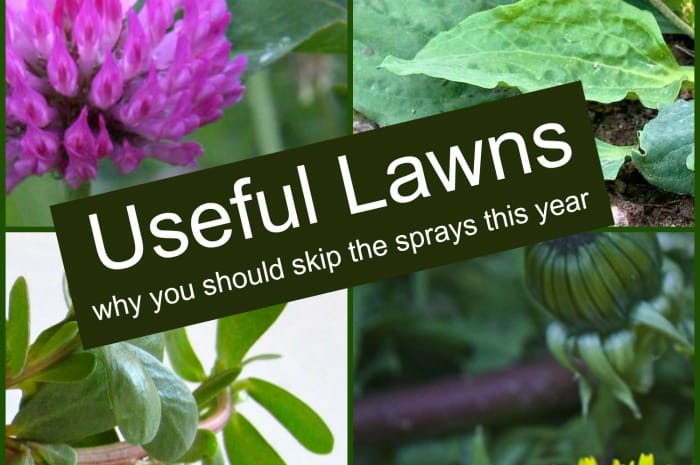 It's spring! The grass is green and growing and that means the weeds are too. I know it may be tempting and those yellow flowers annoying, don't spray your yard! Grow useful lawns and learn to appreciate humble weeds.
[clickToTweet tweet=""What is a weed? A plant whose virtues have not yet been discovered." via – Ralph Waldo Emerson" quote=""What is a weed? A plant whose virtues have not yet been discovered." via – Ralph Waldo Emerson"]
Around here, we like useful lawns. Others can have their posh green carpeting that the kids cannot play on for several nights each month due to chemical sprays.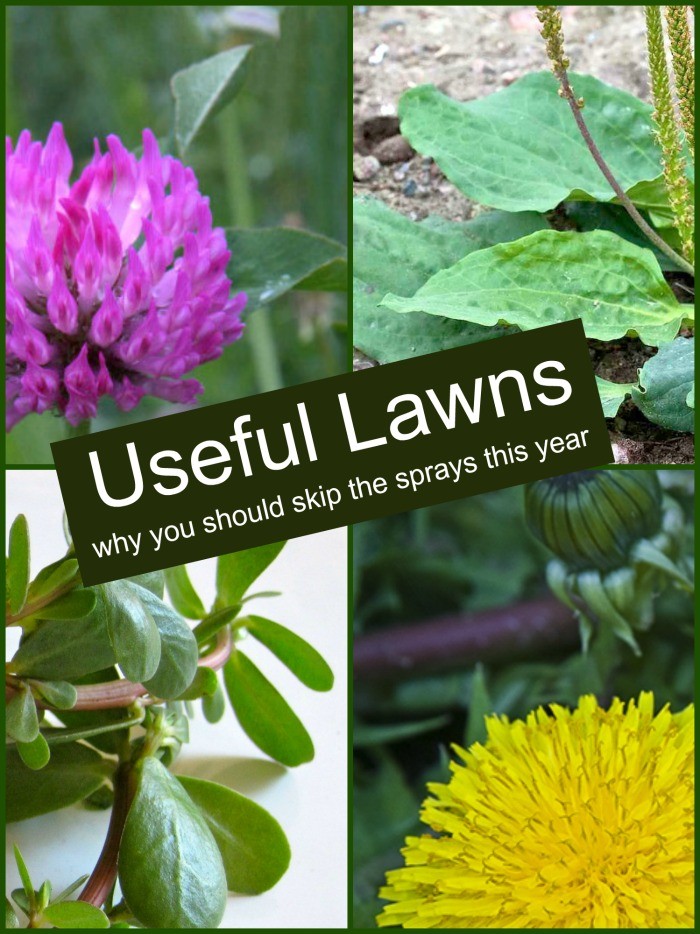 We have a pretty green yard that's dotted with yellow and white flowers, large leaves and the odd purple clover that popped up in our front yard. We also have various herbal tinctures and such in our cupboards as a result!
When you hear the term foraging for plants and herbs, the mental picture is of walking through woods and meadows discovering herbs and roots. But did you know you can forage in your own yard?!
We live in the Ohio Valley region and the amount of useful "weeds" that will grow in our lawn is absolutely thrilling!
There are four in particular that I'm happy to have around.
Dandelion
Clover
Purslane
Plantain
Dandelion is my favorite.
Every single bit of the plant is edible, flowers, leaves, and roots. Harvest the roots in the fall to make an herbal tincture that helps support healthy liver function. Toss the leaves (before blooms appear) into salads or cook as greens. The flowers are usable in many ways but I want to make dandelion wine this year.
In the late 1800's it was not proper for ladies to drink wine, yet dandelion wine was considered so therapeutic and good for kidneys and digestion that the ladies were encouraged to drink it.
I will keep you updated on the dandelion wine process 🙂
In the meantime, if you want to learn more about dandelions and their uses, check out this book.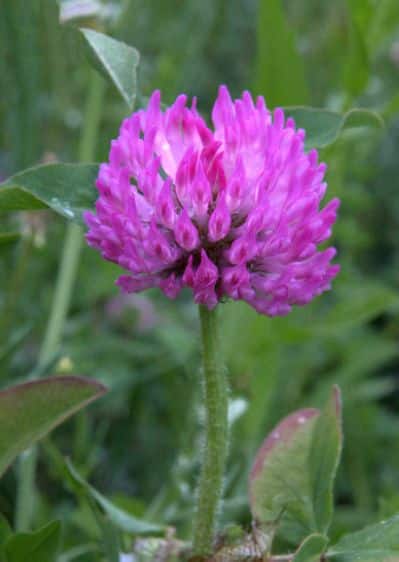 Clover is a clever little plant. 
While most search for the elusive 4 leave clover, I'm nibbling the flowers. Purple clover flowers are the sweetest, but even the white ones have a sweet nectar.
Red clover tea is nice for menopausal symptoms and has also been paired with mullen for dry, hacking coughs.
The young leaves are good raw in salads or cooked in with other greens, the young flowers are also good in salads. Even the roots are edible if cooked first. But I haven't tried the roots.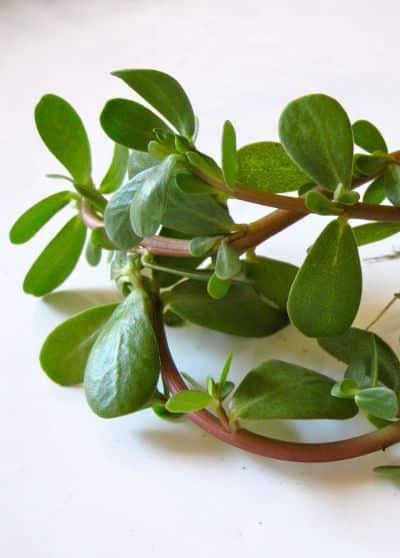 Purslane is packed with nutrition.
If you want a plant that's high in essential amino acids and vitamins A, C, and E, purslane is your plant. It also contains one of the highest known amounts of Omega-3's in any plant.  (source)
Purslane is used in various parts of the world to treat burns, headaches, stomach, intestinal and liver ailments, cough, shortness of breath and arthritis. It has also been used as a purgative, cardiac tonic, emollient, muscle relaxant, and in anti-inflammatory and diuretic treatments.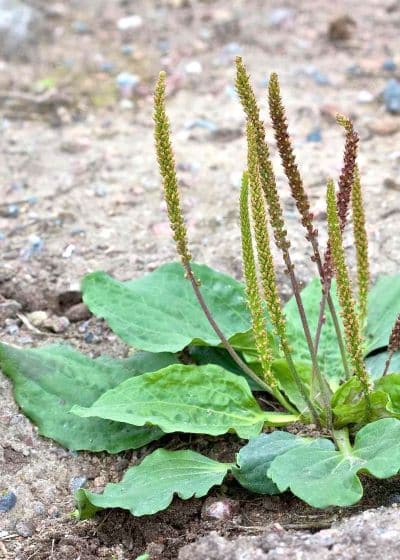 Plantain is nature's antihistamine.
My sister takes a young leaf and crushes it before placing over a bite or sting. I've discovered that the more you crush it, or the more juices that escape the leaf but better it works.
Plantain is also high in in potassium, zinc, iron and magnesium and loaded with essential amino acid. Use the young leaves raw in salads or lightly steamed to get the full benefits of their nutrients. You can also add the leaves to your green smoothies!
Learn more about plantain and other greens here: Green for Life.
If you want to grow useful lawns, don't spray your yard! 
Sprays are harmful to us as humans and even more to the pets we love. Not to mention the environment and all the little critters that live around us.
Sprays also harm bees and we need bees for far more than just honey!
Do You Grow Useful Lawns?