Valentine's Day Gift Guide
Valentine's Day is quickly approaching. I know for me, I prefer for my husband not to spend a ridiculous amount of money on something that will die in a week— like flowers. Instead get your loved one something that they will get use out of and something they will love. I put together a list of some ideas I just know she will love!
Turn a moment into a memory with a scent that captures the emotions that connect us all and makes the perfect gift.
Feel-good, fruity floriental fragrance
Keepsake charm to treasure
Unique box design lets you write a special note inside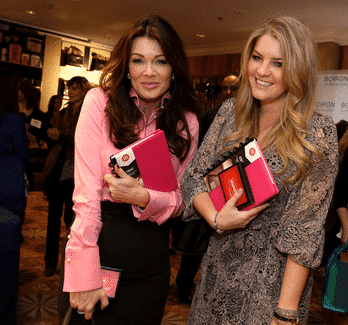 Although it may not scream romance, this is a perfect little Valentine's Day Gift for a busy mom, co-worker, or student on the go. Staples leather Arc notebook comes with removable pages so you can organize and customize the way that works for you. Arc accessories such as calendar pages, task pads, page flags, and tab dividers will help you stay SUPER organized in the new year. With school vacation just around the corner, and the kids' hectic practice schedules, this notebook can be a lifesaver.
A couple weekends ago, the Arc made its way into the HBO Golden Globes gift lounge! Real Housewives of Beverly Hills Lisa Vanderpump, Pandora Vanderpump, and Brandi Glanville all chose a pink Arc notebook to take home. Karina Smirnoff (Dancing with the Stars) and Al Roker (Today Show) both loved their new Arc notebooks too!
The Arcs come in a variety of fun colors.
Corinne McCormack, eyewear designer and expert, has gorgeous, on-trend eyewear as well as geek chic frames and accessories. She has fun, flirty colors that are perfect for Valentines day. Corinne McCormack readers have to be the most stylish glasses I have ever seen. Here is a snapshot of me in my
Sherry Red Stripes
:
SIGG bottles can be designed with your original artwork or you can simply upload a sincere one liner saying, "I Love You." SIGG teamed up with Café Press for unlimited custom possibilities. With precise Swiss craftsmanship, SIGG's are constructed from a seamless piece of pure aluminum which is inherently eco-friendly as aluminum is an abundant element in the earth's crust. Therefore SIGG bottles are completely recyclable at the end of their long lives and do not contribute to our already over-populated landfills. The nonporous interior lining ensures that it remains taste and odor neutral so there won't be any residual taste. SIGG's 2013 Collection offers a countless array of stylish designs and sizes. With over 100 bottles, you're guaranteed to find one that suits your sweetie. SIGG's are completely eco-friendly, BPA and phthalate free. The collection can be seen in its entirety at mysigg.com and you can create your own custom bottle at: http://www.cafepress.com/designer/sigg/
The award winning Resilient Body Oil is now offered in two new aromas plus basq's signature Eucalyptus Spa blend. Add CALM, REVIVE or FRESH to your deep tissue massage or cozy bath for a luxurious feel. Making this trio an ideal gift for must need rest and relaxation.
The collaboration between basq and Disney offers a dazzling gift set perfect for every gifting occasion. This generous gift set has everything Mom needs for herself and her little one. All of our nurturing It's a Small World products in one gorgeous set featuring the iconic art work of Mary Blair. The jewel tones are highlighted by the shimmering gold underneath. The gold box can be used as a keep sake treasure box once opened. Includes signature products 8 oz TOUCH Body Butter; 4 oz DREAM Sleep Mist, 2 oz SHARE Calming Oil and 3 oz LOVE Cleansing Bar.
* I was sent some items to review, but opinions are my own! Some links above may go to my personal Mary Kay page.