Wedding Shower Gifts ~Personalized and Fun!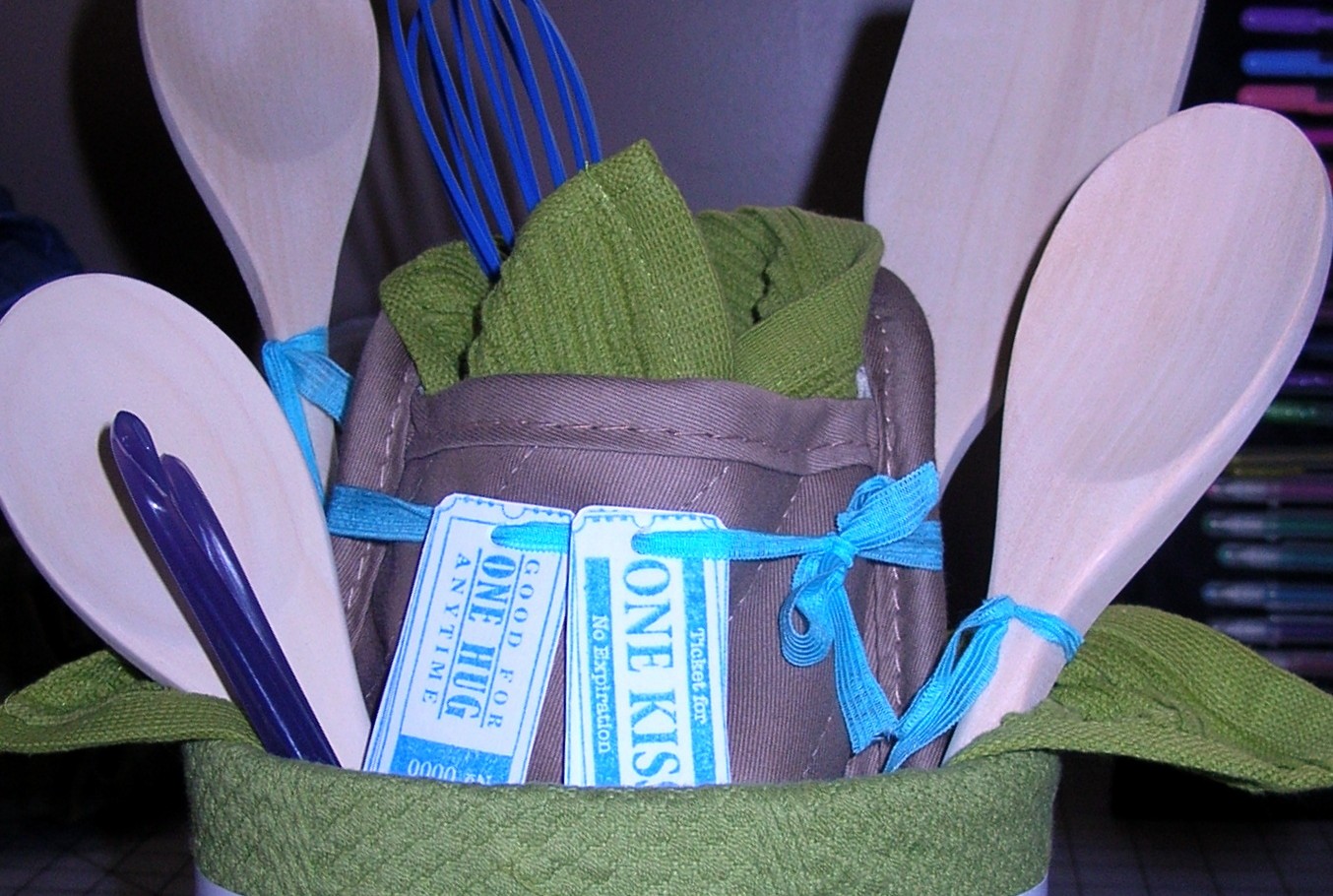 Summer time is coming and that also means wedding time is coming. Right now I know of at least 5 weddings in the month of June. Hubby and I are invited to two of them.
More than just the weddings though, there are bridal showers to attend. I don't know about you but I am not the type of person to go to the store buy a gift and have the store gift wrap it for me. That would be sooo easy; but guess what? I tend to make things hard on myself. 🙂 I have to go the store, wander around for at least an hour before I decide what to buy. Then I go home and have to figure out how to make it look all pretty.
This time was no different 🙂 However I have two wedding shower gifts to make, so I decided to at least use the same idea for each.
Wedding Shower Gifts: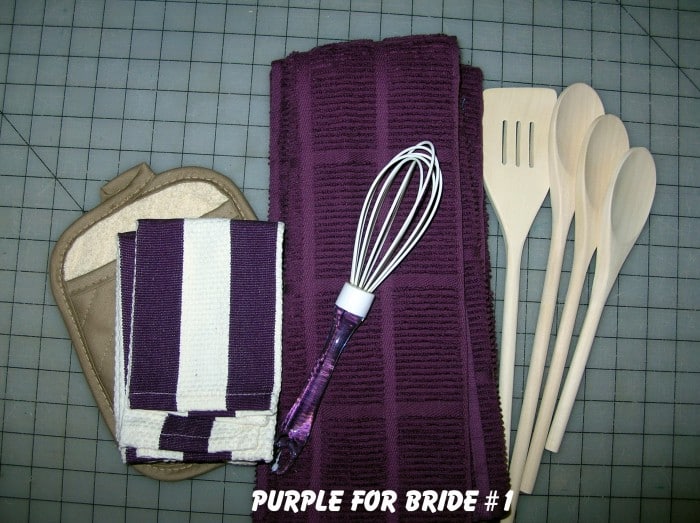 Supplies for the first gift. (I later added a candle)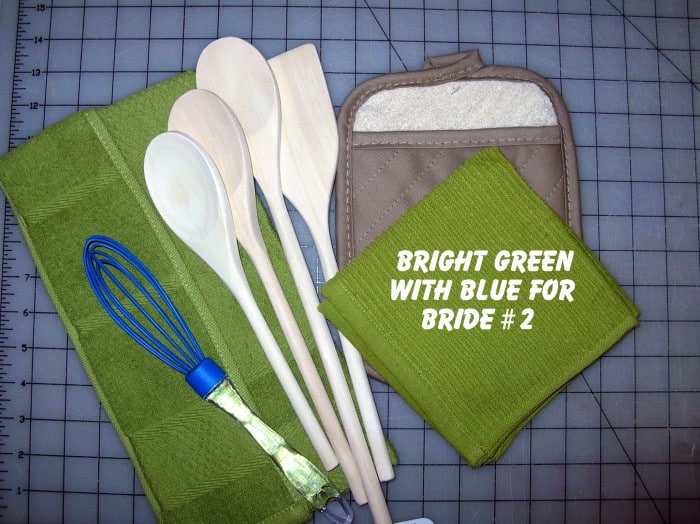 Supplies for the second gift.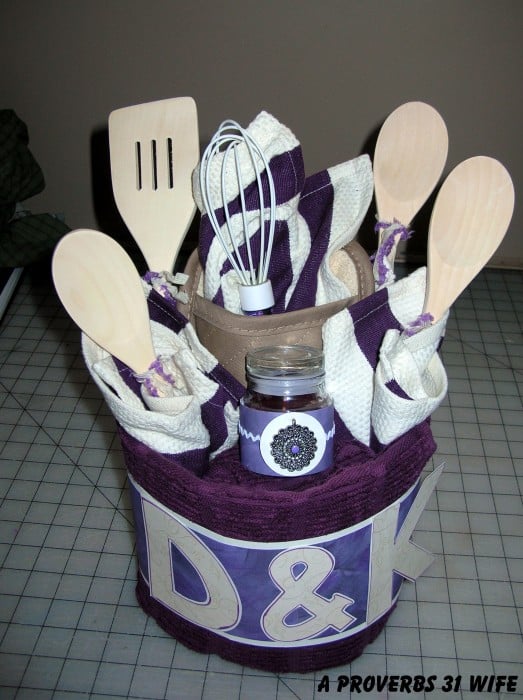 This is what I came up with. I made a stiff paper tube and wrapped the towel around it. Using the rest of the towel and plastic grocery sacks I filled the inside as much as it needed. Then stuffed the pot holder inside with a dish cloth and the whisk inside of that. I found pretty fibers and ribbons in my craft drawers that I tied around he wooden spoons.
I used scrapbook paper to make a band around the towels and then put their initials on the band.
After it was all put together it just seemed liked it was missing something so I found a little jar candle and using papers and ribbons I decorated it and put in the basket also.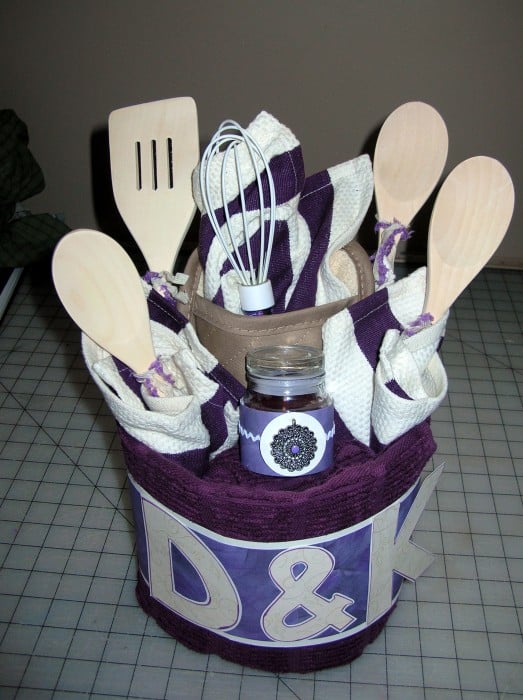 Here is the finished gift again. 🙂
Now for bride # 2's gift, I took some in-progress pics with this one so you can see how I did it.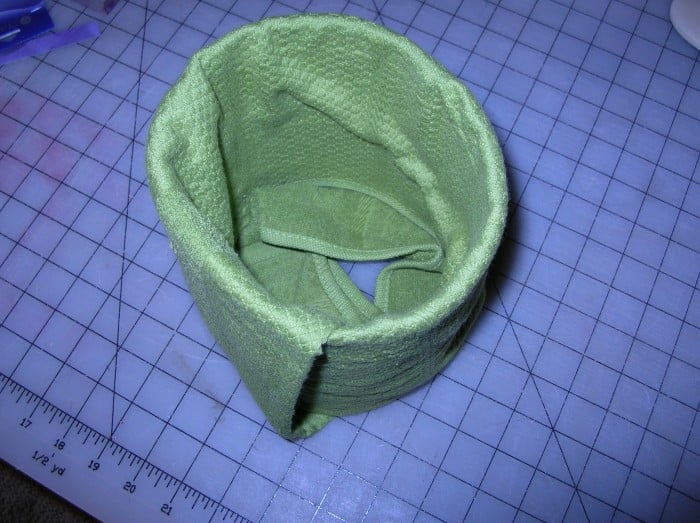 Here I have wrapped the towel around the paper tube I made. (Sorry I didn't take a pic of the tube before I covered it)
So I just flipped the thing over and using safety pins, I pinned the towel together to make the base.
Now that it is back up right, I stuffed some plastic grocery bags in the bottom to help it hold its shape, and for the other stuff to sit on, so it don't completely disappear down inside. 🙂
Using white card stock I made a wide band to go around the towel.
Then I used scrapbook paper and whatever else I wanted to decorate the second band.
Wrap the band around, line it up and tape it.
Now all that is left to do is stuff the goodies in. 🙂
I made the "tickets" with a rubber stamp set I borrowed from my mom.
So anyway, this is the finished result. I think I like the purple gift better, but I chose colors that the brides like. Sooooo, what do you think of my creations?
Hee hee, I just realized you can see how behind I am on ironing shirts 🙂 and that my workspace is very cluttered! Oops, just I'm just a human also.