What does Thanksgiving Mean to You?
With Thanksgiving coming up, I have been thinking something over in my mind and thought I would ask you the same question. What does thanksgiving mean to you?
To corporations it would seem that thanksgiving is Turkey Day. Time to push all these rich treats, and expensive foods. (we won't even mention the day after Thanksgiving!)  Saturday I needed some food for a family reunion we were having on Sunday and it was a bit crazy. Carts full of turkey and pumpkin and cranberries and everything else under the sun. Everyone rushing around and trying to buy everything they needed for the expected meal.
To some, thanksgiving is Turkey Day. A day when it's suddenly okay to eat so much that your stomach hurts afterwards. Where it's okay to eat both pumpkin and pecan pie heaped high with whipping cream or ice cream.
To others, perhaps Thanksgiving is more about watching a football game.
Still some sit with family, and before they eat they name a few things they are thankful for. Family, health, jobs, and things like that are mentioned.
I know of people who in an attempt to make every one happy, go to several different houses during the course of the day. To her mom's in the morning, his mom's in the afternoon and perhaps a grandparent's house in the evening. They are worn out, stuffed full of food and feeling rather ill by evening, but at least every-one's (sorta) happy.
The ones who are hosting the Thanksgiving dinner often find themselves thoroughly stressed. Everything needs to be perfect. The turkey tender, the dressing moist, The cranberry salad sweet but not to sweet, oh and the cranberry salad needs to set up right. The pies need baked, rolls need made and we haven't even gotten started on how the house must be sparkling clean.
Really, if what I mentioned above is what Thanksgiving is all about, then I think I will pass. I will just spend the day chillin' at home and maybe catch up on the housework.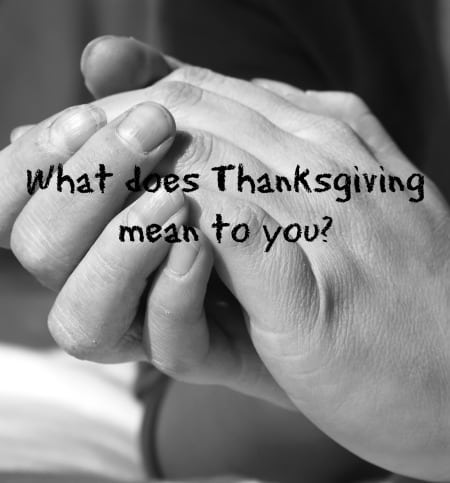 So, what does Thanksgiving mean to you? Here's what it means to me:
Thanksgiving means…
A time to Be thankful
A time to Give thanks
A time to Reflect
A time to Rejoice
A time to Gather with family and friends
A time to say "this is what the Lord has done for me!"
A time to praise God for all of his wonderful works towards the children of men.
The original thanksgiving feast did involve lots of eating and lasted several days for that matter. So I am not against eating yummy food. However, I am a bit against all the stress required to make the meal.
For the hostess; sometimes, simple is better. I really don't like being overly full, only the turkey should be stuffed. 😉
To the guests; you can help. Ask what you can bring to the meal. Offer to show up and help clean, or take the kids out for an afternoon so mom can work. Make sure you help clean up afterwards.
Thanksgiving should be focused on being together and giving thanks to the One who has blessed us so richly. Not on perfection. 🙂
What does thanksgiving mean to you? Leave a comment below and tell us!