What Happens to My Shoe Box?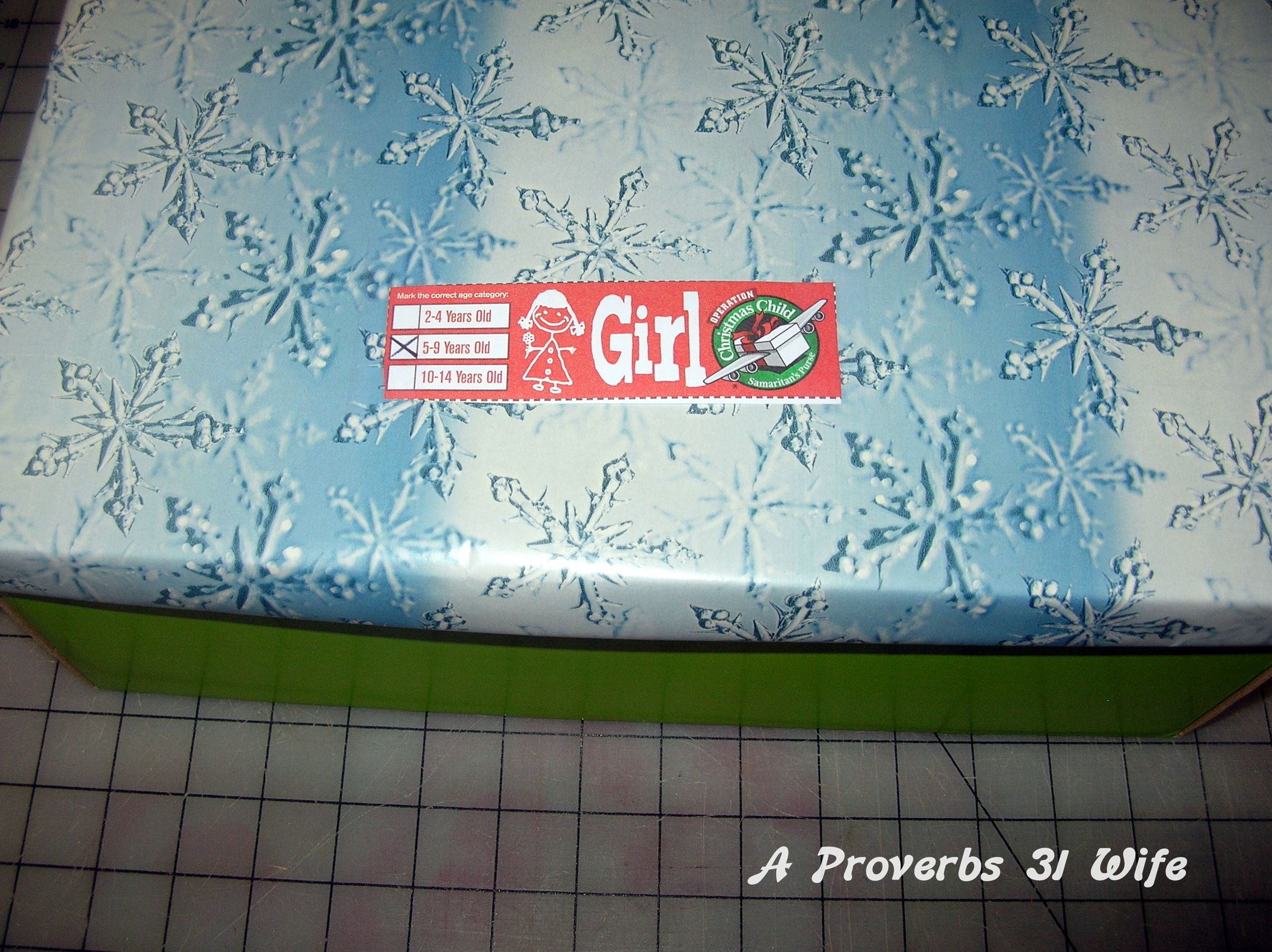 So, maybe you are like me, you packed a shoe box for Operation Christmas Child and now you wonder; "what happens to my shoe box?"  After I shared my post last week where I packed my shoe box, I got a comment from a friend who told me that the little mirror would be removed (insert really sad face here).
I started emailing back and forth with her, and found out she has helped with getting those thousands of shoe boxes ready to be shipped overseas! She started telling me what happens to my shoe box after I drop it off, and then I got a great idea! (You can thank me later) So I asked her to share it on here, for you guys!
Ok Belle, "What happens to my shoe box?"
In 2011, a bus load of around 90 people from our church, went to GA to volunteer at the Operation Christmas Child processing center.
Here is a little bit of what happens after you pack the box and take it to the drop off location…  They are transported to 1 of the 7 processing centers in the US. There, they are sorted, repacked, boxed, taped, and scanned by volunteers. Then they are shipped, to the children in need.
~~~~~~~~~~~~~
Here is a peak at the process in the warehouse:
Before we were sent out into the big processing center, we watched a training DVD and did a few practice boxes.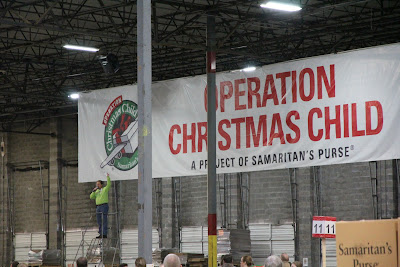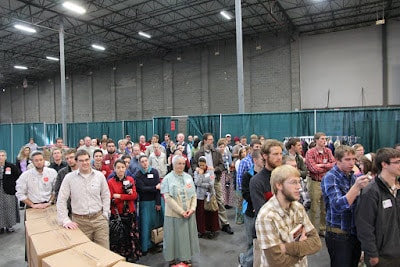 ~~~Prayer, instructions, and dividing up into groups that would be staged throughout the center.~~~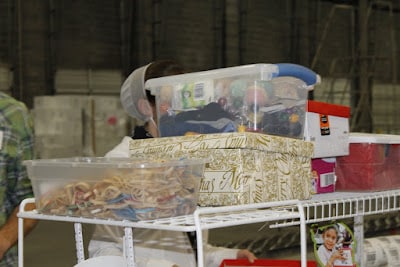 Boxes ready to be sorted…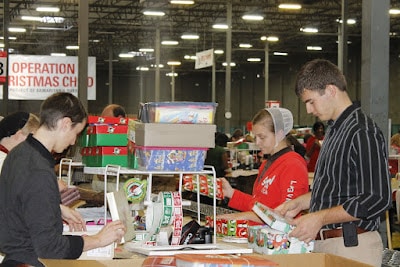 Willing sorters, packers, and tapers…
Taping boxes so they stay together on their journey to a far away country.
Shoe boxes get packed in to big boxes and get a label on each (big box) to make it easier for shipping.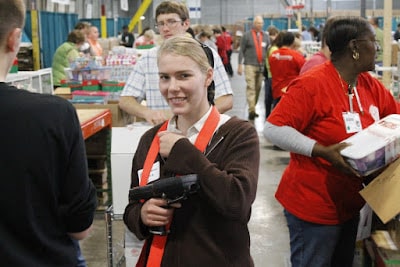 The labels, are then scanned to help with tracking. 🙂
~~~~~~~~~~~~~~~~~~
It was an awesome experience! The whole time I was there, I kept thinking of the JOY that would be on these kid's faces when they receive their boxes!
Here is a list of some things that Operation Christmas Child does not send, and we had to pull out of boxes:
(Most things that do not get sent, go to food pantries, homeless shelters etc)
War related items:  Toy guns, figures with guns or knives, and toy knives. (because a lot of children in other countries are used to seeing army men; army figures would actually scare them)
Chocolate or food: Raisins, jello cups, cheese crackers, canned food and juice.
Lotions, body gel, shampoo etc. (they can freeze, or get squeezed and bust)
*Vitamins and Medicine. A lot of people think this would be a good idea to send to kids that are in poverty.. well, with it not being what they are used to and all, it can actually make them sick.
Glass items: Snow globes, cups and mirrors, because these boxes go through lots of handling, glass items are most likely to break.

Aerosol items: Hairspray, deodorant etc, if these got bumped and started spraying inside a box, that would not be good.
Here is a list of things of some great things to send:
Packing in a small plastic tub is an extra bonus… kids use them as bathtubs

Etcha sketch
Colored pencils (and sharpener)
Pads of paper
Soccer balls(or any kind… with pump)
Soap (in 2 Ziploc bags)
Hard candy
Blankets
Shoes
Socks
Clothes
Plastic or metal cups (not glass)
Flashlights (with batteries)
Toy cars
Doll

Make your box extra special by including a letter and pictures of yourself. That is one of the most fun parts for the kids.
What a wonderful experience Belle, thank you for sharing this wonderful info with us!  Even though my boxes are all packed, I will remember this for next year.  And you still have time to pack a box my friends! Check the bottom of this post for the drop off dates.