Priorities. Are they According to God's Plans, or Mine?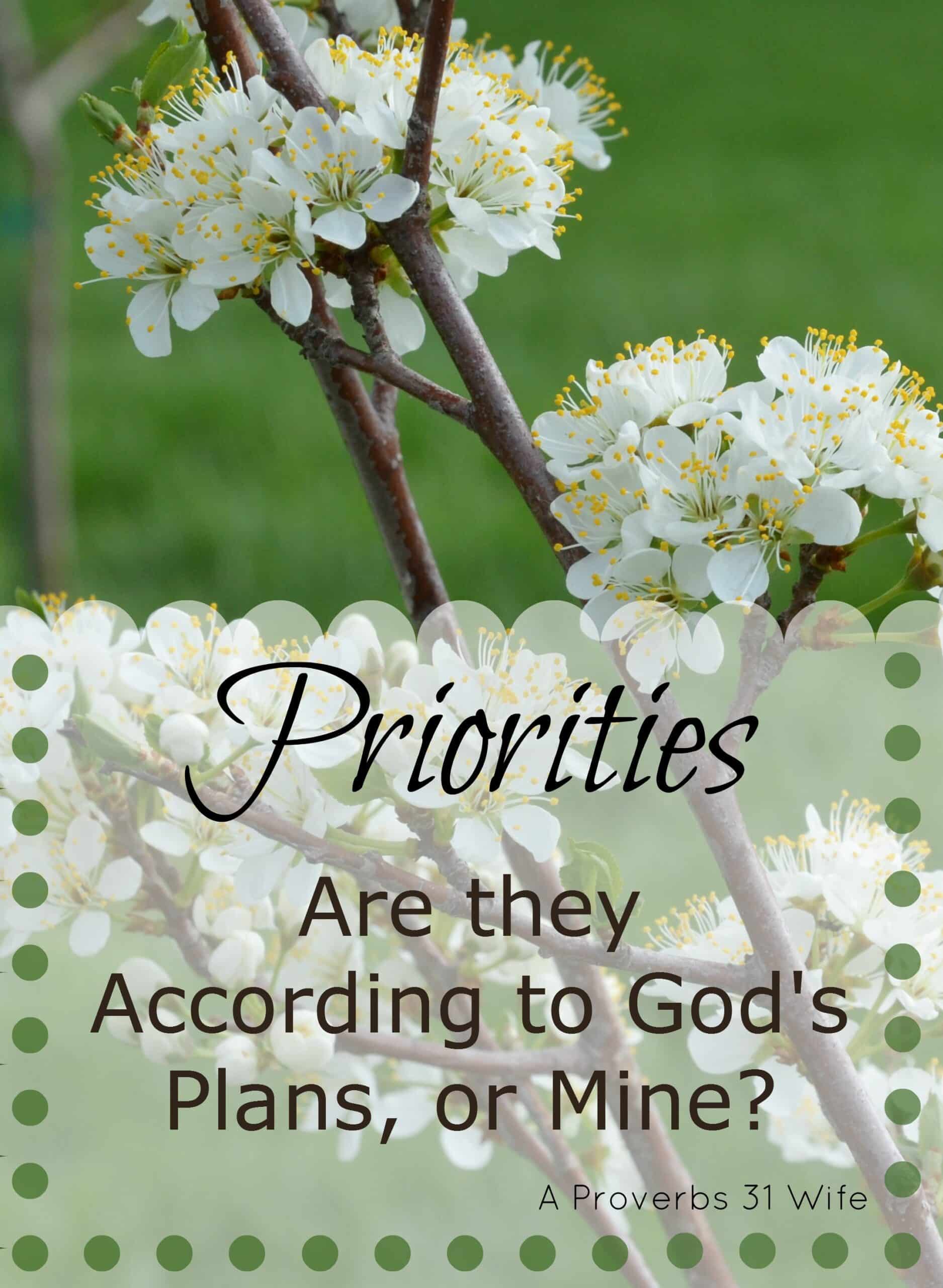 Do you ever feel like your priorities get messed up? I know I do.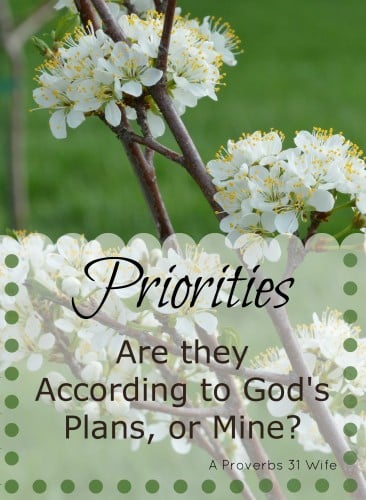 Are your priorities according to God's plans?
Last year when I started this site, I had a vision. To encourage and inspire christian homemakers.  It was a Godly vision and it became the mission of this blog.
But somewhere along the line, my priorities got screwed up a bit. In my goal to achieve this vision for A Proverbs 31 Wife. I missed my first vision and calling as a wife and homemaker.
There were days when I got very little done around the house. Nights when supper was late, and long after Jason was in bed and asleep, I'm still up, typing away. My priorities were a bit skewed, instead of focusing first on my calling as a wife and homemaker, and then working here. I had nearly put my first calling clear at the bottom of my priorities.
It's easy to do that. Get an idea in your head, even an idea that God has planted there; and be so excited about it, that you completely neglect everything else.  I love this mission here.  Sharing homemaking tips, lessons I've learned as a wife, and everything else that goes up here. Writing has always been something I've enjoyed.  But if my writing is taking away from my position as a wife and homemaker, am I really qualified to write here? You know, it would be like the blind leading the blind!
Sometimes it's good to sit back a bit and look at yourself.  Just like we women don't like to look in the mirror at our physical self, we also dislike looking inwards at our spiritual self.  Some-times what we see, just isn't at all what we should see.
In Corinthians Paul talks about examining ones self.  In the context there, we are to examine ourselves before approaching the Lord's table (communion). But as Christians, our daily walk should also be examined. Like David says "Search me O God, and Know my heart, try me and know my thoughts".
Sometimes we need to step back from where we are at and ask the Lord to search our hearts, and we need to examine ourselves.  Look at where we are, and where we are going. Sometimes, we just need to just take a few steps, other times we have to completely turn around. And sometimes, we are right where God needs us to be.
For me, I needed to start saying "no". Sure it's a good topic to share, sure it would encourage some-one. Sure, it's a great recipe/story/craft, but if it's taking away from family, then I need to say no.
So, at times, I may not post much. If I can be spending time with hubby, then that's where I need to be. If there is stuff to do around the house, then that's what I need to do. And most of all, I really need to put God back into the center of my life.
And that's my priorities. God, Family, and then this ministry.
Sharing here: Things I can't Say