Who was the Dorky Looking Dude?
He saw her across the room and knew he had to get to know her better. She saw him walking her way and knew it was destiny. Ok, I know, that's not what happened, in fact quite the opposite happened. 🙂
I started out to write our love story today, and realized that it would take more than one post, so right now I am sharing the first part.
There was a YFs (young folks/youth group) gathering that day but I hadn't been allowed to go. However my cousins and some other friends were going to sing to our grandpa who had underwent open heart surgery earlier that week. So I was meeting up with them there so I could go with them to sing.
I walked in as a lot of people were leaving, and because I felt a little shy and awkward I sat down between two of my cousins and hoped that I would blend in. I had told my cousins hi and started talking to them, when I noticed a guy on the other side of one of my cousins. My first thoughts went like this; "who is that guy? he sure don't look like he's from around here, kinda dorky looking" seriously, my first impression of my future husband was he looked dorky!
Maybe I should explain dorky, you know how some kids are super cute, and as adults they are good looking as well, but as an adolescent they are dorky? Well that would be Jason. Also, let me explain that he did his hair like really plain German Baptists do. It was nasty.
Case in point. I think this is the summer before he moved to Ohio.
Hahahaha! at the above picture :).
So we didn't really meet that first night. But the next weekend at YFs I walked up to one of my friends to tell her hi and she introduced me to a friend of hers named Marie. The three of us were having a good time talking and getting to know each other when Marie says: Oh yeah and this is my cousin Jason" The guy that I had seen last weekend had been sitting by her that whole time and I hadn't noticed him!
Jason and Marie when Jason was 17. Oh that hair :p
So I talked to him some that night and during that time he also met my sister/friend Renae. This was in Feb that we met and that spring and summer Renae and I would often invite him to come along with us and our friends when we would go places.
The funny thing about that summer was; I thought Renae was interested in Jason and so I would invite him to come with us places, and Renae thought I was interested in him so she would invite him along! Haha! As a result though, I got to know him pretty well as a friend and learned that in spite of his dorky looks, he was a good guy. 🙂
Since I shared the dorky pics of Hubby, I thought I should be fair and share a dorky one of myself!!!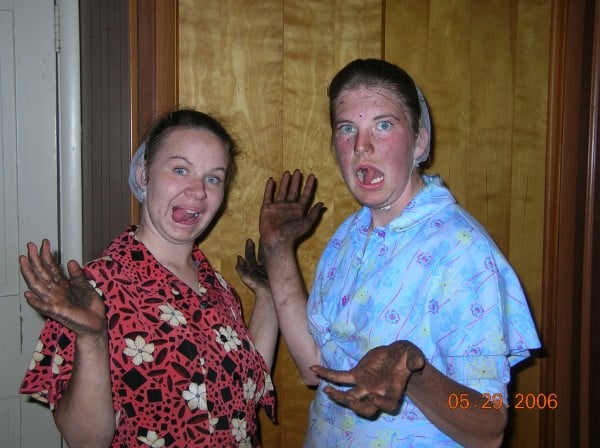 This is Renae and I that first summer Jason moved here.
Oh, and just in case you were wondering. Jason and I were both born in Ohio, but the summer he was 11 his family moved to Oregon. He moved back here in in '06 because he wanted to work as a landscaper and there was a job opening here and he could live with his grandparents.
So that is the friendship part of our love story. Come back on the 29th when I share the rest and also link up your love stories!
Read the Full Love Story Series!
Who was the Dorky Looking Dude.
Love Stories that Last Part1
Love Stories that Last Part2
Making Your Love Story Last
Our Love Story
Happy Birthday and Anniversary to Me!