Whole Foods and Juicing ~ Week 1
Fist week of whole foods and juicing is over. Finally! lol It's a great feeling to have gotten past this first hump in the reboot plan.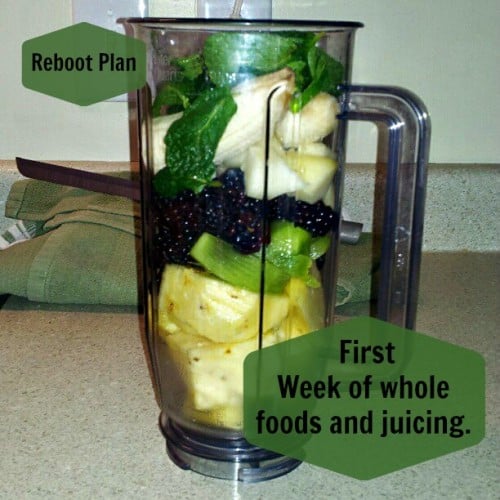 When I shared Wednesday's post this week, I was ill prepared for that day. I woke up on Wednesday starving! The food on my menu just wasn't very satisfying and I had a very heightened sense of smell. As in, hubby opened a bag of corn chips clear across the room and I smelled them! When your diet is consisting of whole foods and juicing, junk food sure smells good!
Then that night as I'm fixing my dinner, I realize all I would have to do is add meat and cheese to part of it for hubby's dinner. I nearly cried while frying that hamburger, I wanted to eat some sooo bad! Not to mention the fact that to much green juice had me feeling rather nauseous.  I did get through the day, and I didn't cheat, even once. It's a good feeling knowing that I can stay strong, even when I so badly want to cave.
That was Wednesday. Thursday actually went much better. My stomach was no longer yucky feeling and I had a bit more energy than the day before, but I still wanted to just sleep all the time. To bad I had work to do and couldn't. 🙂
Friday was the first full day of all juice. I felt slightly hungry most of the day. However, it's not terrible and I'm able to focus on other stuff. Admittedly I have spent a lot of time reading and chewing on ice chips, (soooo bad for my teeth) but I'm feeling cautiously optimistic about this whole thing.
The true test was last night. Some of hubby's family were passing through town and they thought it would be nice to meet at McDonnalds and eat dinner. lol Hubby was going to say we couldn't make it, out of consideration for me. But I didn't want that to get in the way. So, we went. I toted along plenty of juice and water. I just tried to focus on family, rather than those delicious smelling deep fried french fries and juicy hamburgers. Right now, if I cannot have it, it smells like heaven! (and I didn't cheat!)
What makes this whole foods and juicing thing worth it? Well, I have lost around 5 pounds! Next week the weight loss should actually be much greater, but for a first week when I'm detoxing, 5 pounds is great!
Want to know what juicer I'm using (and love?) you can (ad) find it on Amazon.
Disclaimer: You are responsible for your own health choices, and this is not recommended for pregnant or nursing women.