Whole Wheat Blueberry Breakfast Bars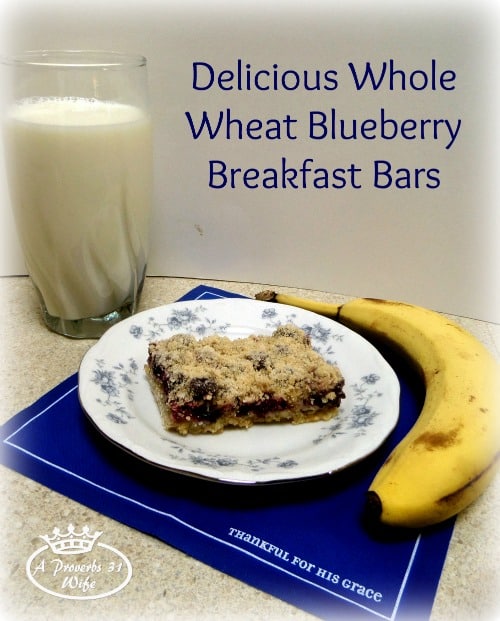 In trying to find different foods for breakfast, I've made a lot of different muffins. Lately I've been trying bars as well. I saw a delicious picture on Pinterest which gave me the idea, but couldn't find a good recipe. So I made my own. Let's have some whole wheat blueberry breakfast bars!
You will actually find the recipe over at the Grain Mill Wagon, but I just HAD to show you a few of the photos first! 🙂
This is a whole foods recipe where I'm using whole wheat flour and raw cane sugar. The taste of the blueberries is set off by the delicious taste of almond extract. This is a recipe you will want to hang onto for sure!
Because it's a bar, and not a bread, the whole wheat blueberry breakfast bars are very crumbly when they are warm. I discovered this as I was attempting to burn my mouth by trying a bar straight from the oven. It basically fell apart.   No matter though, this preggy woman was quite happy with dumping the mess on top of ice cream! It was amazing!
They did work great for breakfast bars as well, just in case you were wondering. 🙂 My favorite way to enjoy them for breakfast was two bars, a piece of fruit, and a glass of milk. Healthy, filling, and absolutely delicious!!!
Don't forget to pop over to the Grain Mill Wagon to get the recipe!