"Jolly Old Elf" Why he Doesn't Visit Our House
The "Jolly Old Elf" or the fat man with a fake beard better known as Santa Claus doesn't visit our house. Of course he doesn't visit anyone's house and we all know it. But we just keep lying to the kids.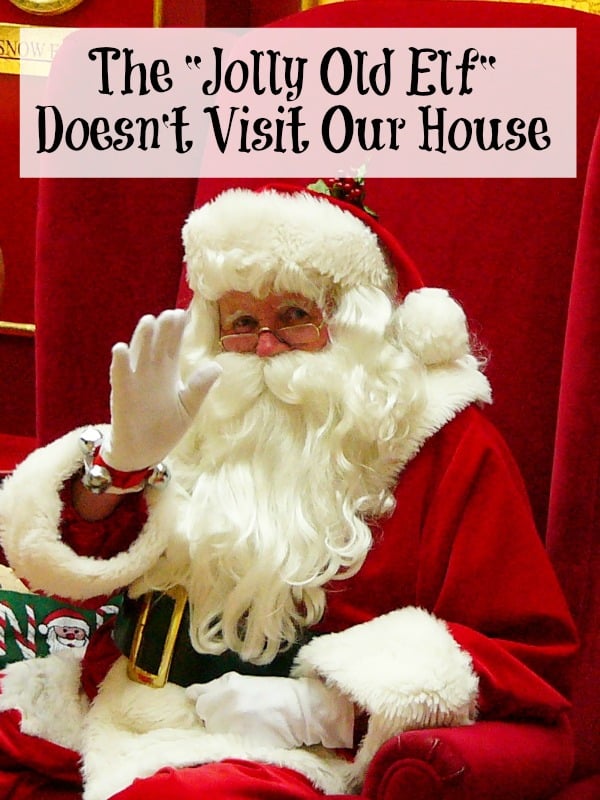 WARNING: I may step on some toes here,  however I don't require my readers to always agree with me.
Every year I find myself cringing. Kids that I watch tell me "Santa Claus is coming". I overhear parents telling their kids that they better listen or Santa won't bring them presents.  I see the commercials, the movies and all of the other propaganda. And I cringe, because we are lying to the kids, plain and simple.
I know people call it traditions. Sounds good to me, lying is a sin and sin has been around since the fall of man. It's a tradition all right, but it's a tradition that needs to be broken.
I really find myself disliking that Jolly Old Elf and all of the lies that go with it.
The world says "Christmas is a magical time" But Christians say "Christmas is a time for miracles". And what greater miracle is there than a baby being born of a virgin? And that baby is the Son of God. Christmas is a time for Miracles, not magic.
Here are some reasons why the Jolly Old Elf doesn't visit our house.
#1.  I want to teach my children truth. Proverbs speaks many times about truth: "buy the truth and sell it not".  Bible stories sound about as crazy as Santa Claus sometimes, but those stories ARE truth. I would hate to confuse a little mind about what is truth and what is fantasy.
#2.  The threat that Santa only brings presents to good little children… Ugh! More lies. Even if the child threw a knock down, drag out fight right in the middle of Walmart, the threat that Santa won't bring them gifts is pointless.
A. Santa doesn't brings gifts, you do. and
B. You and I both know that child will still unwrap gifts from "Santa" on Christmas morning.
The way I see it is this; if the child will not obey during the year because they are taught to obey, then the threat of no gifts, isn't going to make a difference.
I will teach the story of Saint Nicholas and how the legends turned into Santa Claus, there is good history there. But they will understand that Santa Claus is not real.
Christmas can still be a time of wonder and awe for children without the Jolly Old Elf and now this new creepy "elf on the shelf" thing. You can visit nativities that are set up here and there, you can even keep baby Jesus out of your nativity set up until Christmas morning. There are so many ways a Christian can bring awe and wonder to a Child's Christmas that the Jolly Old Elf just isn't needed.
Of course, I find myself in an awkward position. I watch kids from two different families. Both sets of kids believe in Santa and talk about him all the time 'round about now. I refuse to join in and will often change the subject completely. Here is what I try to do. I do not read any of their Christmas books that talk about Santa. Instead, I share the Christmas story with them and try to teach them about Jesus. It's not my place to undermine what the parents have chosen to do, but I certainly do not have to participate.