Winter ~30 days of Thanksgiving day 13
Winter. Cold, white, barren.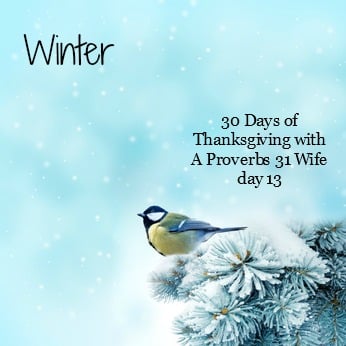 Job 38:4 Where wast thou when I laid the foundations of the earth? declare, if thou hast understanding. (vs22) Hast thou entered into the treasures of the snow?
Winter is a time of rest, the land lies frozen under a blanket of snow and sleeps. Many animals use this time to hibernate as well.
If one were to look out the window in the winter it could be a somewhat depressing scene. Grey skies, bare trees, and brown ground; if there is snow, then everything is white. In light of that, many people greatly dislike winter.
But, there is more to it than that. If there is snow on the ground then it is likely that you will find children. In the midst of the sleeping of nature, there is still life. Instead of green grass and flowers, you see children in colorful coats and colorful sleds dotting the landscape; the joyfully made snowmen even bring a bit of color, with their bright orange carrot noses.
If you put out birdseed, you will be rewarded with visits from bright red cardinals, little wrens and many other song birds. On sunny days the snow glistens and sparkles like a thousand diamonds, at night the moon makes the snow shine like the stars.
Winter is a time for boots and hats and coats and gloves. For sledding and skating and snowball fights.
Inside, its the time for fireplaces and hot chocolate, early nights and more family time.
Many people struggle during the winter to keep their spirits up. While I am no expert on this, I do know what works for me. That would be severely limited junk foods and lots of veggies, especially leafy green veggies. Supplemented Vit.D and the occasional trip to a tanning bed helps as well.
At first glance winter seems like a bitter season, but there is a hidden beauty to be found. There is a promise of new life just waiting for springtime to burst forth.
I think in our lives, the season of winter would be death. The body has been hidden in the ground like a grain of winter wheat. Right now it sleeps, awaiting an eternal spring when the soul shall burst forth into eternal life, and oh what a season of joy and rejoicing it will be!