Your Tax Refund, What Are You Doing With It?
It's that time of year again, when most of us get a nice big check in the mail. So, what are you doing with your tax refund?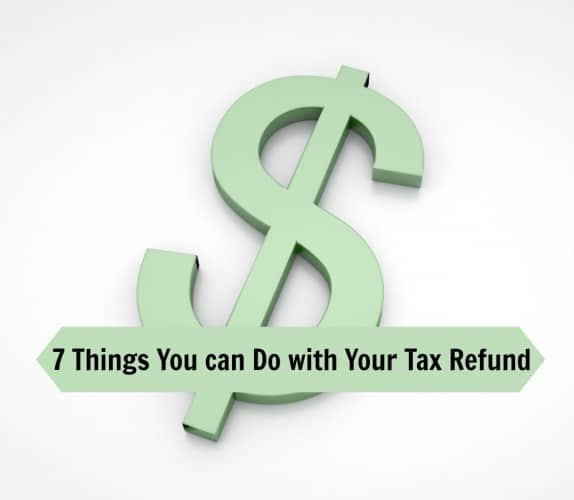 It's easy to see a number larger than most of us see in our accounts at one time and think we deserve to go on that shopping spree and buy those shoes, or truck, or, well, just about anything we may have been drooling over in the past few months. 🙂 And I'm not shooting down a few small purchases for fun. But what else could/should you do with your tax refund?
7 Things you could do with your Tax Refund:
1. Save. You should have enough funds laid by to get you through 3 months. Most of us don't have even one month. But, if you take half of your refund and put it into a savings, suddenly you have a nice little emergency fund.
2. Credit Card bills. Interest rates on credit cards are well, crazy. But I'm sure you don't have to be told that. 🙂 If you have excess credit card debt, consider making one or even two extra payments from your tax refund.
3. Mortgage. If you have credit card debt, use your tax refund to make extra payments. But if you don't (yay for you!) consider making an extra payment on your mortgage. We were told when we bought our house, that one extra payment a year would drop a 30 year loan to a 21 year loan! Obviously, that number will differ depending on your interest rate and amount borrowed.
4. A special fund. Long before I even knew who Ramsey was, I was "stashing" money, in envelopes! Now we have a separate account for our "fun" money, but that is what we use to do things like eating out, vacations, and even things like bowling or movies. You could put a small amount of your tax refund into a "fun fund". 🙂
5. Big ticket items. This year, we had to put a good chunk of our refund into vehicle repairs. We both drive older vehicles with well over 100,000 miles and they needed some work done on them. Now was a great time to do it because we had the money. If you are needing to replace appliances or other household stuff, using your tax refund to do so, would save you having to pay off more credit card or store debts.
6. Charity. Now is a great time to give that additional bit of support to your favorite fund, or charity.
7. Treat. A very small amount of your tax refund could be used for treating yourself. Maybe a special date night with the love of your life. Or a family dinner at your favorite restaurant. or, those new shoes. 😉 Don't go overboard, but sometimes a little treat can make you feel a lot better and help you focus on wisely spending or saving the rest of your tax refund.
We are called to be good stewards with all that we own. This of course refers to money as well. The most important thing is to be aware of your finances, don't just let your tax refund go to your bank and mix with everything else. Pay attention, when your refund arrives, make sure you do something with it on purpose. Because if your don't intentionally use your refund, you will unintentionally spend it, until once again, you have nothing left.
What do you and your family like to do with your tax refund?