10 Ridiculously Awesome Pool Toys This Summer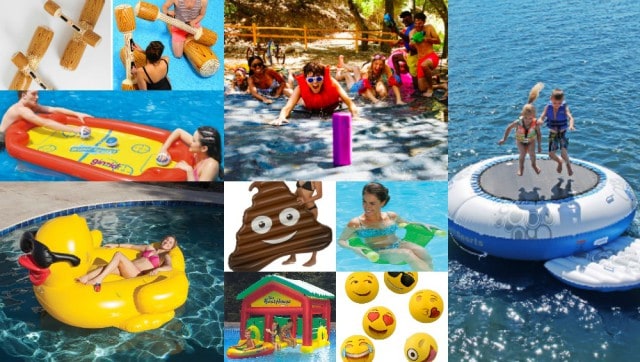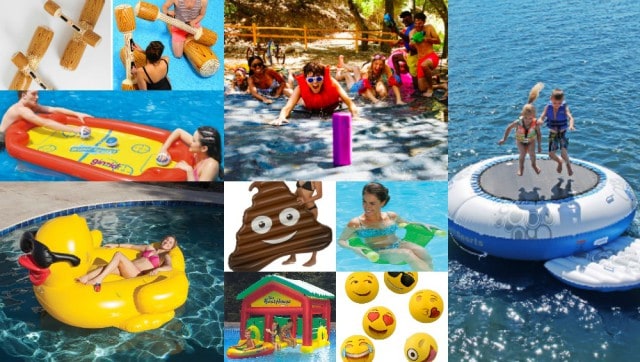 Whether you are an adult or child, headed to the pool or the lake, one thing is for sure, pool toys are a must!
With summer here, it's time to ditch the dusted old pool toys for some of the coolest ones we have seen to date.
Here are our favorite pool toys this summer. And trust us, they are ridiculously awesome!
Emoji Inflatable Beach Balls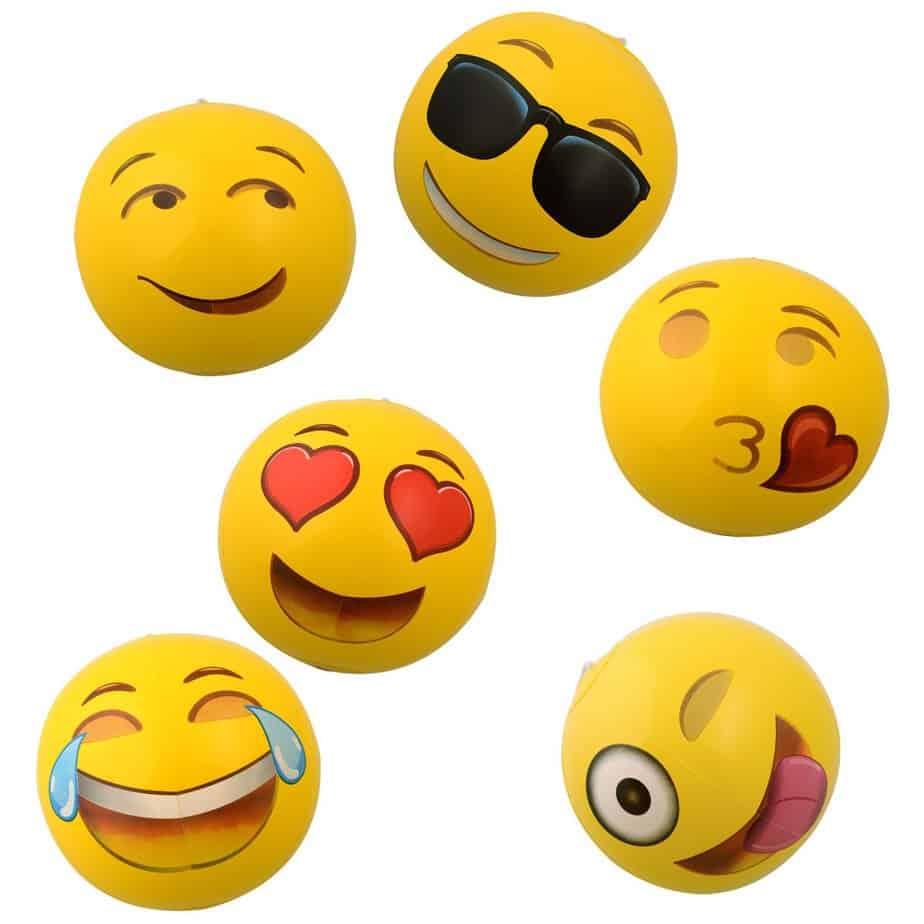 I am slightly obsessed with emoji's, I mean who isn't? These emoji beach balls will be the hit where ever you take them!
Buy Here: http://amzn.to/1TYvQss
The Derby Duck
If you have't jumped on the duck train, now is the time to do so. We have seen some really awesome inflatable pool animals, but the duck has to be our favorite!
The Derby Duck provides hours of fun for you and all your pool-goers. Built for fun and seats multiple people. The Derby Duck even makes a great lounger for hanging out poolside! Features: built-in handles and cup holders, and straps to hold a paddle (which are not included).
Buy Here: http://amzn.to/1t4KztD
Ultimate Ears Bluetooth Speakers
While this may not technically be a "toy," we are OBSESSED!!!! Being outside, enjoying the sunshine isn't complete without listening to your favorite tunes. Ultimate Ears has 3 incredible speakers, but the best part? They are WATERPROOF! That's right! Perfect for all those days at the pool, beach, lake or ocean! Ultimate Ears bluetooth speakers start at $99.99
Buy Here: http://www.ultimateears.com/en-us/store
Floating Hockey Game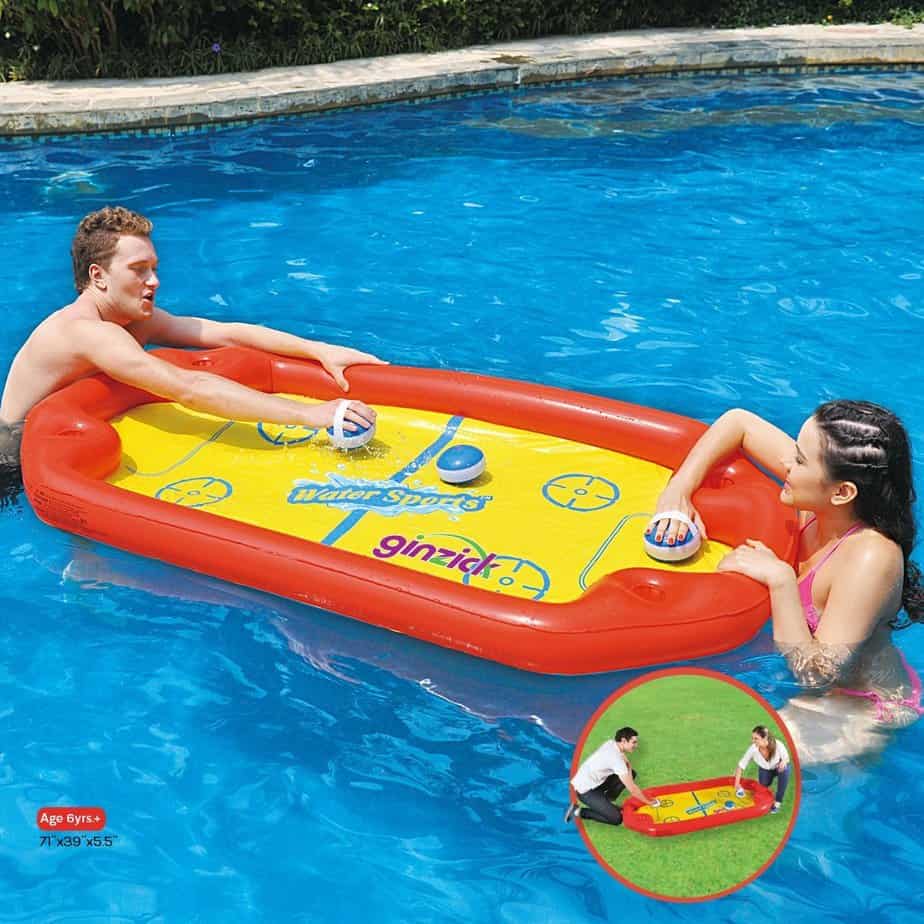 My family is pretty obsessed with air hockey. If we see a table somewhere, it is almost a must that we stop to play a game. It's really a fun game for the whole family and what better way to take that fun to the water?
Ginzick Super Fun Floating Hockey Game Inflatable Pool Toy High Quality Durable Inflatable Pool floating Hockey game You and your kids will have hours of fun with this unique floating game its the perfect pool toy for ages 6 and up good for use in pool or out of pool.
Buy Here: http://amzn.to/1PoM0Nb
Joust Pool Float Game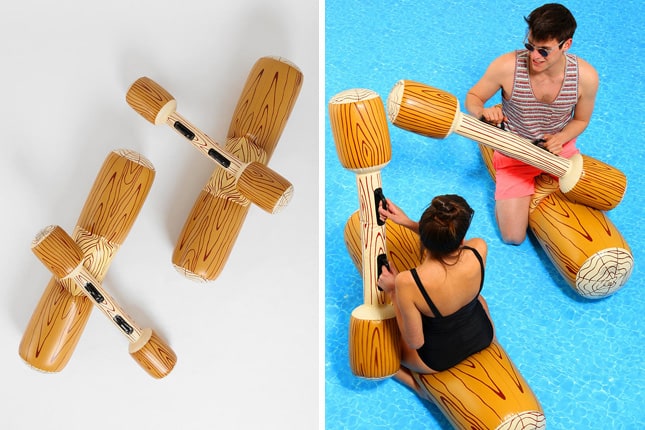 Seriously, who's ready to battle? I need these in my life!
Inflatable joust game designed to be played in any pool. Knock your opponent off with your oar and you win! Crafted from heavy-duty vinyl, this easy-to-inflate float includes two rafts + two oars.
Buy Here: http://bit.ly/1XU0nKH
RAVE Sports O-Zone Water Bouncer
I don't care if you are an adult or child, trampolines are fun. Then add it with water, and it's even better!
Take the fun to the water with the blue Rave Sport Water O-Zone 2-Person Bouncer. It's equipped with a low-profile boarding platform that makes it easy for children of all ages to use. The Rave Sports Water Trampoline features soft vinyl handles, durable PVC construction, grab lines around the perimeter of the tube and drain holes in the bottom sheet to make removal a snap. It has a total of 5′ of bounce surface that can handle up to two children at a time, totaling 500 lbs max. The O-Zone Inflatable Water Trampoline also includes a 40-lb capacity anchor bag and requires an 8′ water depth for use. Add on the O-Zone Slide and the new Oasis Lounge (sold separately) to relax while keeping a watch on the little ones.
Buy Here: http://amzn.to/1X1wwAV
Floating Pool Noodle Sling Mesh Chairs

Not gonna lie, my favorite part about being in the water is relaxing and what better way with these floating mesh chairs? The set comes with 4 soft mesh seats and they slip right onto standard 3″ diameter noodles to create floating chairs for the ultimate in relaxation and enjoyment! (Noodle not included)
Buy Here: http://amzn.to/1TYB9rW
Giant Emoji Poop Inflatable Raft
One word: YEP!
Buy Here: http://amzn.to/1ZhqCts
Swim N Play Boathouse Floating Habitat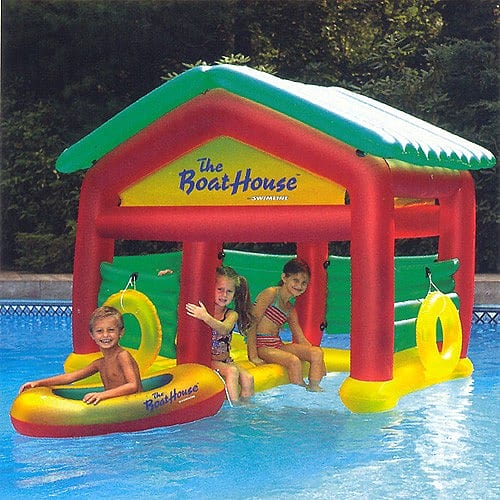 This heavy gauge inflatable Boathouse Floating Habitat is rugged and measures 78″ long x 52″ wide x 63″ high. It's big enough for all the kids to fit inside. Our boathouse comes complete with an inflatable boat and ring buoys, and features a removable roof raft.
Buy Here: http://bit.ly/1TYBOJU