15 Best Romantic Hotels in California
Living in California I sometimes forget how beautiful (and big) our state is. We have some of the most beautiful and romantic locations. Some make you pinch yourself and question if you're dreaming or not.
I have had the privilege of exploring a lot of California over the last 32 years and have found some parts of this state are slowly becoming my favorite.
We all deserve a nice weekend getaway with the love of our life, and if you are looking to make that stay in California, we have some hotels you just have to take a look at. Whether you want a weekend packed with hiking, watching the sunset over the beach, or just relaxing in the hotel with a couples massage, these hotels have something for everyone.
Here are the 15 best romantic hotels in California (From North to South).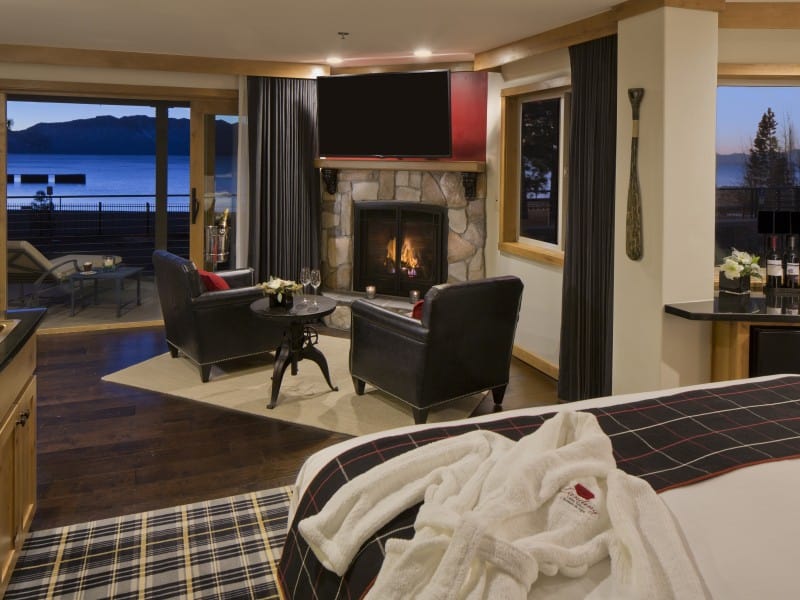 The Landing Resort & Spa offers the finest Lake Tahoe accommodations and the highest service levels. Discerning travelers will appreciate the luxury hotel's thoughtful amenities, lively personality, restorative spa packages, and contemporary European design. Commanding a prime waterfront location in South Lake Tahoe, all resort guestrooms feature stone fireplaces, and many afford spectacular lake views.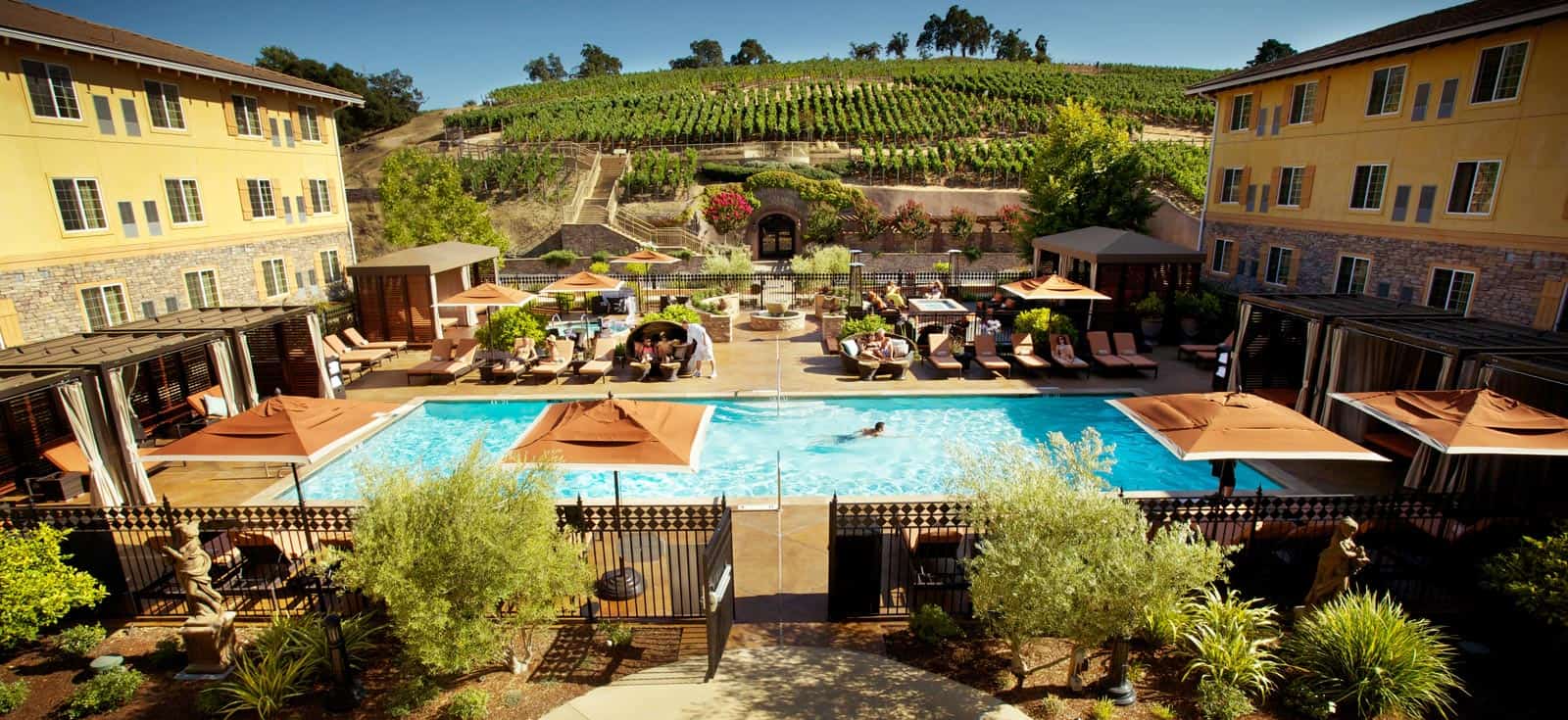 Acre upon acre of sun-soaked vineyards. Lavish accommodations paired with extravagant amenities. Award-winning cuisine celebrating the finest of Napa Valley's bounty. Indulgent spa treatments in the serenity of an underground Estate Cave. The Meritage Resort and Spa perfectly blends world-class luxury with exceptional hospitality to bring you the ultimate Napa Valley resort experience. Plus, there's a bowling alley!
Silverado Resort and Spa is a luxury resort in the heart of the world-famous Napa Valley Wine Country! Whether you come to the Northern California area for relaxation, adventure, or business, find it here.
Located just an hour north of San Francisco, it's all tucked away from the city while still being close to the Bay Area action. The soothing, full-service spa sets the stage for relaxing comfort, offering massages, facials, manicures, pedicures, and more. But there's more to Silverado Resort and Spa than just soothing stays.
Two PGA championship golf courses, which are overseen by World Golf Hall of Fame member, lead golf analyst for NBC Sports, and resort co-owner Johnny Miller, 13 lighted tennis courts, and biking and hiking trails on-site ensure excitement at every corner. And thanks to its Napa Valley Wine Country location, it's all close to more than 400 wineries.
The fine and casual dining within the resort's restaurants pairs nicely with local wines. The elegant styling and picturesque Northern California views make it one of the most sought-after wedding venue destinations as well. It's all designed to ensure the perfect Napa Valley Wine Country stay for any and all visitors.
Solage provides guests with a full range of spa services, unique wellness experiences, a Michelin-starred restaurant, and complimentary cruiser bikes to explore the resort and the surrounding locally-inspired activities.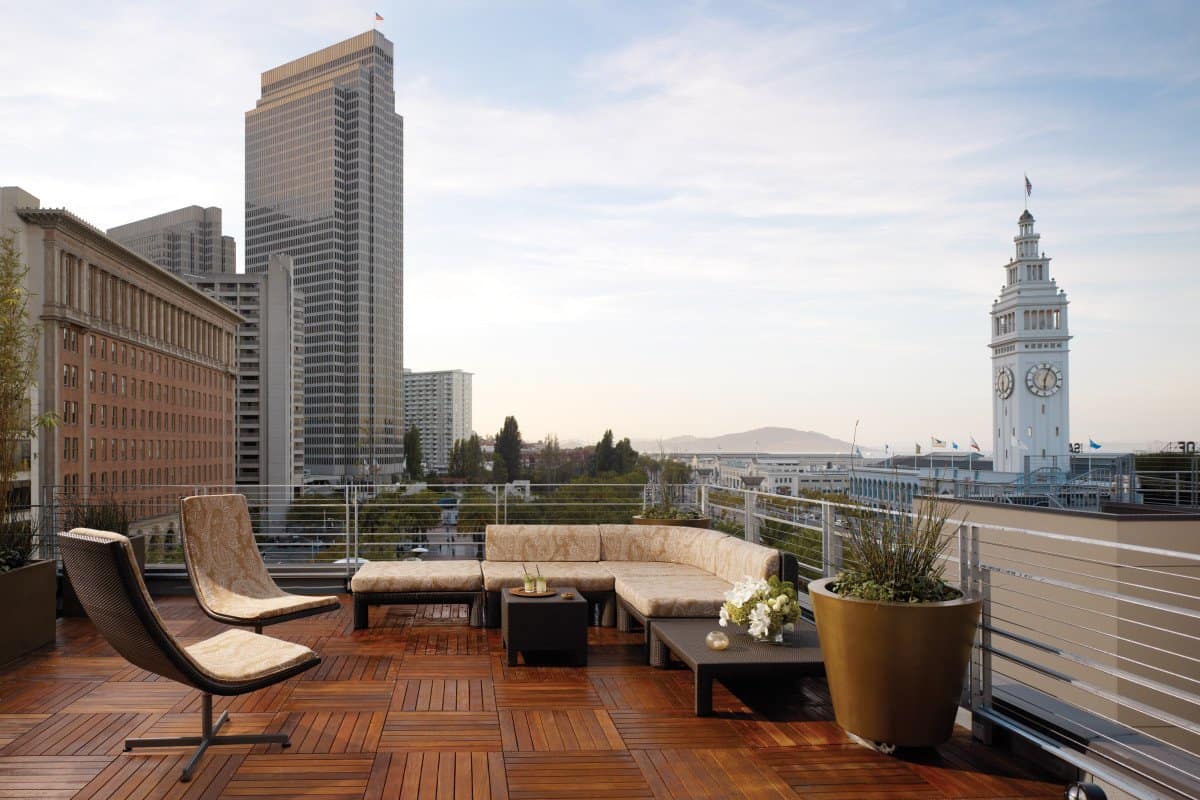 Hotel Vitale combines the natural beauty of its waterfront location on the Embarcadero with the modern luxury of San Francisco's Downtown. Unwind on our unique boutique hotel's private terraces with gorgeous views of the iconic Bay Bridge with its spectacular Bay Lights, and when you are ready to explore, stroll across the street to the San Francisco historic Ferry Building, a gourmet mecca or walk to some of the city's best restaurants, world-renowned shopping, and attractions.
The Palace Hotel.  A newly renovated San Francisco icon was unveiled.  A designer's vision was brought to life. Original architecture and authentic elements paired with classically inspired, modern décor.  Space filled with light, color, and warmth.  A look that is rich, stylish, and absolutely gorgeous. It's improved upon, historic perfection.  And it's befitting of the Palace.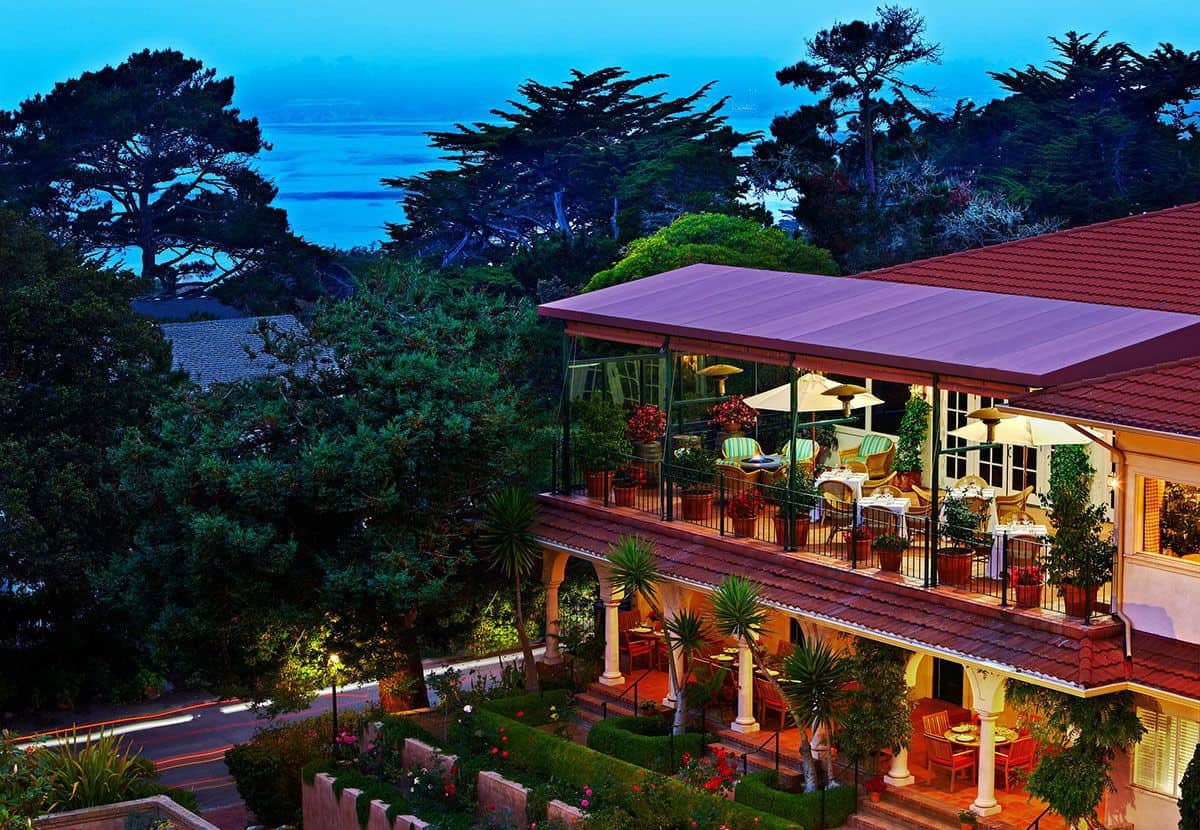 Set in a 1905 mansion on a residential street, this stone-fronted hotel is a 7-minute walk from Carmel Beach, 4 miles from Point Lobos State Reserve, and 6 miles from the Monterey Bay Aquarium.
Breezy rooms with a beach-cottage vibe, plush platform beds, and ocean or garden views feature free WiFi, turndown service, and flat-screen TVs. Some have patios and fireplaces, and luxe suites offer sitting areas with pull-out sofas.
Complimentary amenities include a champagne breakfast buffet and a free shuttle to Carmel restaurants. An on-site landmark bar serves cocktails and light bites; there's also a lush garden courtyard with a heated pool.
Set on a cliff overlooking the Pacific Ocean, this luxury, contemporary, ranch-style hotel is 1.6 miles from the Henry Miller Memorial Library.

The rustic-chic rooms, suites, and tree-houses have private decks with mountain or ocean views and wood-burning fireplaces. They also have free minibars and WiFi, plus iPod docking stations. Some have indoor and outdoor spa pools. There are no TVs.

Full breakfast is free. There are free loaner cars, as well as yoga, meditation, and star-gazing classes. Other amenities include a spa with two cliff-top infinity pools, a swimming pool, and a fitness center. An ocean-facing restaurant is also offered.
A Mediterranean-inspired refuge poised along the idyllic east side of Paso Robles, the Allegretto is bathed in acres of sprawling vineyards and orchards, blending the region's best food and wine experiences with European-style hospitality that invokes joy and harmony.
Here, discoveries never end, with spaces that open up to lush gardens, soothing spa treatments that perfect balance and finely crafted cuisine cultivated from local farms and purveyors. Set out to explore the Wine Country on horseback, sip, savor, and swirl some of the finest regional wines, including the Allegretto's own private label or lounge poolside in a private cabana while prepping for the next day's adventures. The California Central Coast is calling.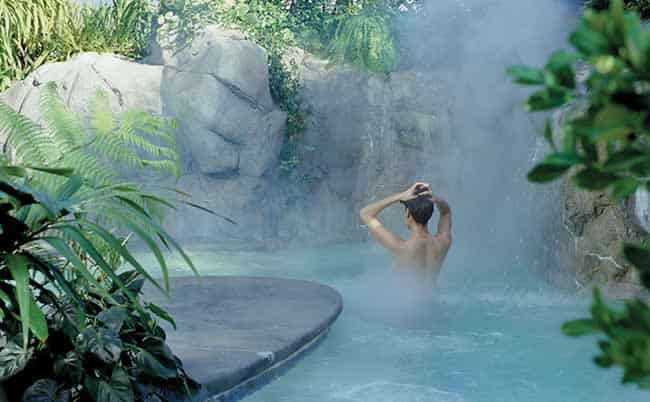 Nestled within the Central Coast of California's pristine Avila Valley, the legendary Sycamore Springs Resort & Spa—located on over 100 wooded acres—is a destination like no other. Since the late 19th century, the Resort has been a popular retreat and committed to providing a deeply relaxing and rejuvenating experience.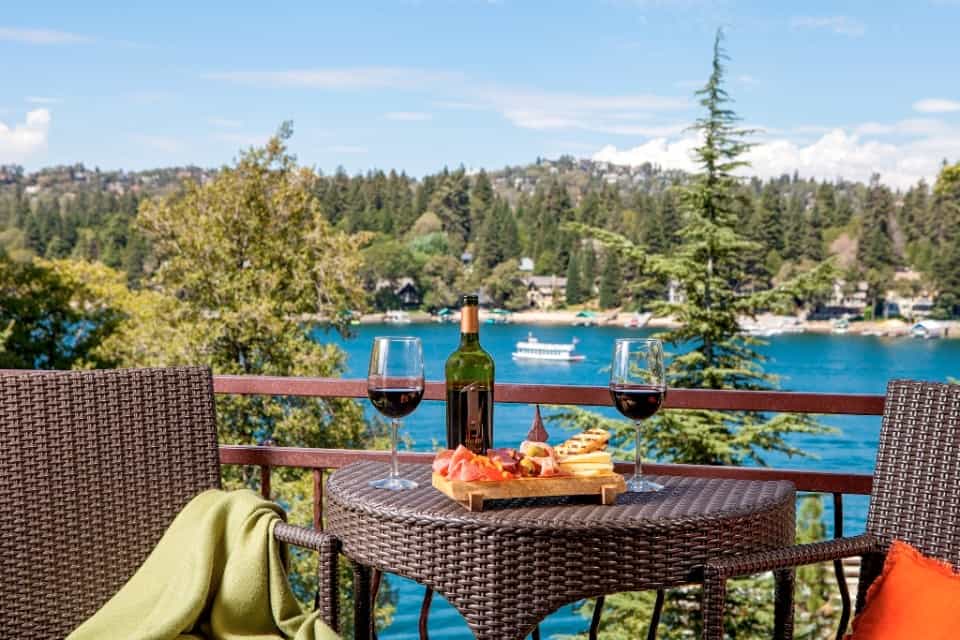 This upscale lakeside resort and spa is 12.2 miles from skiing opportunities in Snow Valley and 20 miles from Big Bear.
Perched upon 504 acres of unrivaled coastal beauty, Pelican Hill is set apart as a world unto itself, offering a feast for the senses and a blissful summer retreat for family and friends.
The private Villas and Bungalow Guest Rooms & Suites are all spacious and casually elegant, with an attentive staff there to anticipate your needs at every turn. Resort amenities are designed with you in mind, providing all the comforts of home with the activities and ultimate relaxation of a vacation away.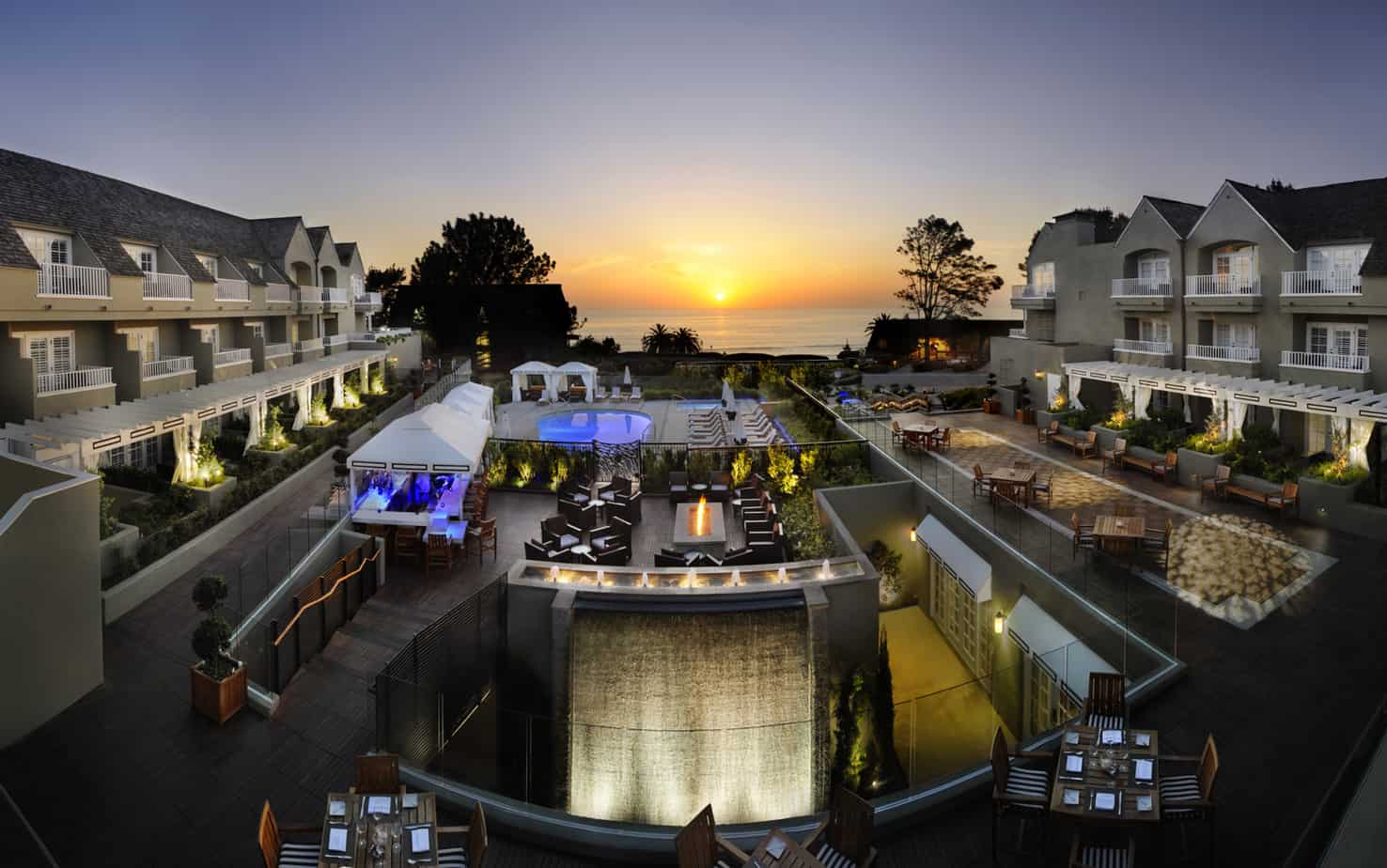 This luxury resort is located in the heart of Southern California's most picturesque coastal village of Del Mar, in San Diego's North County. The luxury resort is situated on 5.2 acres of gracefully landscaped grounds with a private pathway to one of the best beaches in California, making it the perfect destination for a beach getaway.
Basking in San Diego's endless sunshine, Fairmont Grand Del Mar welcomes guests to a warm Mediterranean estate replete with signature charm and Southern California style. Unrivaled Five Diamond service delivers every indulgence, including a championship Tom Fazio golf course, a Five-Star spa, and exquisite dining.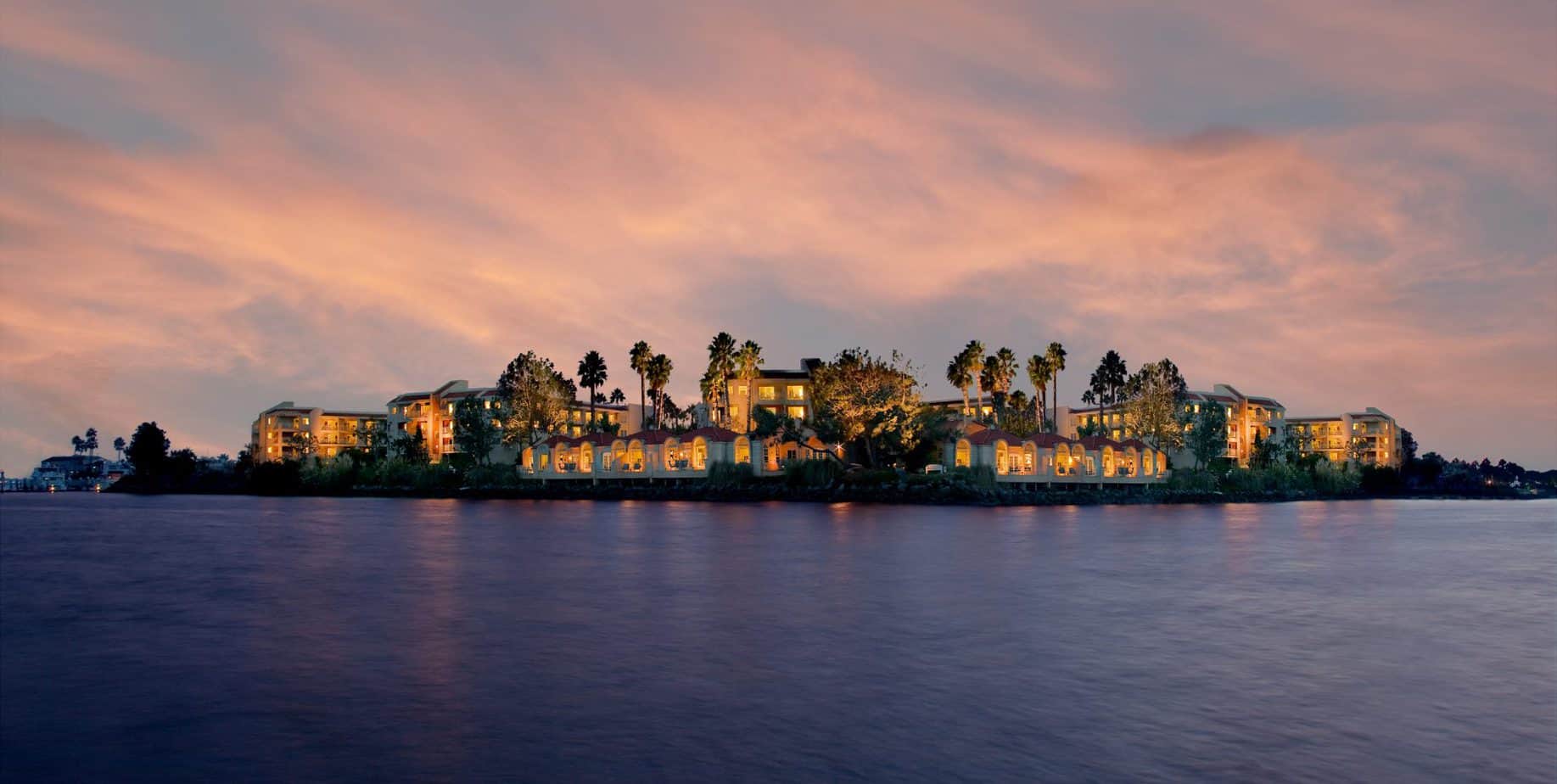 Perched on its own 15-acre peninsula, Loews Coronado Bay is a private oasis of tranquility. This Coronado hotel offers views of the shimmering bay waters and the San Diego skyline.