21 Reasons Why You Need to Visit Beaches Turks & Caicos Resort Villages & Spa
I am a huge fan of all-inclusive resorts. In fact, it's how I prefer to vacation when I travel internationally. There are so many benefits, especially while traveling with your family. However, because of my experience at some of the best all-inclusive resorts, I have pretty high expectations now. (Read our 10 Things You Need to Know Before Staying at an All-Inclusive Resort)
When I got my invitation to attend this year's Social Media On The Sand conference, I was incredibly excited. Social Media On The Sand is a social media conference for mom and dad bloggers that is held at Beaches Turks & Caicos Resort Villages & Spa.
I had never visited a Beaches/Sandals Resort prior to the conference, and it had been on the top of my bucket list of resorts to visit, so you can tell not only was I making sure I was available on the dates of the conference, but that my kids and husband were too. After all, Beaches Resorts isn't top-rated when it comes to family resorts for nothing.
There are so many exceptional reasons why Beaches Turks & Caicos Resort Villages & Spa absolutely blew any other all-inclusive experience I had out of the water. It truly is the BEST family resort you can ever visit. 
1. Once you land, you don't have to worry about anything. Right outside the Providenciales International Airport, Beaches Resorts has its own kiosk where you check in, grab a bottle of water, and wait for your shuttle. The shuttle ride is about 10 minutes and will drop you off at the appropriate village at the resort.
2. What bags? One of my least favorite parts about traveling with my family is all the suitcases, backpacks, and other random things we bring with us. Beaches Resorts completely takes care of it all. Once the shuttle picks you up from the airport, the staff tags your luggage with your room number. Yes, they have your room number already chosen. Then, you don't see your bags until you head to your room after check-in.
When you're ready to check out, they tell you what time to leave your bags outside your door. If you have a late check-out as we did, you leave your bags outside your door by 11 am, someone comes and picks them up (literally at 11 am), and you don't have to worry about them until you get to the airport.
3. Speaking of check-in. By far the best check-in experience I have ever had. Right when we exited the shuttle, I was handed a cool towel, and then we were led inside. Once inside, we sat on some extremely comfortable couches and were handed drinks- fruit punch for the kids and rum punch for the adults. Yes, please!
They did the check-in right from the couch, which included our departure flight information. If you're worried about your kids sitting still for the check-in process, the lobby had a kid's corner, which had little chairs, a table with Sesame Street printouts to color, and a TV for them to watch cartoons on.
4. Four resorts in one. Depending on your wants, needs, and desires, Beaches Turks & Caicos offers four different villages to choose from: Key West, French, Italian, and Caribbean.
Key West Village- Casual Elegance, Laid-back lifestyle. The new Key West Village combines the laid-back lifestyle that this island paradise is known for with its Luxury-Included amenities and impeccable service.
French Village- A Caribbean Paradise with a French Accent. The French Village at Beaches Turks & Caicos has a sense of style that's always classic. As you stroll through the village, on your right is a charming chateau and a pool that seems straight from a fantasy.
Italian Village- A Mediterranean Oasis with a Tropical Feel. With a commanding presence in the center of the resort, the Six Star Diamond award-winning Italian Village at Beaches Turks & Caicos brings a touch of la dolce vita to the Caribbean.
Caribbean Village- The Garden Oasis with a seaside view. Picturesque gardens teaming with colorful vegetation. White-sand beaches are perfectly suited to watching the tide roll in. This is what life is like in the Caribbean, and it's exactly what you'll find at the Caribbean Village at Beaches Turks & Caicos.
5. Put your money away. They don't call it an all-inclusive resort for nothing. Once you arrive at the resort you don't need your money for anything. It's a cashless resort, and I couldn't be more appreciative of that. It may be weird ordering a drink and not tipping the bartender, but even if you try and sneak in a tip, the will kindly refuse it.
Instead, make sure to give the names of the staff members that offered exceptional service when you check out. If you want to purchase anything from any of the gift shops at the resort, just give them your room number. They have your card on file from when you checked in.
6. The service is EVERYTHING! The service alone put the resort into a category of its own. I've met great staff at other resorts, but the staff at Beaches goes above and beyond for guests staying at the resort. Now I don't think this is common, and they may have done this for us because I was attending a conference they were sponsoring, but my son has some anxiety/sensitivity issues and just doesn't feel comfortable being around characters in costumes.
Well, the Kid's Club manager met us after our welcome party on the first day and had us follow her to meet one of the employees who dresses up as Zoe around the resort. Being able to let my son talk to him while he wasn't in costume and having the gentleman talk to my son about what it is that he does, helped calm my son's nerves. He even waved to my son during the performance. I mean, where else can you get that kind of service? It really made our trip so enjoyable!
7. The resort is literally steps from the beach.
No matter what village you stay in, that turquoise Caribbean water you have always pictured is right there. I am not a huge beach person. Yes, I love looking at the view, but to see me playing in the sand and ocean water is not something that is common. During my down time at Beaches Turks & Caicos, you literally had to pry me away.
I don't know what they do to the sand, but that is not like any sand I have ever put my foot in. It is the softest sand, lightest sand. And don't even get me started on that water… perfect temperature, perfect amount of waves. I could really stay there forever.
8. FREE water activities. Say what?! This was actually something that shocked me. In all my experiences staying at all-inclusive resorts, water activities aren't something that is usually included in the cost and is an additional fee. Well, not at Beaches Turks & Caicos Resort & Spa. Water sports are included in your cost already. So what exactly is included?
Sailing
Kayaks
Paddle Boarding
Wind Surfing
Hobie Cats
AquaTrikes
Worried about not knowing a thing about any of these water sports? Not to worry! There are unlimited complimentary lessons available for all watersports activities.
9. SNORKELING.
Ok, I know I talked about the free water activities above, but I felt like this deserved to be on its own separate number. Snorkeling IS included in the cost of your resort stay, they offer complimentary snorkel gear for you to check out, and you can snorkel right off the beach next to the resort.
If you want some incredible snorkeling, you can take about a 10-minute walk down the beach, and there's an awesome spot to snorkel from. Just ask the water sports staff, and they will be happy to assist you with where to go.
10. Tired of the beach? OK, I know that's a silly question, but you may want to consider taking a break from the beach to enjoy one of the many pools around the resort.
Each pool offers an awesome swim-up bar, and many of the pools also have their own DJ bumping music during the day. Our favorite pool was the French Village pool. There was barely anyone there due to the construction going on in the rooms, so we not only had the pool to ourselves but the bartender as well!
11. Pirate Island is seriously the coolest kids' water park we have ever been to.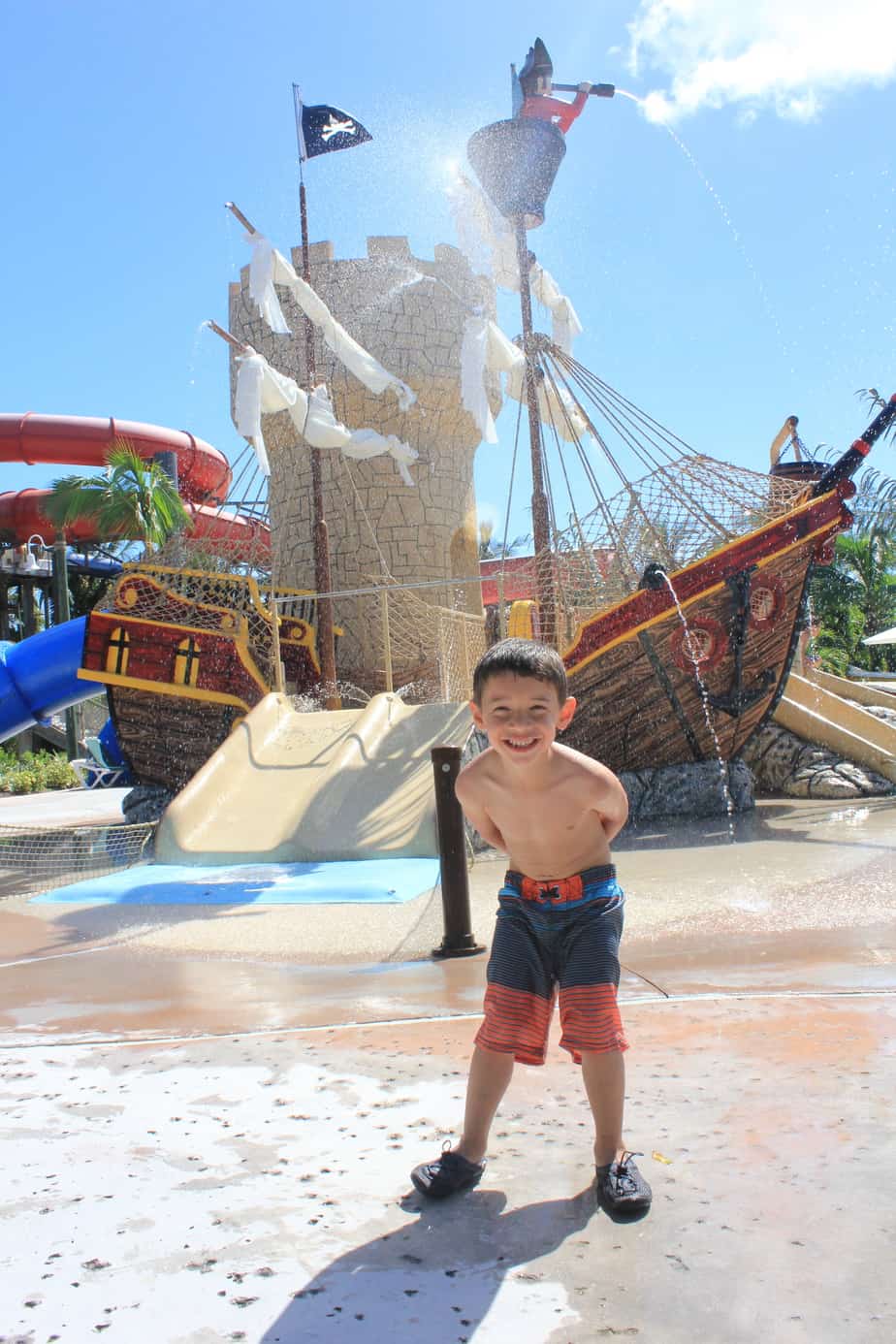 Imagine your children racing down one of the five water slides or relaxing on the lazy river, or maybe pretending to be a pirate on the huge pirate ship. Whatever your child wants to do, Pirate Island has it. There is even a kids-only swim-up bar full of smoothies to choose from. Best part? Adults can enjoy the water slides and lazy river too. I know we did!
12. Worried about getting a pool chair? That seems to be a worry a lot of people have when traveling to beach resorts. During the five days we were at the resort, we had no issues getting a pool chair or a beach chair. There really are plenty of chairs around the resort for everyone.
13. Take advantage of the kid's club. We typically don't put our kids in kid's clubs when we travel. For one, they usually are kind of lame, and for two, my kids just don't want to go. The kid's club at Beaches Turks & Caicos Resorts & Spa is impressive, to say the least.
While we personally didn't get a chance to try it out (I regret it completely), every person that I talked with whose kids originally didn't want to go, when their parents went to pick them up, they didn't want to leave. That speaks volumes about the staff and the fun these kids are having. If you think your kids are just going to sit in a room and watch TV and play video games, then you are wrong. The kids are so active during their time there. From crafts to beach time to sports, there is something for every age group.
For Babies and Toddlers: they take care of your babies & toddlers with nannies certified in accordance with an accredited U.S. university. Their nurseries are sparkling wonderlands full of toys, cribs, and everything else needed to cradle tiny tots in comfort. Your kids are always in good company with their world-famous "best friends" from Sesame Street. And come evening, they have even more in store for them with Sesame Street parades, nightly stage shows, and more.
For Kids:  Beaches includes supervised kids programs for five different age levels, and never charge extra for giving kids the extra special excitement they crave. Beaches' Kids Camp programs, for infants through age 12, are run by professionally trained child-care experts. But what really sets their family-friendly vacations apart is that their staff is so genuinely caring, your kids will feel like they are in the loving hands of a real family member who wants nothing more than to spoil them. And, with Beaches kids vacations, parents will know that they left their little ones in good, trusting hands.
For Tweens: What's a tween to do at Beaches all-inclusive family resorts in the Caribbean? Go full speed, go all out. Try this, do that, make cool friends from all over. Go sailing, waterskiing* and snorkeling. You might even want to learn to scuba dive. Play beach volleyball, "sand soccer" and all the Xbox games you can handle. Twist and shout down water chutes or on the dance floor. Strut your stuff and show off your style at the fashion show, sing karaoke, and join the nighttime talent shows. The good news: it starts all over again the next day. Yes, Tweens Rules!
For Teens: You already paid the bill, so from here on out, everything's included. Teens can sail, windsurf and snorkel along colorful reefs. Maybe they want to chill.  They can do so at a teens-only Beach Shack. Or hang at Trench Town with everything from hoops to foosball. And, just like you'd expect in the Caribbean, there are non-stop reggae jams to keep them moving with the beat. At Xbox Play Lounge, tournaments include games so new, some haven't been launched on the streets yet. Beaches all-inclusive teen-friendly resorts are the only places where there are no rules ever, So teens can do whatever they want… or not.
14. Want to plan a late night out? Hire one of the many nannies certified in accordance with an accredited U.S. university. They come to the room and will watch your children while you have a much-needed night out in paradise.
15. Top notch alcohol.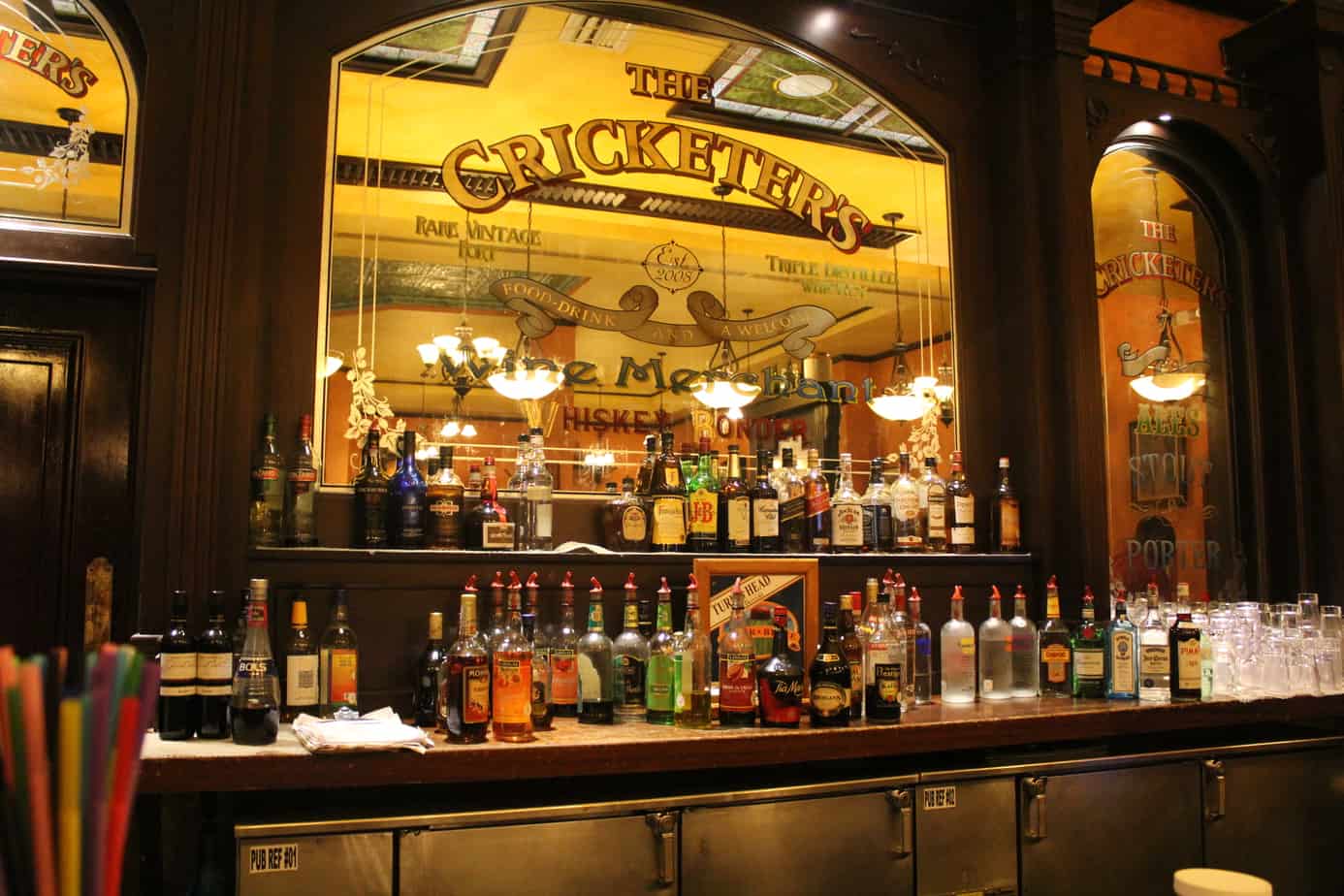 Not only is the resort stocked with top-notch hard alcohol, but they also exclusively pour Robert Mondavi wines. Perfect for all the wino's out there.
16. Each bartender has their own specialty drink.
We learned this about two days into our stay at Beaches Turks & Caicos. After talking to several guests and basically answering, "make me whatever you think is good," when asked what we wanted to order, we found out that each bartender had their own specialty drink they created. It was always great when we saw the bartenders who had our favorite specialty drink come to work.
17. Plan out your meals. There are 20 restaurants to eat at, and many you will want to eat at more than once. Each restaurant is a culinary experience all on its own, and the food is phenomenal. Feel like eating Japanese? They have it. Feel like eating Italian? Done. How about French? Not a problem. Whatever you feel like eating, chances are Beaches Turks & Caicos has a restaurant for it. Learn more about the restaurant options on their website.
Kimono's is the only restaurant on the resort where reservations are required, and it's worth the time to make the reservation. It's basically dinner and a show as your chef cooks right at your table while entertaining you during the process.  I would suggest making your reservation when you check in, that way, you are all set, as reservations fill up quickly! We had to make ours three days in advance.
18. Have food allergies or dietary restrictions? Speak to the Culinary Concierge Desk for gluten-free/dairy-free and food allergies.
19. Turks & Caicos is rated one of the world's best beaches, which also means it has some of the best scuba diving. If you are already certified, you'll be excited to know that scuba diving IS included in your cost already. WHAT?! Isn't that incredible?! If you aren't scuba certified, no worries. You can actually get certified while staying at the resort. Visit their website to learn more about the certificate process and the cost involved. In my opinion, it is so worth the investment!
20. Sesame Street.
Come vacation with your favorite Sesame Street characters! Some of our favorite memories at the resort were from our Character Breakfast with Sesame Street. We got to eat, dance, and have a great time. Plus, you can book an experience where one of your child's favorite Sesame Street characters comes and visits your room before bedtime and will join in on some relaxing stretches, a bedtime story, and a sweet lullaby before tucking your child in for the night.
21. Giving back with the Sandals Foundation. Where else do you have the opportunity to really give back while on vacation with your family?
The Sandals Foundation launched the Reading Road Trip back in 2011. The trip, which takes place every Thursday, is available through Island Routes Adventure Tours and allows guests to visit a Foundation adopted school and lend literacy support to students. The tour takes visitors on a stimulating volunteer travel experience, during which they are invited to spend time with children at the primary and early childhood levels. Guests are guided by a structured program that addresses recognition of sight words, listening, comprehension, and reading.
As you can see, Beaches Turks & Caicos Resort & Spa is definitely a travel destination that should be marked highly on the list for your next family vacation. From infants to grandparents, the resort has something for everyone. The memories you make there will last a lifetime.
To learn more about the resort, please visit: beaches.com/destinations/turks-and-caicos
*My stay at Beaches Turks & Caicos was included in my conference fee to Social Media on the Sand. All opinions are my own.