31 Days of Halloween: Wooden Block Character Decor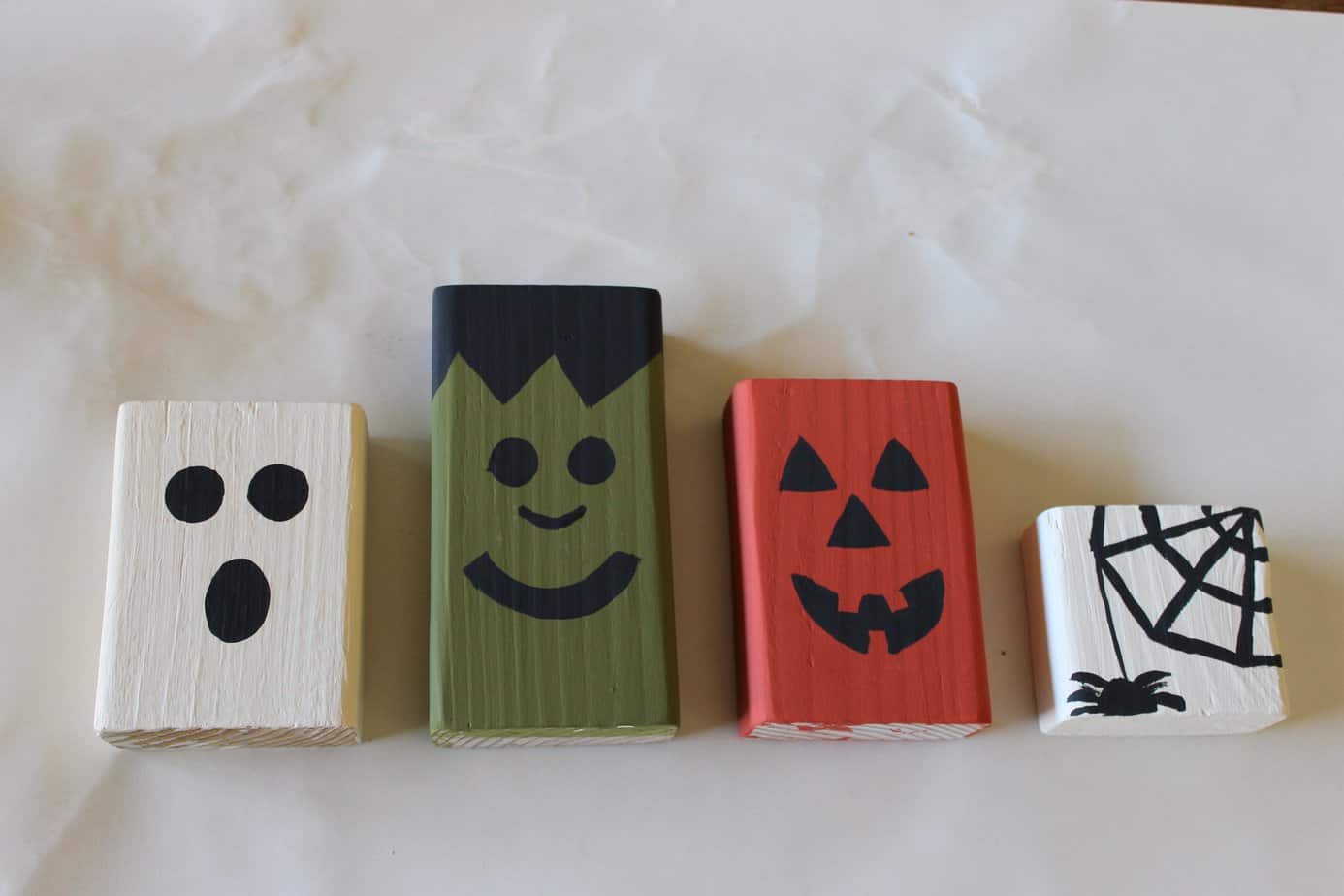 Need a super fast, no brain-er DIY project that even the kids can get in on?
I made these simple wooden block Halloween Characters, and it literally took only a few hours! Best part? It costs next to nothing!!!
For this project, you'll need:
Scrap wood, cut in different lengths (I used 2x4s left over from another project and had my hubby cut it, but if you go to Home Depot, they can cut it for you!)
Acrylic Paint
Paint Brush
Sandpaper
Start by sanding down your wooden blocks. This will be easier if you have chosen smooth wood. Mine was scrap wood, and really rough so it took a while to sand it down.
Now, paint each block the color you would like for each character.
I had a ghost, a jack-o-lantern, Frankenstein and a spiderweb. Can you tell which is going to be which?
Let the paint dry and repeat with another coat if necessary.
Paint on the  Decorations for each character. I free handed (what, you can't tell?) despite my being the world's worst artist…by the way…you can be crafty and still be a terrible artist. Right here. I drew the most simple eyes and mouths for them, and the spiderweb? well, I am glad it's the smallest because it doesn't stand out so well. But it gets the point across, right? Spooooooky!
Feel free to spray on a sealer, but I didn't!
Set it our on your mantel or bookshelves for all to see, and pat yourself on the back!
Quick, Easy, Cheap! (I think there's a college halloween costume joke in there somewhere…)
We think imitation is the BEST form of flattery! If you make this or any of our CRAFT projects, come by and post a picture of it on our Facebook page! We want to see!