5 Must Have Items for a Memorial Day Picnic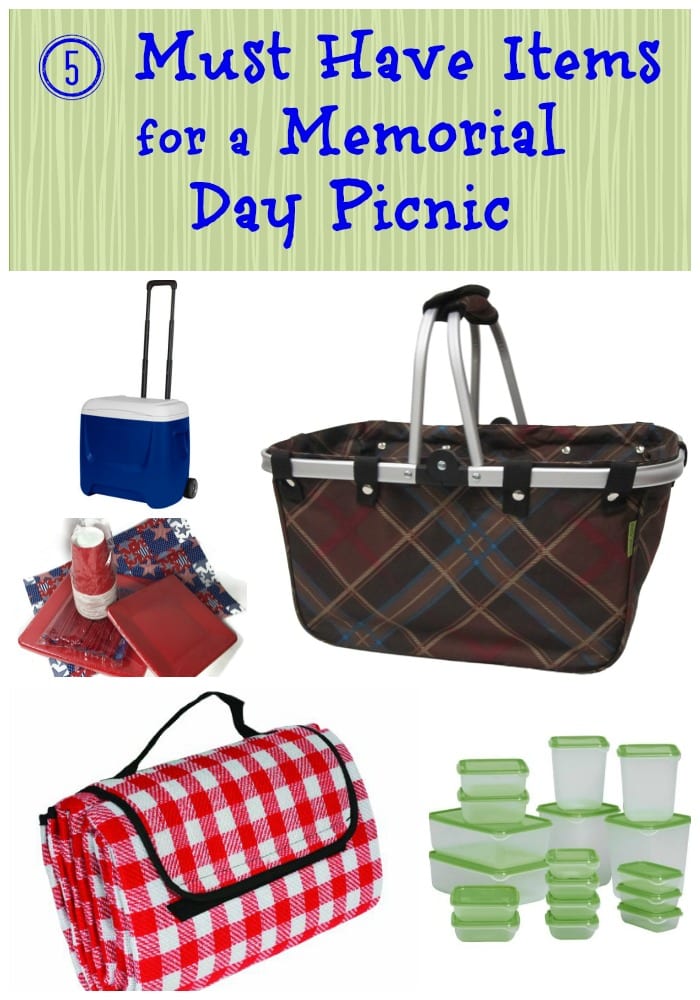 Whether it's a private party, family group, or community gathering, picnics are the perfect way to welcome summer. Here are 5 Must Have Items for a Memorial Day Picnic.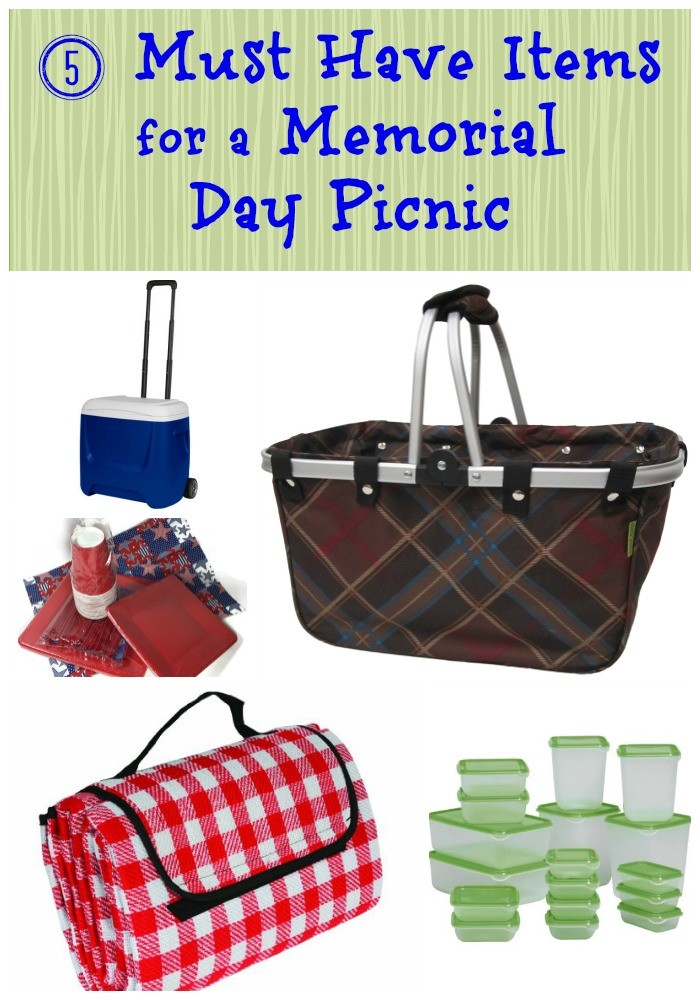 When Jason and I were dating, picnic made up many of our dates, and they were our favorite ones as well. We invested in a few things like a picnic basket, blankets and containers and chose picnics instead of more expensive dates.
Now as a family, we still enjoy them. With Memorial Day (the Official Summer kick-off) coming up, what better way to celebrate, than a picnic? Here are a few "must-haves" for making any picnic fun and simple.
5 Must Have Items for a Memorial Day Picnic

JanetBasket Large Aluminum Frame Basket: This is a large basket with plenty of room to hold your picnic supplies! It's aluminum frame allows it to stand up on its own, but it also folds down for easy storage when you're not using it.
Plus, the handles have a padded grip that keeps them together for easy carrying. And you can unsnap the cover for machine washing if it gets dirty.

Red and White Picnic Blanket: This sweet red and white picnic blanket unfolds to almost 4'x5′ in size, perfect for your family picnic. A great space saver, this basket neatly folds in half for storage.
The padded, waterproof back is great for damp grass or sand. And since it's machine washable it's always clean for your next adventure!

Igloo 28 Qt. Rolling Cooler: Tired of lugging heavy coolers to your favorite picnic spot? Don't worry, this large cooler is on wheels! It can hold all of your drinks, salads, hot dogs and more plus keep them cold for hours on the hottest of days.
The handle collapses down to save space but there are also molded handles built-in if you need to carry it instead. Toss in a bag of ice or a few cold packs and you're all set.

Patriotic Plates, Cups and Cutlery: Show off your red, white and blue spirit with enough napkins, plates, utensils and cups for 16 folks! No need to pack up your dirty cups or plates to haul back home, just toss these into the recycling bin at the end of the day.
I'm not a huge fan of disposable anything, but if you are looking for simple, these are the ticket!

Ikea BPA-Free Food Container Set: This is a 17 piece food storage set to store your macaroni salads, hamburgers, onions and desserts to your favorite picnic spot! The lids fit tightly to help keep your food from spilling and there are several sizes to fit your dishes, from salad dressings and sprinkles to burger patties and hot-dogs!
Plus it's dishwasher safe for easy clean up once you get home. And they store inside each other to take up less space when not in use.
Will You be Picnicking to Celebrate the Start of Summer?