Accept Compliments with Grace
I don't know about you, but in the past I've struggled to accept compliments with grace.
It wasn't that I didn't want compliments, or didn't like them, in fact as a kid I craved compliments and praise. Yet when I would actually receive a compliment, I would brush it off as though it were nothing.
"oh, this dress? yeah, it's just an old rag" or "ugh, my hair was so greasy it's a wonder I even got it up today" or "eh, it was nothing, only took an hour or so (referring to a project that literally took me days)"
I still don't know why it was so hard for me to accept compliments for so many years. Perhaps I didn't think I deserved them. Perhaps I felt they were fake. I really don't know.
But I do know this. If one person struggles with a certain area, there are always others who do as well. So today I want to talk about ways to accept compliments with grace.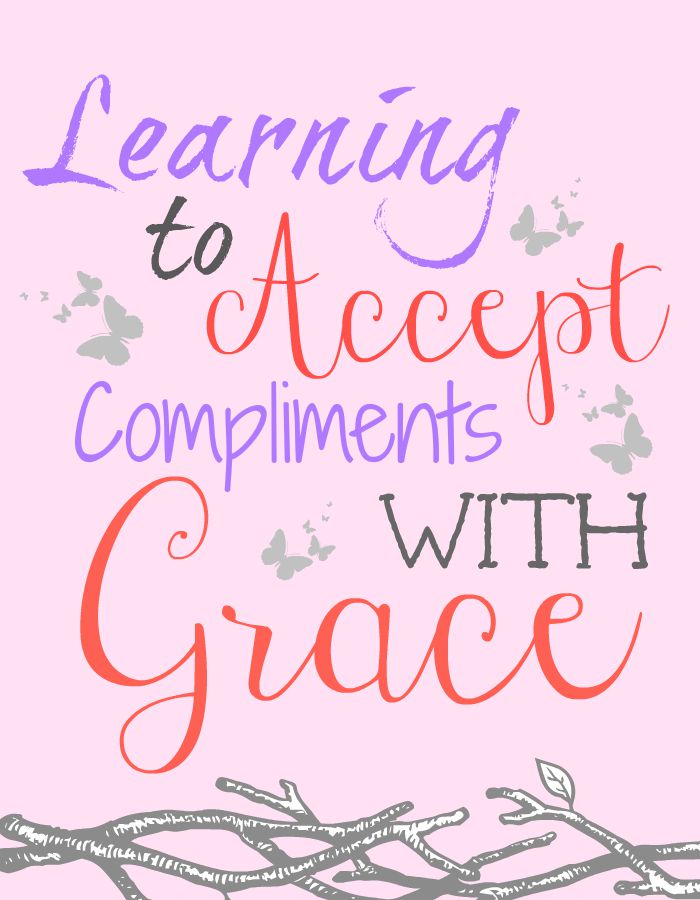 How to Accept Compliments with Grace
Honestly? The simplest and easiest thing to do is just say "thanks".
Some compliments are hard to take simply because it feels a little backhanded. If someone remarks that you look great and asks if you lost weight (when you haven't and didn't think you needed to) it can come off as offensive.
In this case, there are two likely scenarios. A. The person is being catty and rude. Or B. the person is a bit like me and sometimes opens their mouth to give a genuine compliment without realizing how it will sound.
If the compliment seems rude, you don't need to be rude back or even feel awkward about it. Just a simple nod to acknowledge their words and a thank-you is sufficient. I've learned that I can extend grace to others, even if they are not deserving.
Other compliments can be different. People raving over your meals, or a project you've created. Even though I know it could've been better, they don't and I've learned that a compliment over the work of your hands is usually a genuine one, and deserved.
Yes, I said deserved. Even if my project wasn't perfect, I had worked hard on it, I had given it an effort and I've learned to appreciate the compliments.
Compliments towards how one handles life situations are much harder to take. Many times it may seem like how else were you supposed to handle it? In these situations, it's still possible to handle the compliment with grace.
Whether you simply acknowledge that it hasn't been easy, or you point out that God has helped you, or even others have helped you, this is also a compliment you can accept with grace.
You just went through a tough time and it's very likely you are still going through it. Even though you don't think anything they just said is true, you can still accept their words with thanks.
(If you haven't been in that situation, be careful how you hand out compliments. Many times the typical "you are so strong" is actually seen as a cop-out from helping with a very real need. More on this in a later post)
Learning to accept compliments with grace has been a challenge for me, and honestly I'm still learning. Some naturally know the right things to say, and when to say them. The rest of us spend much of our time pulling out feet out of our mouths. Over and over again.
At the end of the day, simple is better. I don't need to launch into "50 reasons why this project doesn't deserve praise" nor do I need to go the other way and "point out everything I did to make it look awesome" (unless they ask, then I will happily oblige!).
A simple "thank-you, you are so kind" or "you look great today too!" is often the best response.
Have you ever struggled to accept compliments with grace?