Back-to-School Teacher's Survivor Kit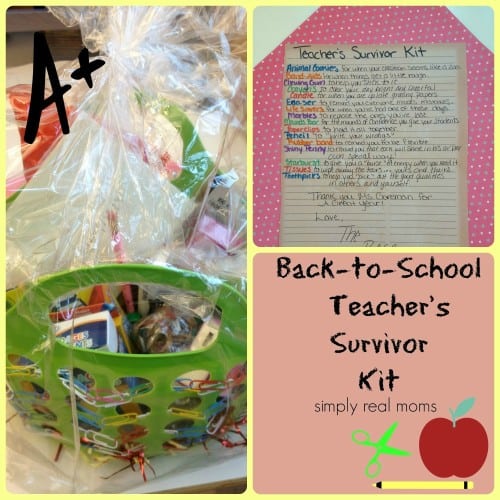 It's Back-to-School time! It's always nice to give teachers a gift to start out the school year, but sometimes it's hard to come up with something more creative than a gift card or something you know will be put to good use. The Teacher's Survivor Kit is creative, fun and useful! Your child's teacher is sure to love it.
The Teacher's Survivor Kit includes items you can commonly pick up at a dollar store or grocery store–no extra shopping trip required. The key to the kit is the fun letter that comes with it.
Gather the following materials into a cute basket or bucket:
Animal cookies
Band-aids
Chewing gum
Crayons
Candle
Lifesavers
Marbles
Mounds Bar
Paperclips
Pencil
Rubber bands
Shiny penny
Starburst
Tissues
Toothpicks
Once you gather the materials, write about the significance of each item: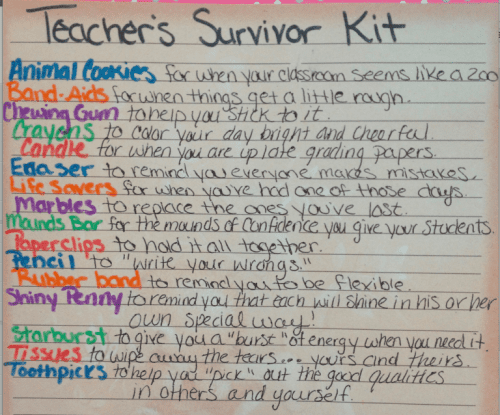 Animal Cookies for when your classroom seems like a zoo.
Band-aids for when things get a little rough.
Chewing Gum to help you stick to it.
Crayons to color your day bright and cheerful.
Candle for when you are up late grading papers.
Erasers to remind you everyone makes mistakes.
Lifesavers for when you've had one of those days.
Marbles to replace the ones you've lost.
Mounds Bar for the mounds of confidence you give your students.
Paperclips to hold it all together.
Pencil to "write" your wrongs.
Rubber Band to remind you to be flexible.
Shiny Penny to remind you that each will shine in his or her own special way!
Starburst to give you a "burst" of energy when you need it.
Tissues to wipe away the tears—yours and theirs.
Toothpicks to help you "pick" out the good qualities in others and yourself.