20 Best Beach Songs for Your Next Family Beach Day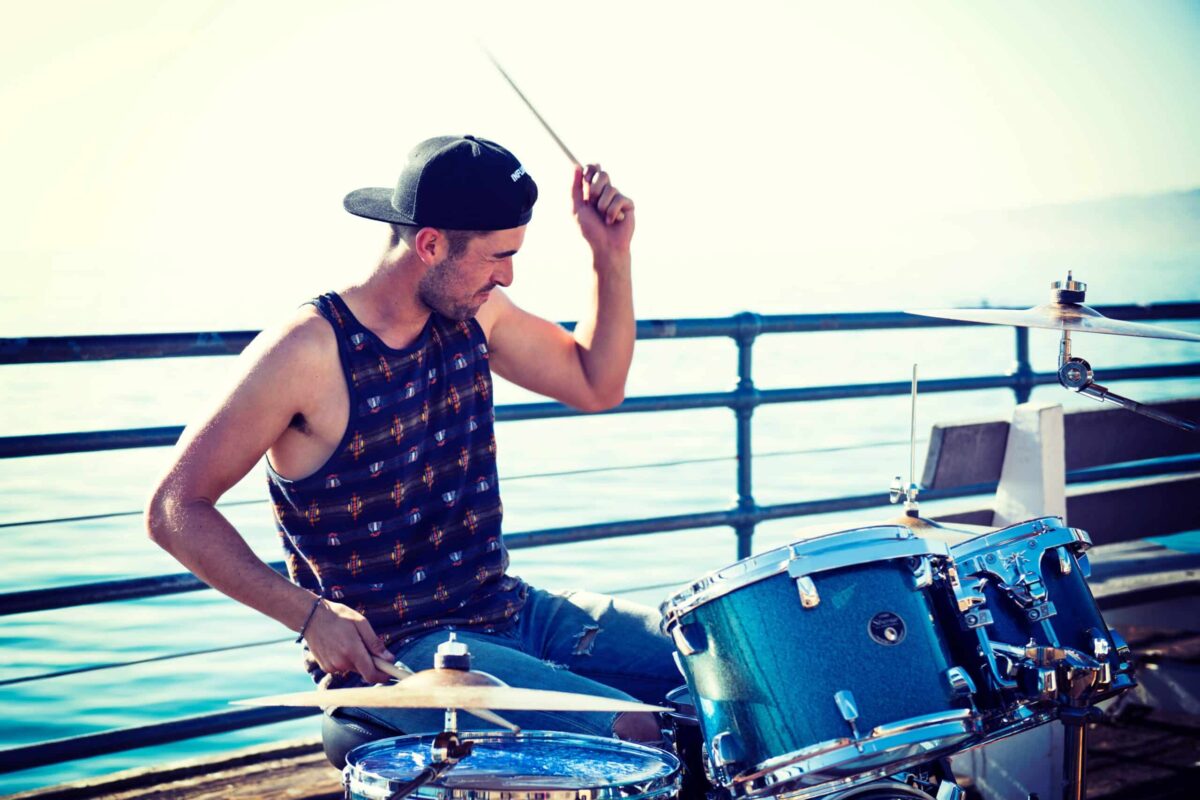 A day at the beach with loved ones isn't complete without some top-notch beach songs playing in the background! This happy music lifts your spirits, gets everyone in the mood for a good time, and provides singalong opportunities that inevitably bring people together.
However, not all songs are made equal when it comes to the beach. The best beach songs match the mood and set the tone, bringing positive energy that ensures you have a memorable day out. Looking for some top tunes to play on your next trip to the ocean? Check out these 20 incredible beach songs.
Surf City – Jan & Dean
There's no better place to start this list than with Surf City by Jan & Dean. Released way back in 1963, it has that classic (and catchy) sixties pop vibe that's both nostalgic and joyful. Slap it on your playlist, and let the good times roll! A musical gift for beach lovers, you'll be singing along and in the mood for surfing, swimming, and sunbathing in no time.
Kokomo – Beach Boys
While we're talking about the Beach Boys, we might as well include Kokomo. This one has a much more tranquil vibe, but it's no less catchy! Just one listen to the chorus (you'll recognize it when you hear it) will have everyone up, singing along, and delighting in the joy of being surrounded by palm trees, warmed by the sun, and feeling the sand between their toes.
Good Vibrations – Beach Boys
Despite hitting the charts in 1966, Good Vibrations never gets old. It's truly one for the ages as far as beach songs go. Invoking enviable images of sunny days on the golden sands and those old VW campervans with surfboards on the roof, it's easy to listen to, feet-tappingly fun, and full of, well…good vibrations.
Rockaway Beach – Ramones
Short, upbeat, and with the Ramones' unmistakable punk edge, Rockaway Beach offers an entirely different style of song to our previous suggestion! However, if you're a fan of seventies rock and can't wait to hit the beach this summer, it'll be right up your street. First released in 1977, it's an ode to – you guessed it – Rockaway Beach in New York that channels the excitement of fun-filled beach days.
Island in the Sun – Weezer
No list of beach songs is complete without this cracker from Weezer! First released in 2001, it's stood the test of time as a feel-good song to have on in the background or to sing and dance along to with loved ones. Want our advice? Don't be afraid to play it on repeat.
Margaritaville – Jimmy Buffett
Nibbling on sponge cake, watching the sun bake, all of those tourists covered with oil. Those are the first few lines of this classic tune from the king of beach songs himself, Jimmy Buffett – and they set the scene perfectly for a relaxing day at the beach! Laid-back and atmospheric, it'll get everyone in the mood for a good time.
Soak Up the Sun – Sheryl Crow
You can't go wrong with this belter from Sheryl Crow. Boasting that distinctive "beachy vibe," the lyrics celebrate sunshine and the simple life; the happy melody will have you tapping your feet and humming along in no time. Put it on and turn up the volume as you soak up some sunshine of your own.
Summer Nights – Olivia Newton-John and John Travolta
This classic summer song from Grease might not be appropriate for little children, but the rest of the group's sure to enjoy hearing it! With well-known lyrics that tell the story of Danny Zuko and Sandy's summer romance, it's cute and catchy in equal measure. Feel-good beach songs to sing along to don't get much better.
Some Beach – Blake Shelton
Funky, light-hearted, and the definition of easy listening, this popular song from country music star Blake Shelton always goes down a treat. The lyrics are fantastic too. It's basically Shelton running through a list of frustrating situations, following each one up with an image/description of "some beach" that he uses to self-soothe!
No Shirt, No Shoes, No Problem – Kenny Chesney
Can't get enough of country-style beach songs? Good news! Here's another, courtesy of Kenny Chesney. With a title that's a tongue-in-cheek reference to those "no shirt, no shoes, no service" signs you may have seen in restaurants, the song notes the straight-laced reality of general society and celebrates the laidback nature of beach life. Give it a listen, and you'll soon be singing along.
Escape – Rupert Holmes
Okay, so this well-loved 1979 track from Rupert Holmes has very little relation to the beach. But it goes hand in hand with all the good vibes that are present on a trip to one! Escape (otherwise known as the Pina Colada Song) is a fun, laidback tune with a memorable refrain. The whole family's sure to love it.
Toes – The Zac Brown Band
"I got my toes in the water, a** in the sand, not a worry in the world, a cold beer in my hand, life is good today, life is good today." And the prize for the best first verse of a country beach song goes to…! Yep, The Zac Brown Band might have cracked the code. Super laidback and saturated with happy-go-lucky vibes, "Toes" is a must for any beach playlist – especially if you like country music.
The Dock of the Bay – Otis Redding
Take things down a notch with this soulful and reflective song from 1964 by Otis Redding. An unbeatable beach song to chill out to, we can imagine it playing at the end of your beach day when the excitement's died down, and you're sat together watching the sunset as gentle waves lap softly on the shoreline.
Wipe Out – The Surfaris
With its slick, catchy riff and iconic beat, Wipe Out's another classic beach tune from the sixties that's instantly recognizable. It's also different from the other ideas on this list in that it's an instrumental song. That means there are no lyrics to distract you from your beach day! It's just a fast-paced track that'll make you want to dance.
Drift Away – Dobie Gray
Soulful, breezy, and destined to lodge itself permanently in your head, Dobie Gray's cover of this Mentor Williams song was an instant hit in the seventies. And it's easy to see why. Happy and laidback, it's one of those tracks you can play on repeat in the background, and nobody would mind.
Under the Boardwalk – The Drifters
This tune has been satisfying listeners with its memorable lyrics and unique melody ever since it was released in 1964. A classic summer song with fun and romance at its core, Under the Boardwalk deserves a spot on any beach playlist. You'll hear it once and instantly understand its longstanding appeal.
Flowers – Miley Cyrus
Here's another track that has absolutely nothing to do with the beach but still deserves a place on your playlist! Its poppy beat, memorable lyrics, and positive connotations make it a Miley Cyrus classic that'll have you singing along and dancing across the sand as soon as it comes on.
I Want to Go to the Beach – Iggy Pop
There's something quite haunting about this Iggy Pop song, which may not be the vibe you expect from a beach song! But look beyond its slow, melancholic melody, and you'll realize that I Want to Go to the Beach is a simple and beautiful track about giving yourself permission to do something fun. A quick word of warning, though: some of its lyrics won't be appropriate for little ones!
Beyond the Sea – Bobby Darin
"Somewhere beyond the sea, somewhere waiting for me, my lover stands on golden sands and watches the ships that go sailing." An oldie but a goodie, this famous song's sure to put a smile on your face. The track's been covered countless times over the years, but you can't beat the original from Bobby Darin! It'll help create the perfect ambiance as you relax on the beach.
All Summer Long – Kid Rock
Packing upbeat country rock vibes and no shortage of days-gone-by nostalgia, All Summer Long was Kid Rock's biggest hit – partly because of its numerous melodic homages to other famous tracks, such as Sweet Home Alabama. It'll lift everyone's spirits and provide a happy, nostalgic backing track to your time on the beach.
Add These Beach Songs to Your Playlist Today
Summer wouldn't be the same without those long afternoons spent sunbathing, barbecuing, and hanging out with loved ones on the beach. And those beloved beach outings wouldn't be the same without some laidback, buoyant music playing in the background!
Unfortunately, coming up with an appropriately awesome beach playlist can be challenging – especially when you're doing it on the fly. If you know the struggle, then we hope this post will help! Keep these 20 top beach songs in mind, and you should always have something fun to listen to.