11 Best Bible Study Apps for Women Who Want To Grow in Faith
If you crave a deeper connection with God in this digital world, I have 11 Bible study apps for women that I want to share with you today.
These apps will help you grow in Christ and will give you a reason to spend less time on social media and more time meditating on God's word. There are apps on this list that will help you with daily Bible reading, daily devotionals, improving your prayer life, brushing up on your Bible verse memorization, and so much more. I can't wait to hear which apps are your favorite!
[elementor-template id="10291″]
Free Bible Apps for Daily Reading & Study
I know there are tons of Bible Apps available, but I've zeroed in on the apps that have raving reviews and will genuinely make a difference in your life. Let's take a look at the top 3 Bible apps for everyday use: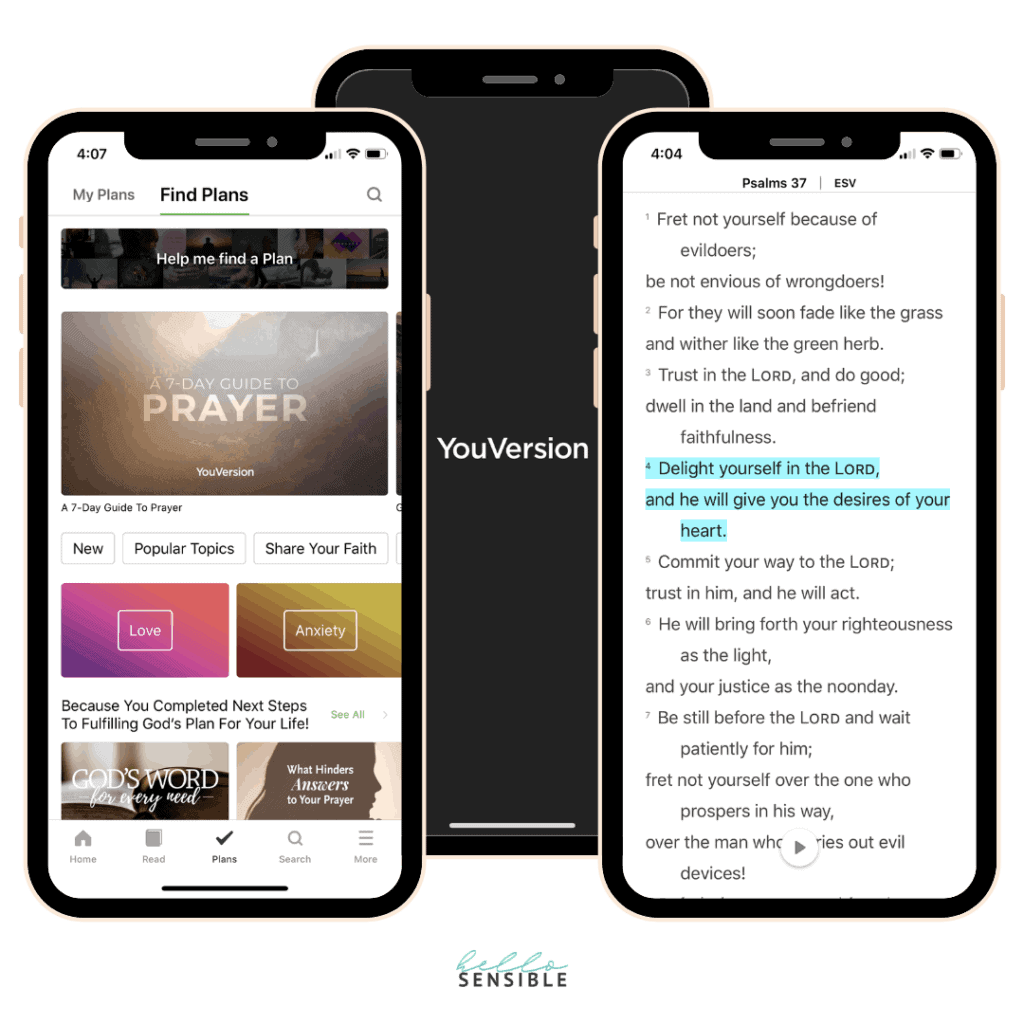 1. YouVersion (The Bible App)5⭐ | 3.6 Million Reviews
YouVersion is, by far, the most popular Bible app and it's also my personal favorite. I use it every single day to dig into God's word. Recently, I completed a challenge to read the Bible (cover-to-cover) in 90-days and this app got me through! The audio feature, which reads the Bible to you, was a God-send, especially when reading the genealogies.
If you're not ready for an intense 90-day challenge, they have tons of other Bible reading plans and guided devotionals, like one of these devos for women. I also love that you can even start reading plans together with friends who also have the app!
The Bible App also lets you add bookmarks or highlights to any Bible verse in the app, compare versions to see how another version interprets the same passage, read the verse of the day and create and share custom-made Bible verse images right inside the app.
For everyday reading and Bible study, YouVersion is my #1 recommendation for every woman who wants to know God and walk with Him daily. If you don't already have this app, you can download the YouVersion App here: iOS | Google Play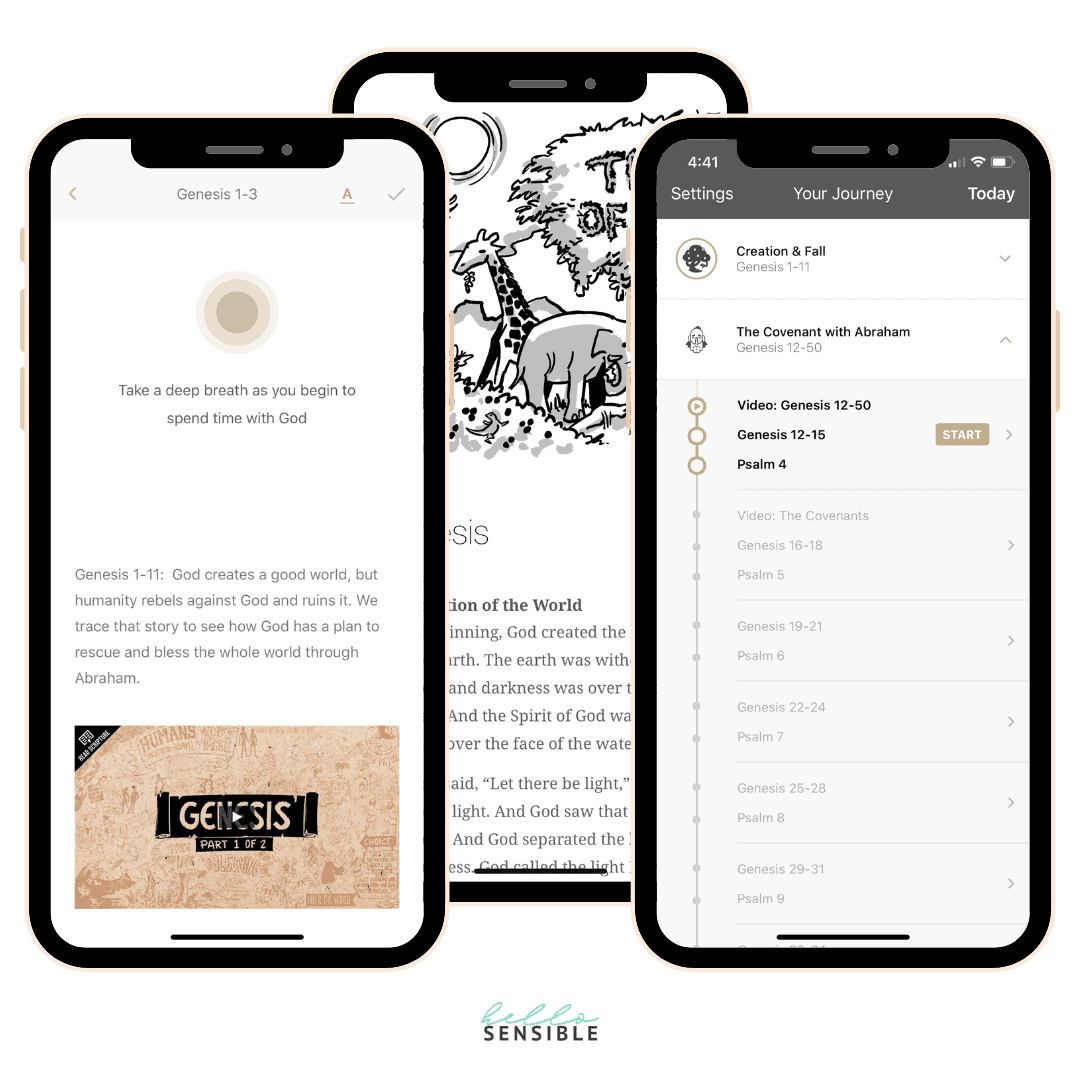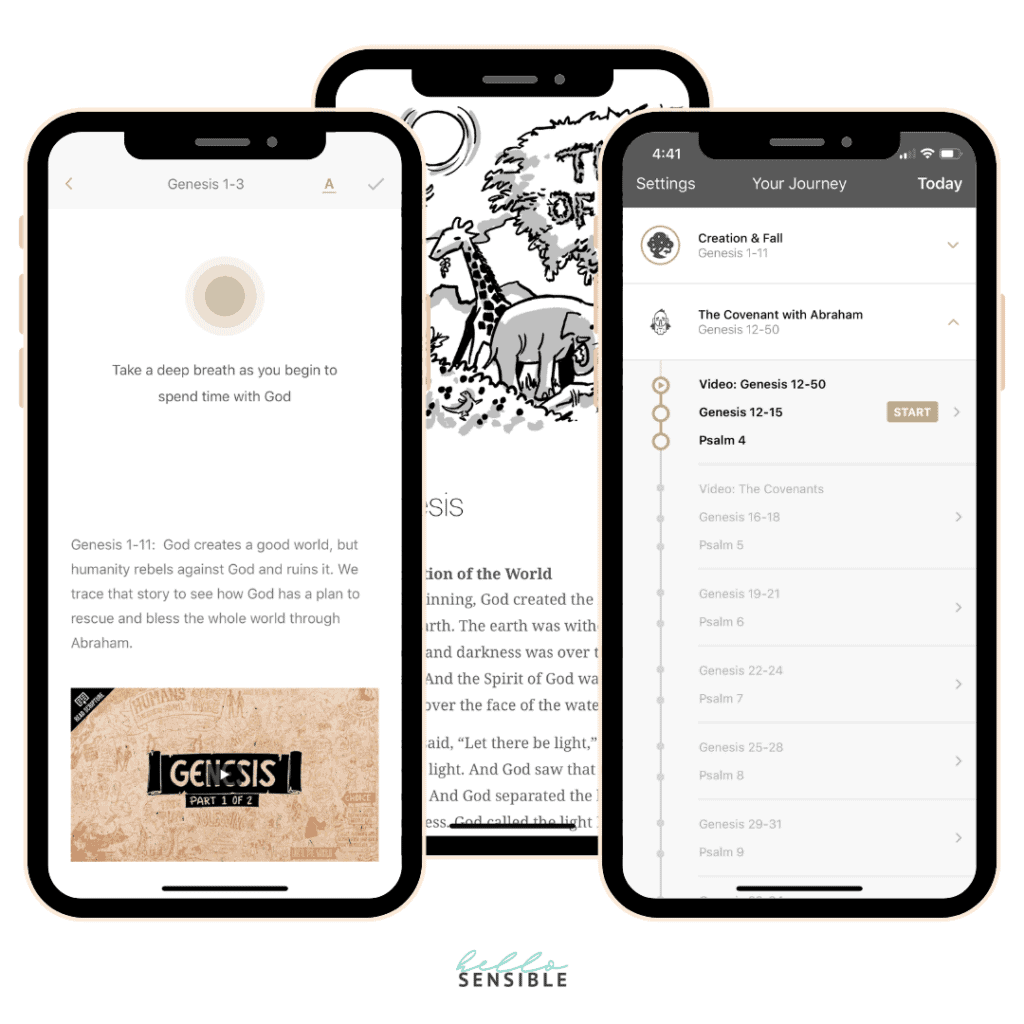 2. Readscripture
5⭐ | 1000+ Reviews
ReadScripture is another app suited for daily Bible reading and is all about empowering you to read the Bible for yourself and discover the truth and beauty of God's Word.
This app is unique because it is designed to walk you through the entire Bible in one year.
Here's a little background video on the app:
So now that you want to learn how every book of the Bible fits together as a unified story that leads to and points to Jesus, here's how the ReadScripture works:
Once you choose a start date, you'll get a prescribed reading plan, usually 3-4 chapters per day plus a chapter from the book of Psalms.
Each time you log into the app, it prompts you to take a deep breath as you begin to spend time with God. I love this! It helps you slow down and focus your attention on God.
Then, if you're starting a new book of the Bible, you'll find creative videos produced by the Bible Project that explains the book's overview, major theological themes, and tips on how to read the Bible.
After you read the first block of text, there's a prompt to move into a time of prayer and an opportunity to meditate on the designated Psalm.
I think the app's design sets it apart from all other Bible reading apps out there. If you aren't sure how to create a quiet time routine or don't know how to structure your time alone with God, this does all the heavy lifting for you. All you have to do it open the app and follow the plan. I highly recommend this app.
If you want to download the ReadScripture app, click here: Apple App | Android App
Best Apps To Listen to the Bible
If you are someone who prefers to have the Bible read to you, I've included two highly recommended audio Bible apps. As a reminder, YouVersion and OliveTree also have audio features, but these next two were designed for an optimized listening experience. Check them out: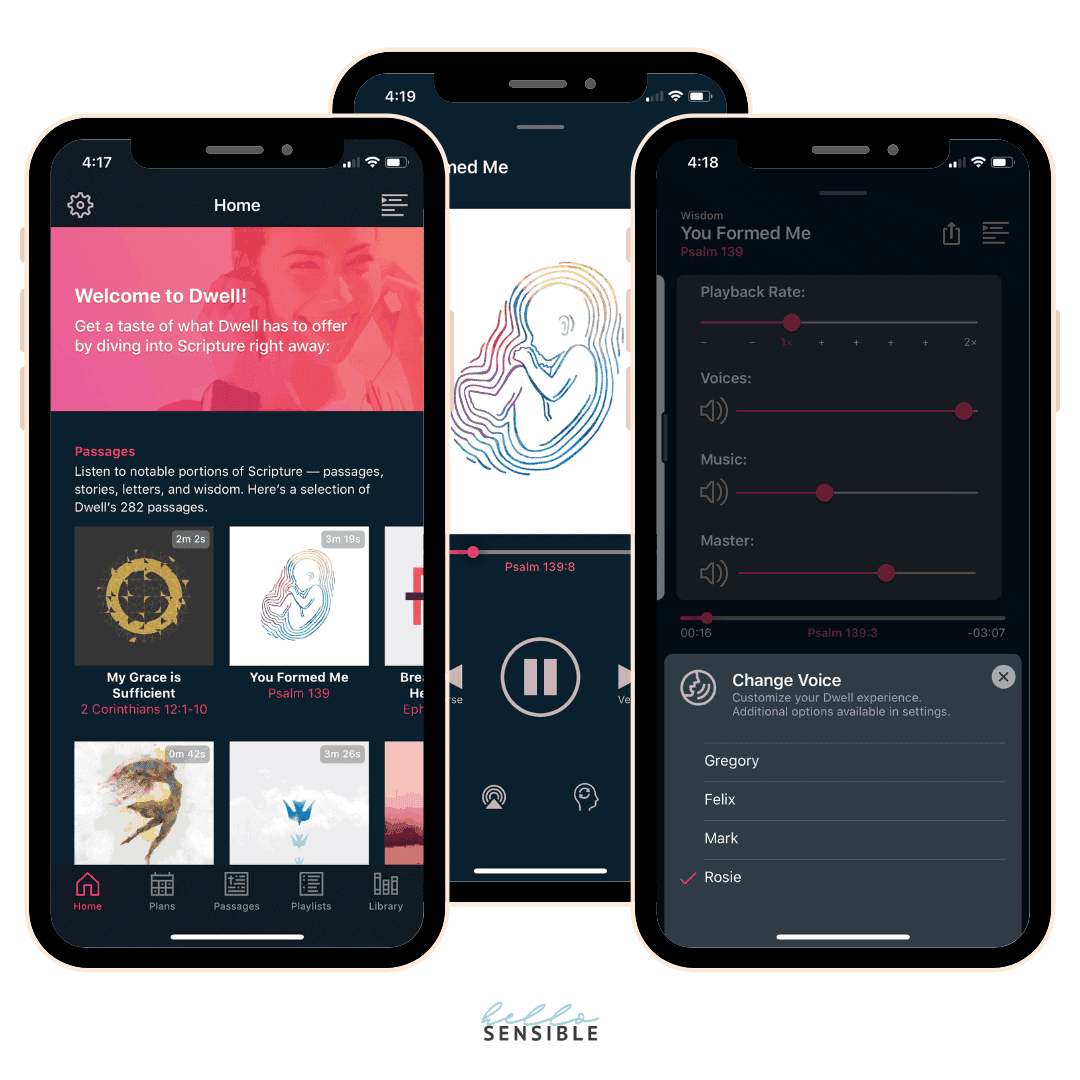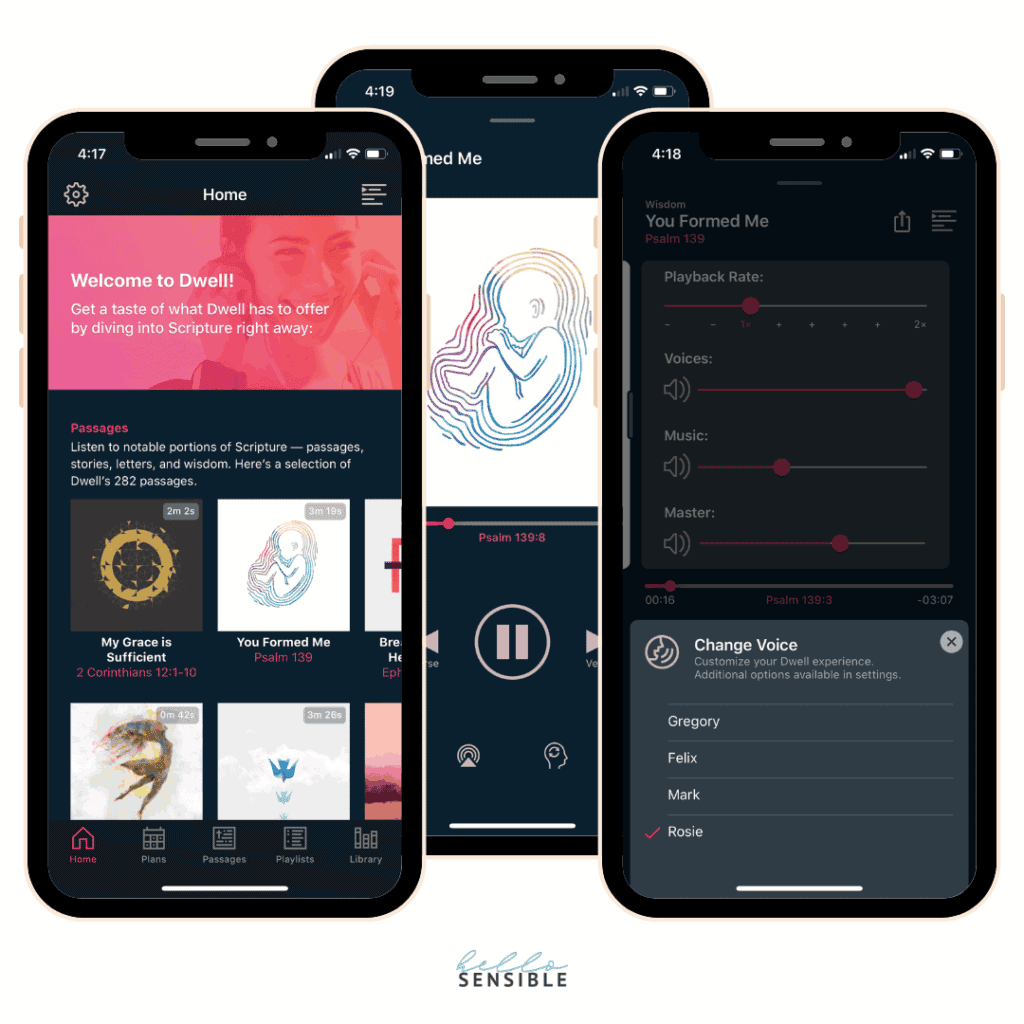 3. Dwell: Audio bible
5⭐ | 5,000+ Reviews
Dwell is another highly recommended Audio Bible app that cultivates a habit of listening to the Bible and carries on the ancient tradition of reading the scriptures aloud.
I first heard about the Dwell app from my pastor, Chris Seidman's recommendation, but it also comes highly recommended from other widely-known pastors like Matt Chandler:
As you heard from Matt in that short video, Dwell dramatizes the Word of God by adding ambient music and giving the user the option to toggle between one of four unique voices, bringing the scriptures to life. Here's a sample of all four voices reading a Psalm:
One thing I absolutely love about this app is that it includes a female voice – perfect for women! Most audio Bibles are read by men, and sometimes those voices can sound intimidating. I believe Rosie's voice is comforting and a beautiful way to have the Word of God read over you day after day.
There is a caveat… This app is not free. It does come with a free 7-day trial to see how you like it before buying it, but after your trial ends, there's an annual fee of $29.99 per year. Broken out monthly, that's about $2.50 per month, so it's not too bad.
I personally use this app and highly recommend it. This app has changed the way I hear and experience the Word of God. Do yourself a favor, at at least try it for 7-days straight in your free trial and let me know about your experience with the app — download Dwell on iOS | Dwell on Google Play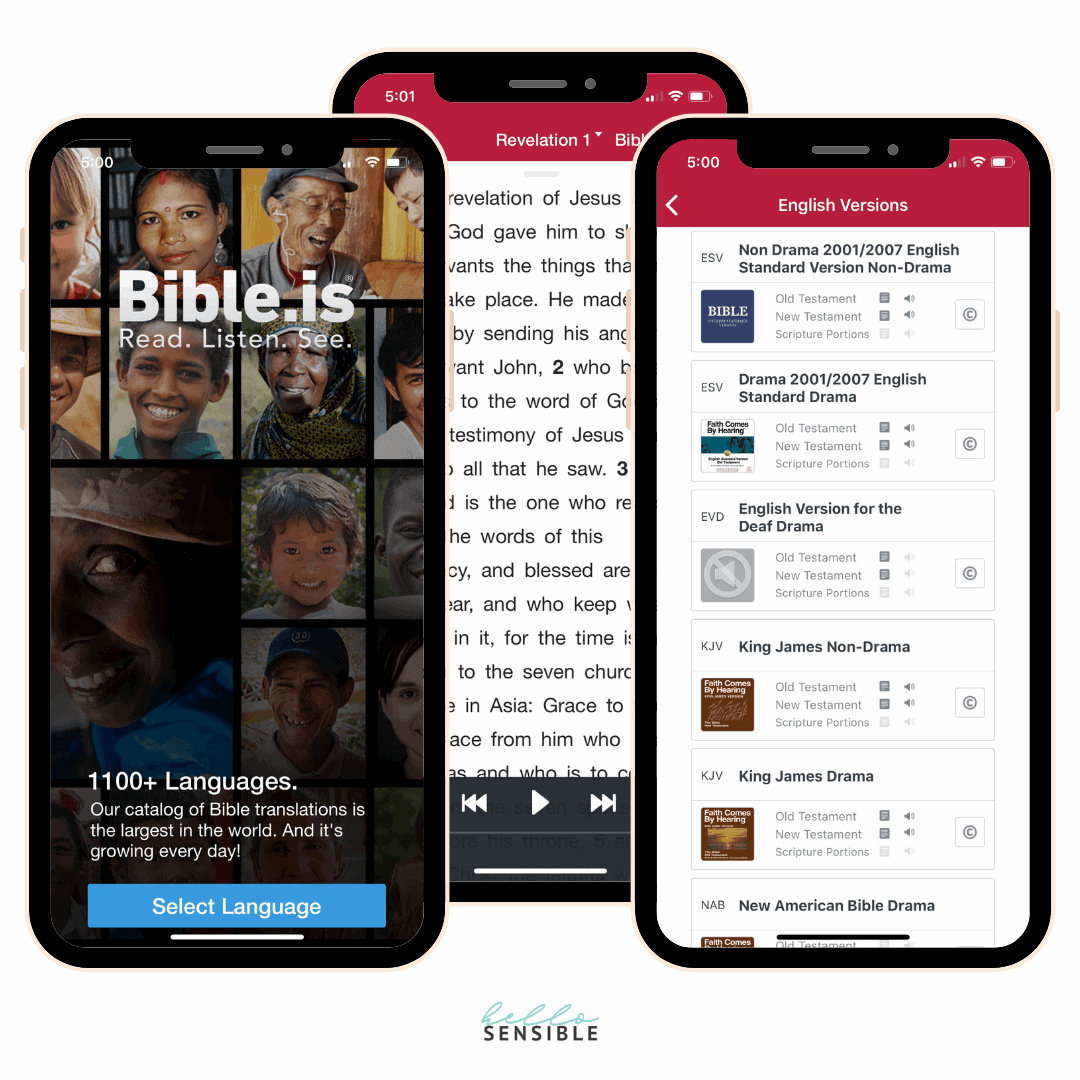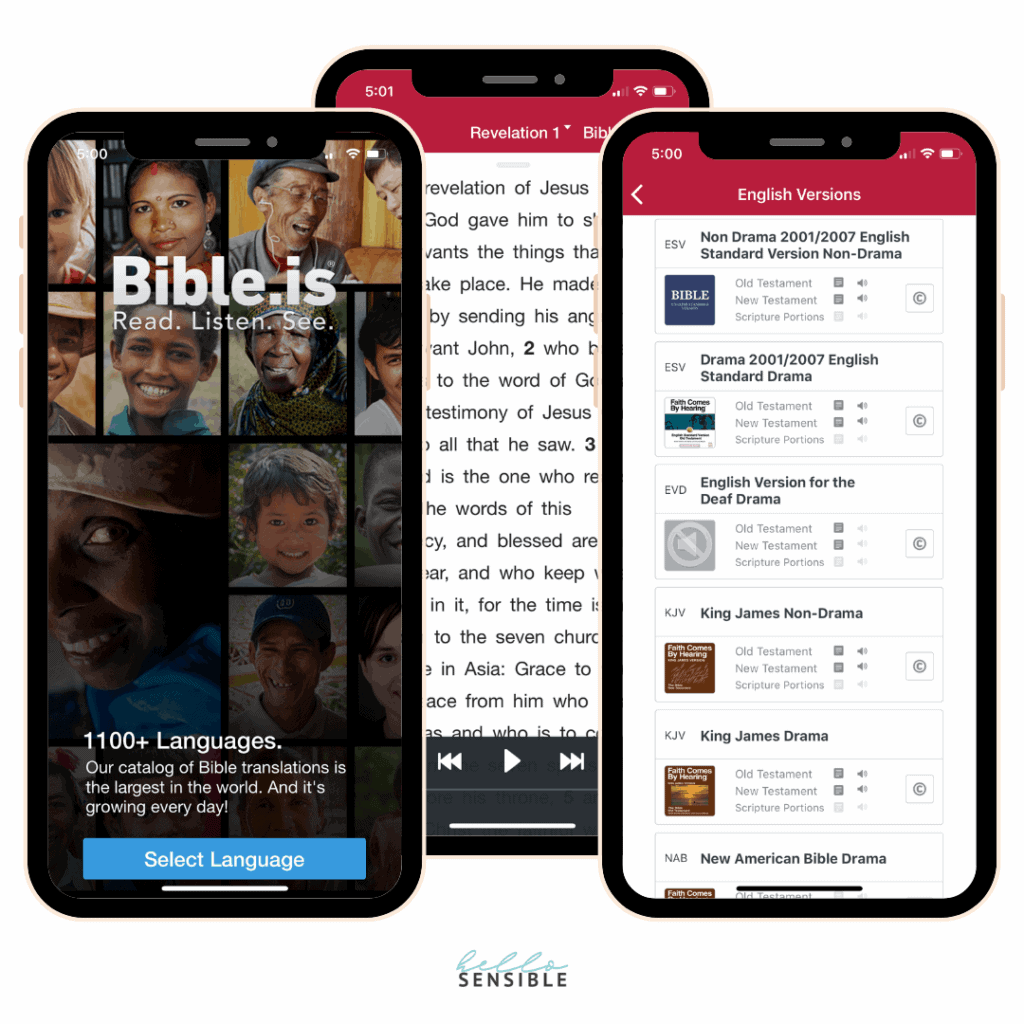 4. Bible.Is – audio bible
5⭐ | 100,000+ Reviews
If you prefer a completely free audio Bible experience, Bible.Is gives you access to hundreds of dramatized Audio Bibles and access to the JESUS film.
This app isn't just an audio Bible, though. Bible.is functions like other popular Bible study apps giving you access to switch between translations, highlight and share your favorite verses, and read the text while listening.
Check out what Survivor cast member, Michelle Schubert, has to say about what the app has to offer:
If you want to download the Bible.Is app, click here: Apple App Store | Android App
[elementor-template id="10291″]
Best Bible Devotional Apps for Christian Women
Most of the other apps previously mentioned include guided devotions or topical studies, but these next two daily devotional apps I'm about to share were designed and created exclusively for women.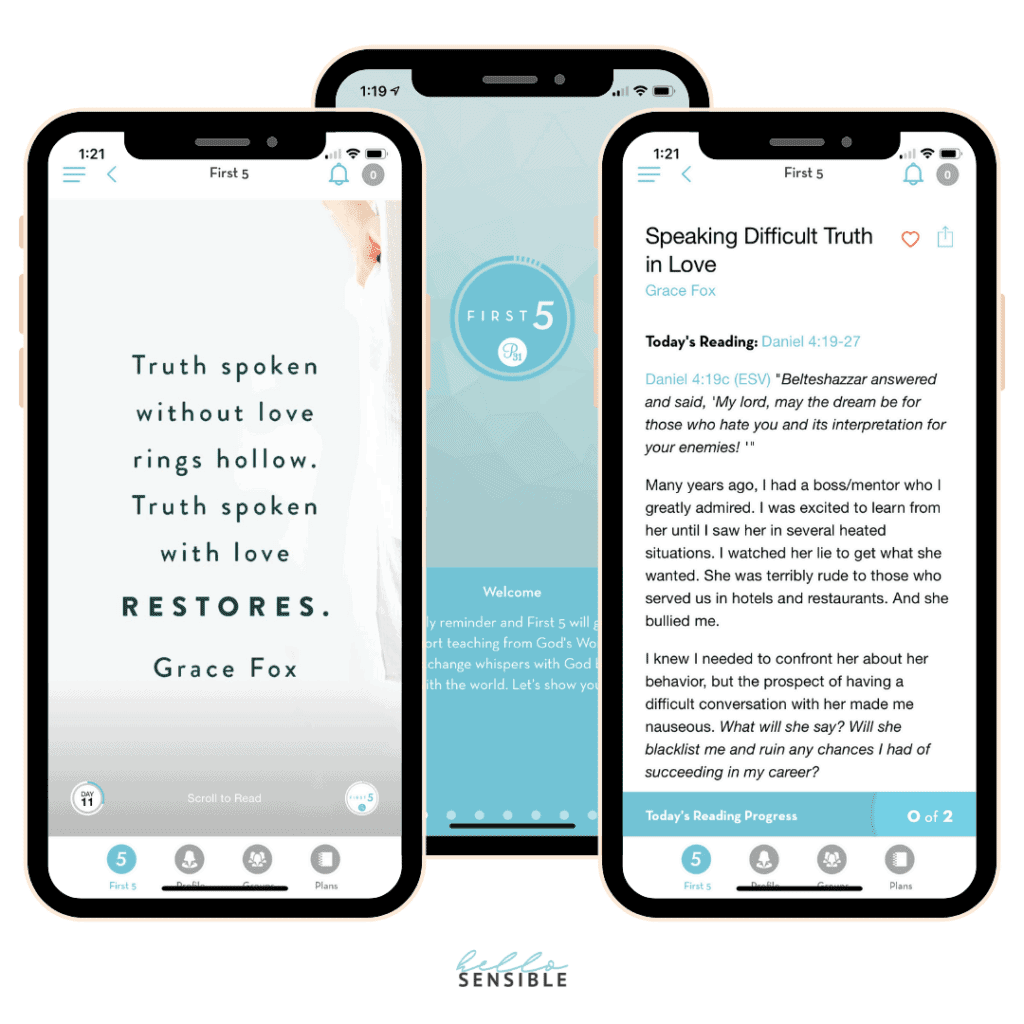 5. First 5 (By proverbs 31 ministries)
4.5⭐ | 400+ Reviews
The First5 app is a daily devotional app created by Proverbs 31 Ministries that encourages you to spend the first five minutes of your day with God.
Inside the app, you can study the books of the Bible chapter by chapter, read past devotional plans, and even get involved with a First 5 Community group inside the app. The best part is that the daily reading and devotion are meant to be completed in just 5 minutes, perfect for working moms and busy women.
As you read the devo, you can also highlight and bookmark things that stood out and even add notes. At the end, you can leave a comment and share how it touched your heart.
Using this app each day is a great way to get into the habit of spending time with God! If you'd like to give this app a try, download it on iOS or Google Play.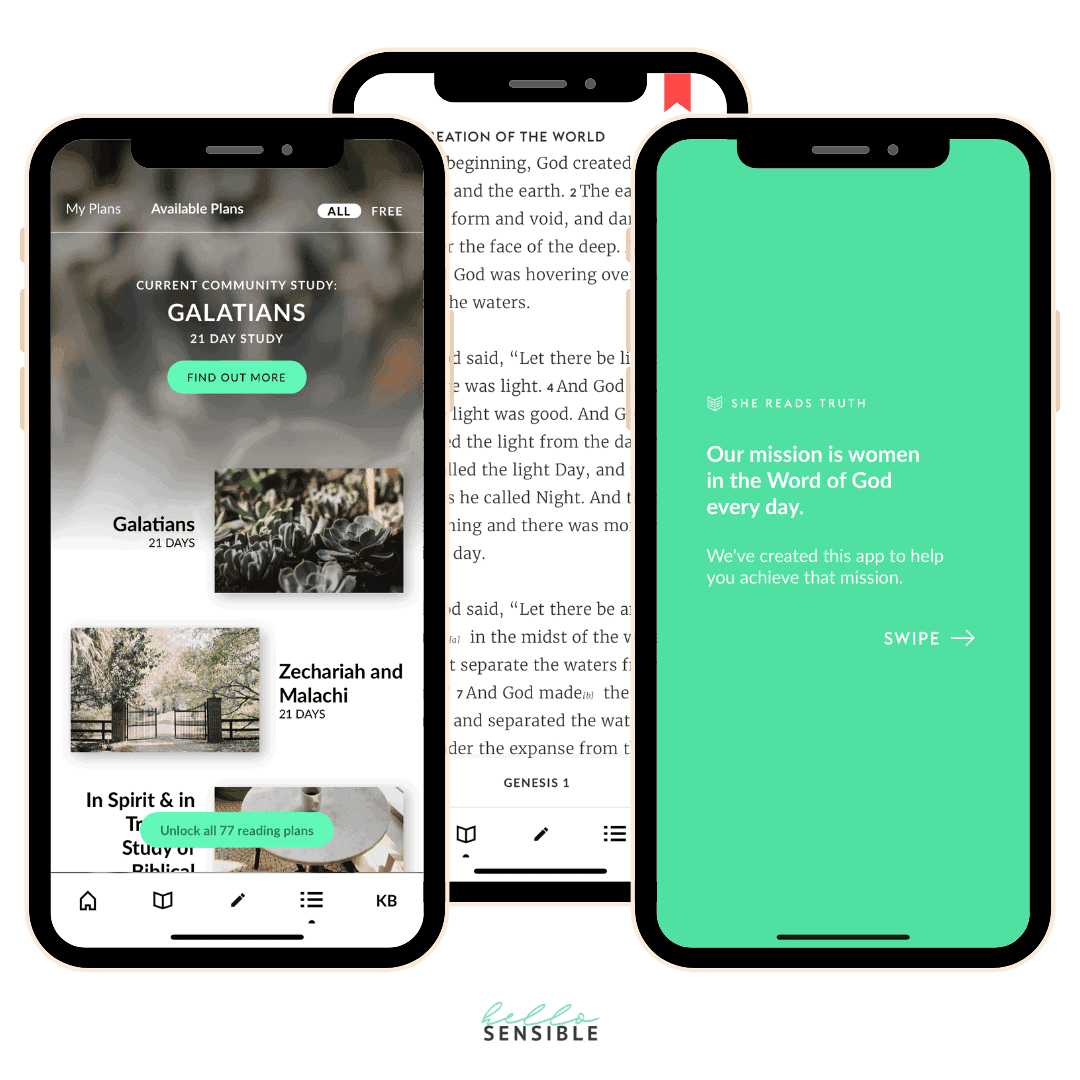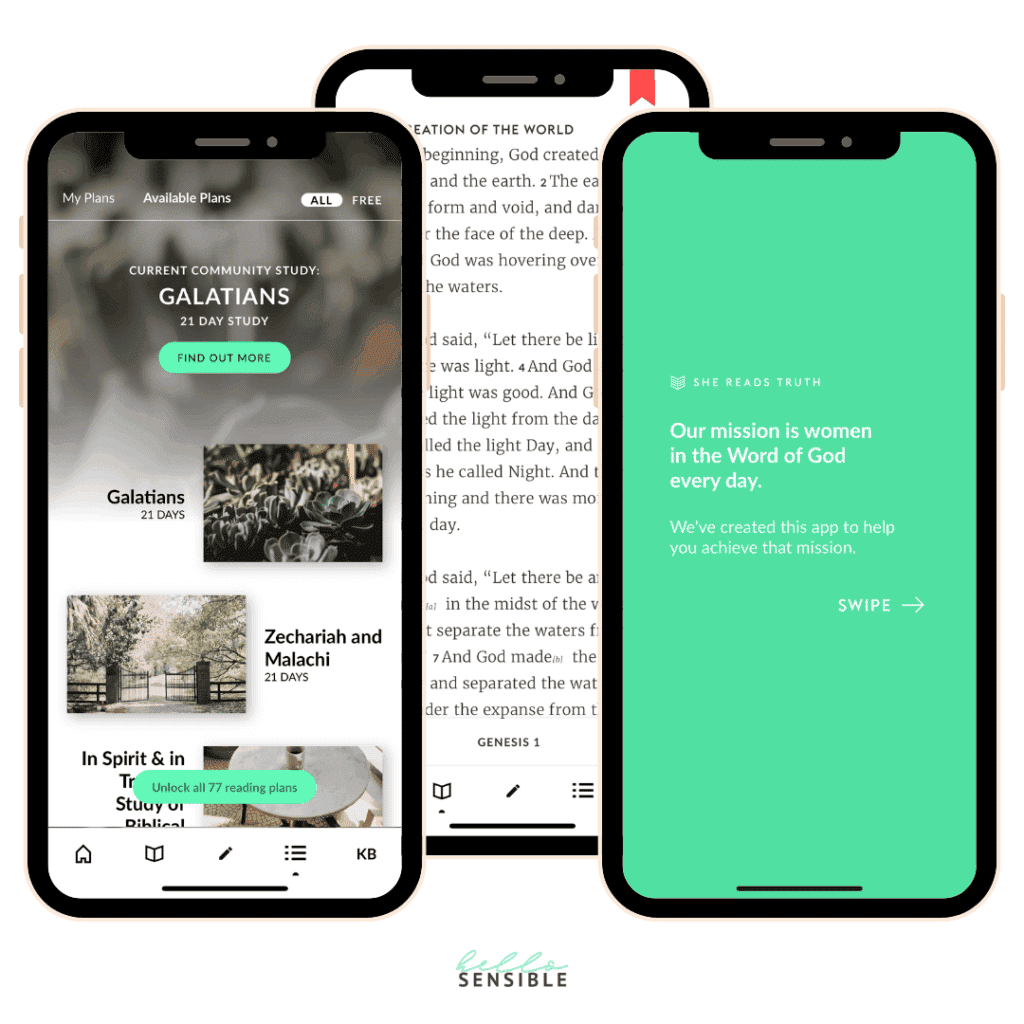 6. She Reads Truth Bible + Devotionals App
3⭐ | 700+ Reviews
The She Reads Truth app gives women an opportunity to connect with God's word.
The app allows you to read the entire Bible in 7 different translations and gives you the ability to highlight, bookmark, share, and take notes inside the App. Additionally, you can also access 12 free guided reading plans. If you want more reading plans, you can unlock all 77 for $1.99/ month.
The app also provides beautiful, shareable images that feature the content in the daily community reading and free downloadable lock screens to help you keep God's Work at top of mind.
Based on various reviews, people say that the content and interface are beautiful, but the app crashes often, particularly when using the Bible portion. If you plan on using this app, it sounds like you should seek to use it primarily for the devotionals rather than the Bible study aspect.
If you'd like to give this app a try, download it on iOS or Google Play.
Faith-based Apps
Now I was to switch gears and share a few of my favorite, top-rated apps that aren't designed for Bible study, but they will definitely help you grow in faith!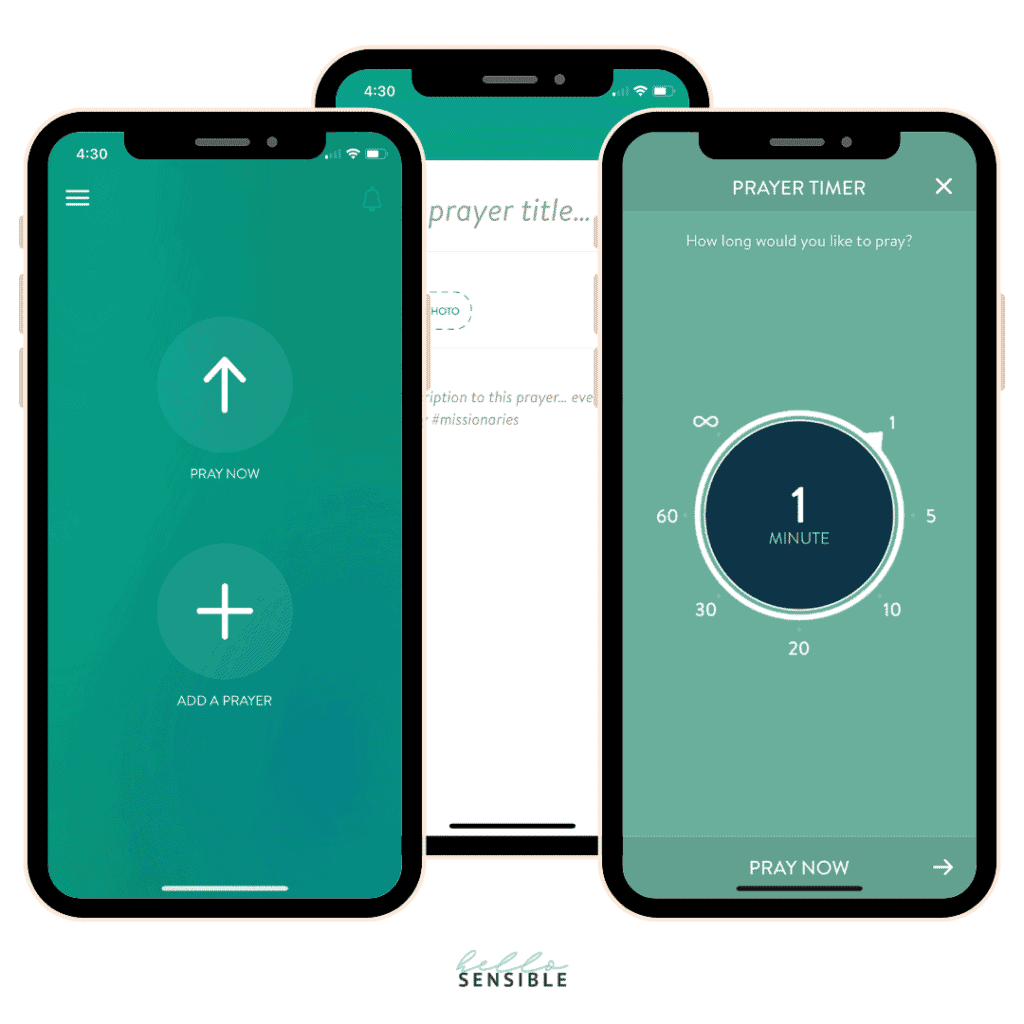 7. Echo prayer
5⭐ | 14,000+ Reviews
If prayer is important to you and you want to get better at setting designated prayer times or keeping track of everyone you say you'll pray for during the week – you need Echo Prayer! This app is completely free and will help you keep track of your prayers, remind you to pray throughout the day, and lets you share prayer requests with others.
The Echo app is a great tool to integrate prayer into your daily routine, allowing you to stay in conversation with God in the midst of your busy life. I love this app because you can keep track of all of your prayers individually, mark them as answered, and categorize them with custom hashtags.
You can also get push notifications or emails to get reminded you to pray. When you push a "pray now" button, you can click on the clock icon in the bottom right corner to set a timer for the amount of time you'd like to spend in prayer.
Best of all, I love that you can connect with others to create prayer groups. The only bummer is that the group feature isn't free. If you're down to pay $2.99/month or $19.99 per year for the group feature, it could be a powerful tool in your spiritual journey. Here's a short overview of the app:
I personally use this tool and highly recommend it. It is so helpful to keep up with my prayer life and powerfully serve those around me! If you want to download the Echo Prayer app, click here: Apple App | Android App.
8. Verses for bible memorization
5⭐ | 1,000+ Reviews
If you are interested in actively learning scripture in a fun, interactive way, you'll love the Verses app. Verses help you memorize Bible passages through a variety of short, fun games.
Here's the caveat… Only the King James Version is free. If you prefer memorizing verses from other translations, you'll have to upgrade to a higher plan. For access to all Bible translations, the cost is $4.99 per year or you can upgrade to the pro plan, which is $9.99 per year and includes all Bible translations, creeds & catechisms, a light theme, and focus mode.
I think this app makes Bible memorization 10x more fun, and I give it two thumbs up! If you'd like to give this app a try, download it on iOS or Google Play.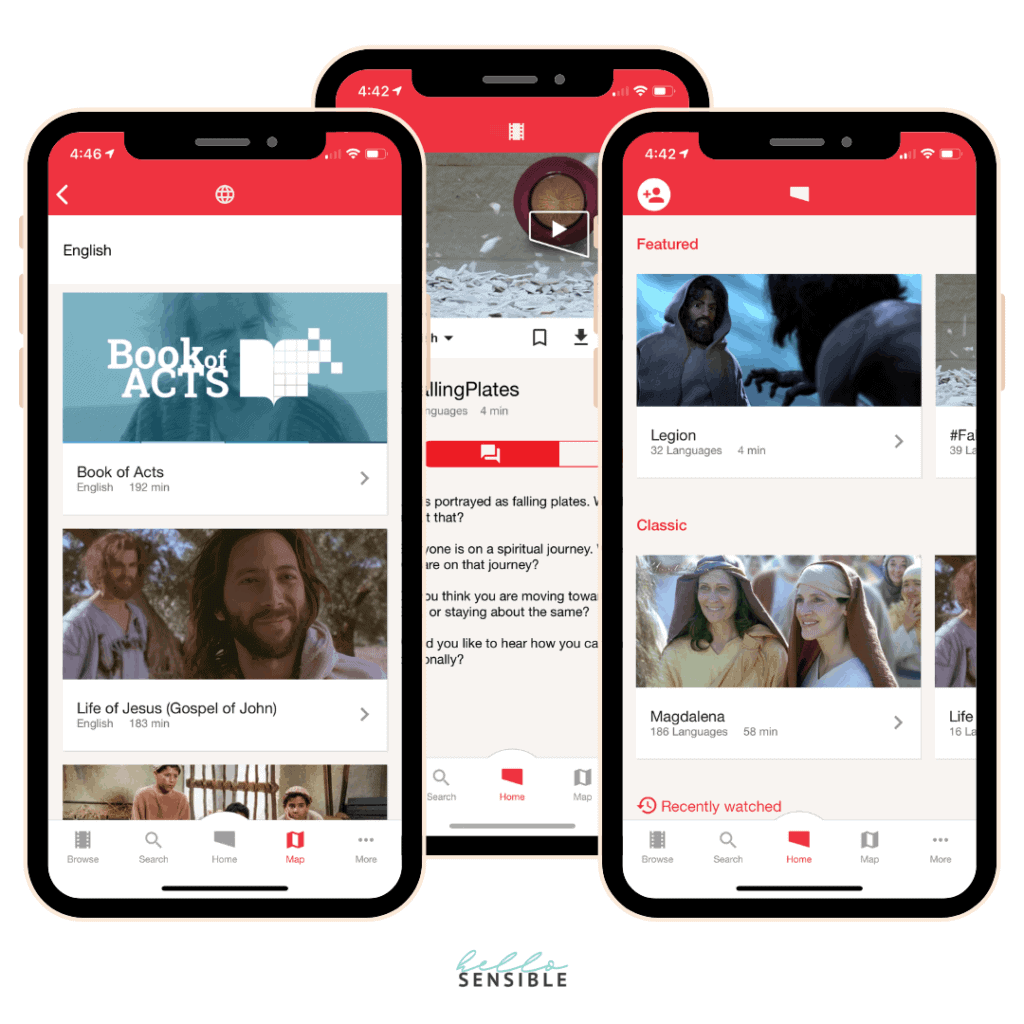 9. Jesus film app
4.7⭐ | 31+ Reviews
The Jesus Film Project® app is a full digital library of more than 200 full-length movies, mini-series, and short films produced to help the world know Jesus better. Everything on the app is free to watch, download, and share with anyone you meet, wherever you meet them.
Here's a sample of the short films you can find on the app. This one is powerful!
One reviewer says they love downloading some videos in the app before getting on a plane so that they can be prepared to have great spiritual conversation-starters; not a bad idea! If you'd like to give this app a try, download it on iOS or Google Play.
Advanced Bible Study Apps
The last two Bible study apps I want to share are for that woman who wants to dive deep into God's word. These apps are often used by pastors and other people who study the Bible professionally, but don't worry – you don't have to be a pro to use these tools. Check them out.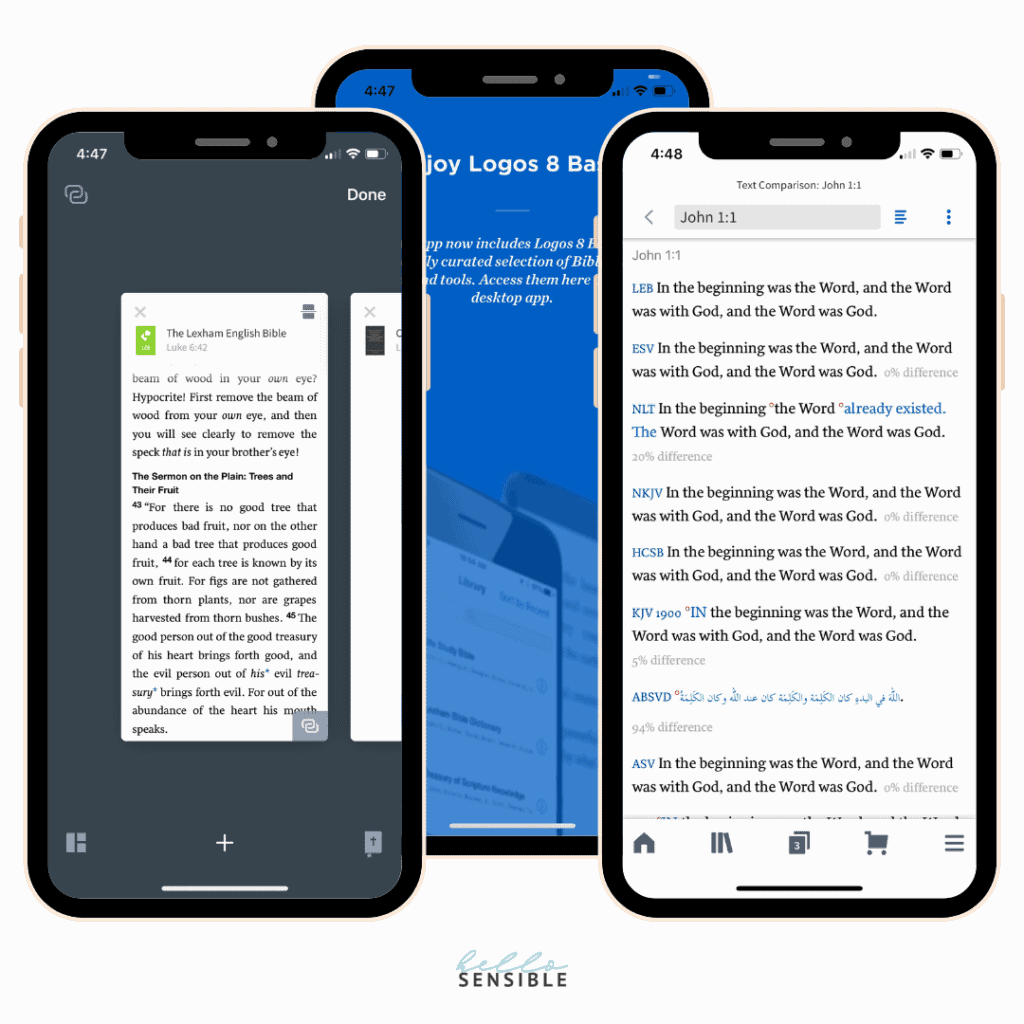 10. Logos bible study tools
5⭐ | 42,000+ Reviews
Like many other apps we've discussed so far, The Logos Bible Study Tools App gives you access to the entire Bible, ways to highlight your favorite passages, select reading plans, take notes, and read through commentaries.
Unlike other apps, though, Logos offers a way to reference split-pane and tabbed browsing views in order to access other books while reading. You can look up Greek and Hebrew meanings and access text comparison, exegetical, topical, and Bible word study guides.
When I've personally used the app, I felt that I had plenty of free resources, but there are in-app purchase options available if you'd like to access a specific commentary or study bundle.
For the average user, this app can seem overwhelming at times because there are advanced tools and resources. If you are wanting to dive in, check out the Logos software YouTube channel for helpful tutorials. If you'd like to give this app a try, download it on iOS or Google Play.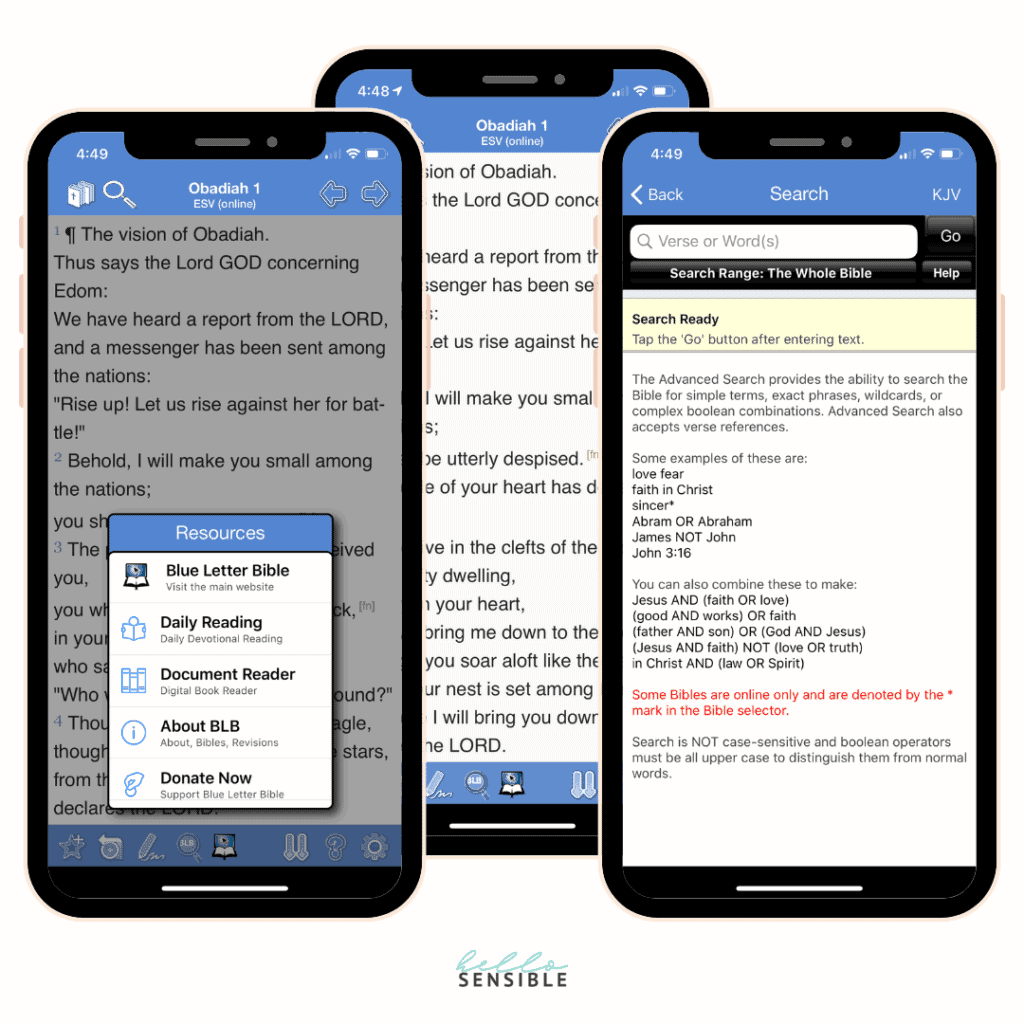 11. The blue letter bible
5⭐ | 167,000+ Reviews
Last, but not least, The Blue Letter Bible app is a free advanced study tool that will help you comprehend the scripture on a whole new level. A lot of people think this app is just a Bible reader, but it's actually a study Bible with thousands of resources all tied to the scripture you're reading.
You can compare multiple Bible translations plus access conservative commentaries, dictionaries, encyclopedias, and concordances. If you want to explore the original Hebrew or Greek language in which the passage was written, you can tap a verse, and study options will appear. As you highlight and take notes, you can also organize your favorite verses into custom folders – this is so cool!
If you want the full low down on this app, check out this short video overview:
Compared to the Logos app, I feel like the Blue Letter Bible is easier to navigate for the average user. If you're ready to dig into Blue Letter Bible, download the app on iOS or Google Play.
[elementor-template id="10291″]
What are your favorite bible study apps for women?
Leave a comment below. I'd love to know which of these apps you've tried, which ones you plan to download, and which ones you use on the regular that other women need to know about.