Bird Suet Feeders in a Mug!
How about we make the day for our fine feathered friends with bird suet feeders in a mug!
I love having bird feeders out in the winter, it's always so much fun to watch them enjoying their dinner. And to be honest, I enjoy watching the squirrels as well. What I do not enjoy is how they make such a mess of the bird feeders the minute their ear of corn is empty (which is every other day).
Bird suet feeders keep squirrels out quite nicely, and these mugs work great for gifts! (Which is exactly what I did with them)
To make your own bird suet feeders, you will need:
You can raid your cupboard for old mugs if you like; but since I was making quite a few of these for gifts, I went to Goodwill.  Dishes are generally pretty cheep so I paid 50 cents or less for most of them. As far as lard goes, just grab the cheapest thing you can find. 🙂
Get your lard warming in a sauce pan on low heat.
Next fill your mug(s) within a half inch of the rim with bird seed.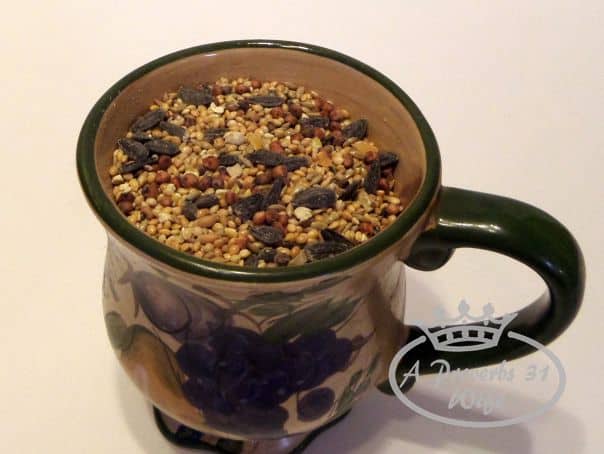 Once your lard is melted, you will want to begin gently pouring it into the mug. I used a spoon handle to stir the birdseed around and mix in the lard. This probably took the longest of the entire process. Slowly pouring and stirring….
You will know you have enough lard in your mug when it pools on top and no longer soaks in. You want just enough lard pooled that the seeds are covered and it's pooled along the edges.
Once filled, place mug in fridge overnight to harden properly (it will turn white), and then loop ribbon around the mug's handle and hang outside for the birdies!
Keep in mind, lard does melt, so winter is the best time to make and hang these. I also recommend that you bring them in if a big wing/rain storm is coming to avoid a broken mug and washed out suet.
Enjoy, and stay warm this winter! 🙂