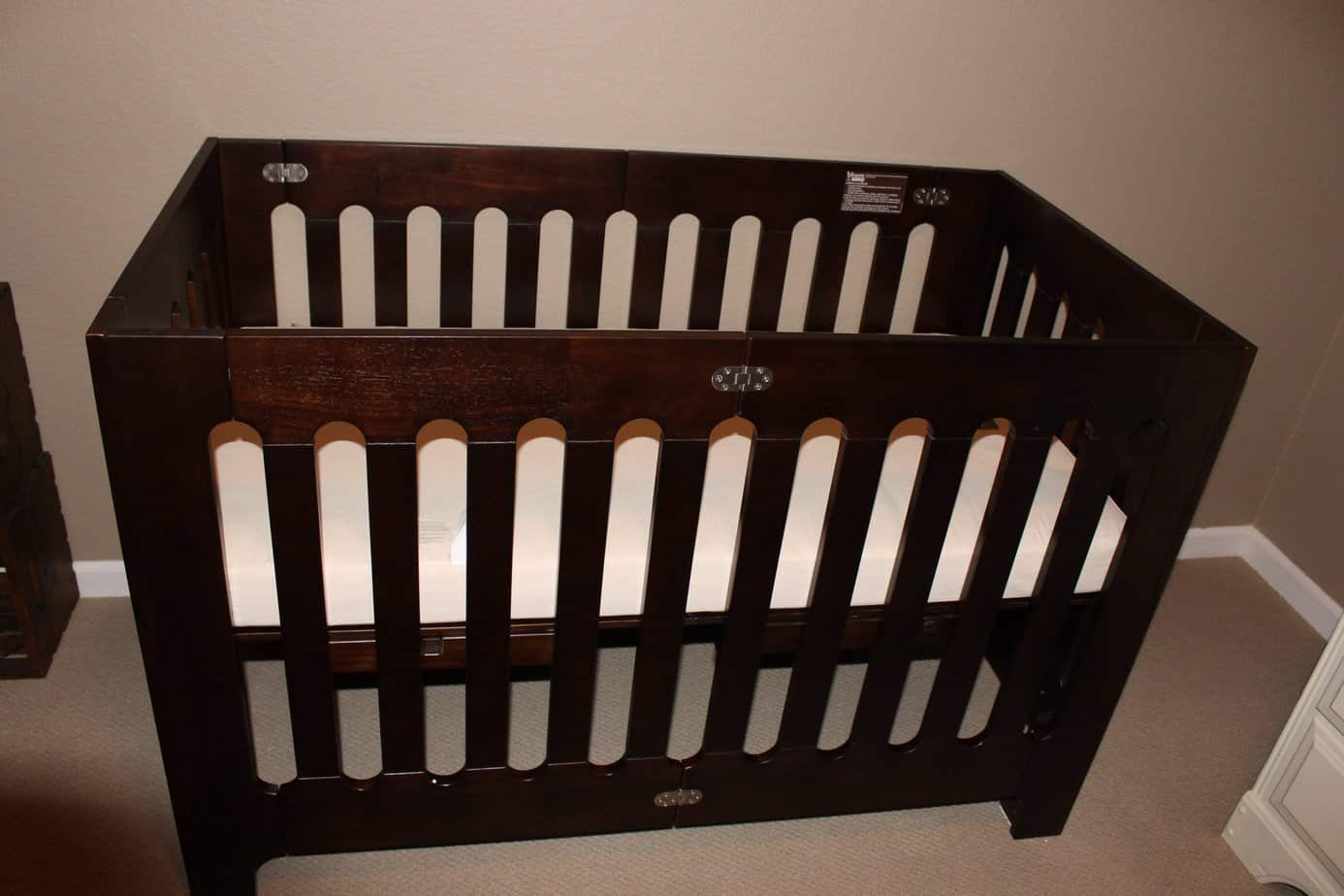 When I was pregnant with my second son, I set out to create a modern nursery. But we had one issue. We have a three bedroom house and NEED a guest room, as all of our family lives far away and needs a place to sleep when they visit. So we had to choose between putting our newborn in with our 4 year old or in the guest room and make it a multi-function room. After weighing our options, we decided on combining the baby's room with the guest room.
I wanted this nursery/guestroom to be not only a fun and colorful place of comfort for our little guy, but not overly childish so that guests were also comfortable. The first thing we needed to decide on was furniture. Once a dresser /changing table as well as a bed were chosen (find all of the pcitures and details in a future article!), the crib was the next venture. We did have a crib from my first son, but it was so big and bulky that the room felt smaller and cramped with all the furniture in there all together. We needed to find a crib that was fun and modern to fit my vision, but also low profile and not bulky.
When I came across the Bloom Baby brand of baby products and furniture I was in love. The Alma line of cribs seemed to be exactly what I was looking for! Not only do they have the modern style I was looking for, the Max version is multi-functioning with a toddler bed option and also took up less space than your average crib! It was my perfect crib. The Alma Max comes in four different colors (including a to die for grey!) but the Cappuccino seemed to fit in perfectly with the furniture we already had in the room.
When the boxes came, we figured that if it came in two boxes it may be hard to put together because there would be a lot of parts. Boy, we couldn't be more wrong! This crib took my husband about 20 minutes start to finish to put together! It took longer to take the pieces out of the boxes than it did to assemble it. We assembled it in the highest mattress position since we are using it for our newborn, but there is a lower position for an older child as well.
The first thing we both noticed was how low the crib was! Now, my husband and I are both pretty tall, but I know a lot of moms that are shorter than I am and they have mentioned looking for a crib that they can bend over to lay the baby down without feeling like they are dropping them into bed. This is the crib for the shorter parent, for sure! The very top of the crib only comes up 35 1/2 inches! I loved this feature more for the low-profile feel. I didn't want the crib to take over the room.
One of the selling factors for this crib that really pushed me over the edge to choose it? The ease of storing it. We had the hardest time storing our first crib! It took up so much room and that was even AFTER we completely took it apart! The Alma Max? Well Bloom Baby really had growing families in mind because when you are ready to store this crib away until the next baby comes, you simply take out the base board of the crib that the mattress lies on (and that folds in half), and push the side panels toward each other. The crib accordian folds into a small square (11 3/4″ x 29 1/4″) that will fit easily into any closet or garage! I wondered if the ease of folding it up would compromise the sturdiness of the crib, but when the baseboard is in the crib, it is locked into the open position with no way for it to fold up. Safe and sturdy with an unbelievably easy storage option! Not only a great option for growing families, but great for grandparents' houses! Keep the crib in the closet until you need it for your little grandchildren!
Now, I spoke about sturdiness and I am not exaggerating! When we went looking at cribs, my test was to shake each crib to test how it would hold up to a crazy toddler. Most did not meet my sturdy standards! Most cribs rattle, the sides move too much and I could just imagine my crazy kid becoming toddler-hulk and breaking a crib to pieces! We put the Alma Max to the test not just with my shaking, but my four year old shaking it WITH the baby in it!! Well, it didn't move a bit! This crib stayed strong right where it was, never rattling, moving or the sides moving. Check it out:
Alma Max Crib Review from SimplyRealMoms on Vimeo.
We chose the Alma Max over the other two because of the size (Alma Mini is a porta-crib size, Alma Papa is European size). We could use standard US crib size sheets, and I liked the fact that I had more options here for that. The Bloom Baby mattress comes in all three sizes, though! We got the pocket spring mattress to use in the crib, and it comes double sided-it inverts to accommodate baby's increasing weight! The mattress contours to baby's natural posture & promotes high breathability, while evenly distributing baby's weight. My favorite thing about the mattress though? It COMES with a washable cover! Your mattress will keep as clean as possible with an extra washable layer to protect it!
Now, I usually mention not only the good but the bad about the products I review. I have to say, I am scraping to find anything bad about this crib. Really the only issues I had were that 1. There is a warning sticker on the crib that can't easily be removed and it shows, but thats just cosmetic. My only other issue is that it is a little more pricey than your average baby-store crib, but you are paying for PREMIUM quality here! As much as I have a hard time spending a lot of money, this is a good investment into your child(ren)'s safety!
The Alma Max looks great in our new modern nursery/guest room…stay tuned for the big reveal of the rest of the room!
*I received this product for review purposes, but all opinions are my own.