Books That Inspire Virtue in Girls
Recently I have been putting together a list of books that inspire virtue in girls.  Now I may not have daughters of my own yet, but I feel highly qualified to put together this list. 🙂
As a homeschool mom, my mother realized that books would be the best way to teach us. She saved each year so that when the homeschool convention came to town she could take advantage of the book sales and buy new reading material.
One year, she even brought home a set of encyclopedias. (in all reality, I still think encyclopedias are better than the internet!)
But my mom was very careful to chose books that inspire virtue in girls and boys. When we were younger and even into our mid-teens she read the books first and then gave them over to us. By doing so, she knew what her children were reading and she was also able to discus them with us as we were reading them.
I've said before that the best thing Mother ever did for us was to homeschool us, and now I'm going to add on here and say the second best thing was to give us good books to read.
A while back, I took the 3 year old to the library while they were in the process of a remodel. The preschool books were right below the school age books and as I glanced over the titles, I was shocked. The vast majority of those books promoted rebellion, witchcraft, promiscuity, and were totally unfit for the children of God to be reading.
At home I went to my book shelf and began pulling out the beloved friends from my childhood and grieved that many of today's children may never get to read these jewels, because of all the other trash out there that is handed to them on a daily basis.
I was able to find all the books I mention below on Amazon. I have used my affiliate links for those. By purchasing through my affiliate links, you help support the growth of this site at no cost to you.  If you do not want to support this site, you may simply clear your cookies before you place your order.
Books that Inspire Virtue in Girls: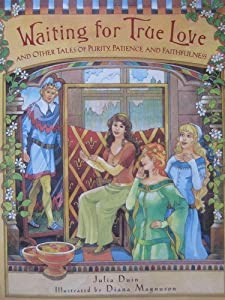 Waiting For True Love.  This book contains 6 beautifully written and illustrated stories of purity and steadfastness.  These stories are set in fantasy genre and are appealing to girls of all ages.
From the three maidens who were given looms on which they were to weave a coat for the prince they were to some day marry, to the young prince who becomes a jester. You and your daughter both will love the wholesomeness and honor of these characters.
Beautiful Girlhood. I was given this book at the age of 13 and there was a writing assignment that my mom gave me with it. Basically I was to read one chapter a week and write down my thoughts on it. (In cursive of course!)  The book focuses on old fashioned purity and modesty.
In chapter 19, you will find a conversation between mother and daughter on modesty; "Mrs Vane looked to God for wisdom to rightly answer, and to equip her daughter with enough Christian sense to dress modestly despite the popular trend in fashion."  A great book to read and discus with your young daughters.
The King's Daughter and Other Stories for Girls.  A heartwarming collection of short stories for young girls. The time frame for these stories is the 1870's.  The young girls in these stories are easy for today's daughters to relate to and the  lessons learned are timeless.  Virtues such as honesty, welcoming strangers, generosity and others fill these stories.
Princess in Calico. A young girl is invited to leave her poor home with her demanding stepmother and ungrateful half siblings to live in the city with her cousins.  There she finds the Lord and learns of his goodness.
When an accident back home happens Katura must make the choice between serving her family or staying in the luxurious life that her cousins offer.  This young princess in calico was one of my childhood inspirations in serving my family.  There is a wonderful review on Amazon as well.

Mary M. Landis is an author I would recommend many books from.  Coon Tree Summer, and Ice Slide Winter follows a large family about their every day life on a farm (think farming Duggards).  I read these stories so many times as a child and cannot wait till I have children who will read and enjoy these.
While they are in a list of books that inspire virtue for girls, I would also recommend those two for boys as well.
Other titles that I have read and enjoyed from Mary:
The Treelo Triplets.
Dear Princess.
Trouble at Windy Acres.
Little Jewel Books. (These books are ideal for younger children)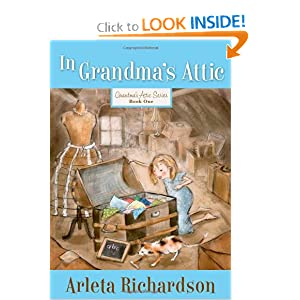 Grandma's Attic books by Arleta Richardson.
The first 4 books in the series are wonderful for 8-10 year olds, and the next 5 or 6 are more for 10 and up. However I read them all when I was ten and loved them.
She also has an orphan train series that are wonderful for the 10 and up range as well.  Just search her name on Amazon and you will find most of the books she has written.  I would trust any of her books with our children (whenever we have them).
Speaking of Orphan Train stories, Joan Lowery Nixon has a wonderful series on them. Here are the names of the books in order:
A Family Apart
Caught in the Act
In the Face of Danger
A Place to Belong
A Dangerous Promise
Keeping Secrets
Circle of Love.
These can all be found on Amazon and I highly recommend them, not only for the good clean wholesome story-telling, but also for the history your child will learn, just from reading story books.
Written my my cousin: Catching Raindrops. This simple children's story follows a young girl during a flood that devastated her family and town. A great story on how she learns to trust God even in the hard times.
This list is getting huge I see, so just a few more authors I love and trust as books that inspire virtue in girls.
These are all books that I recommend as books that inspire virtue in girls. But I also recommend you read the reviews on these books and decide for yourself if they are the sort of book that you want influencing your daughter.
While you can buy all these books on Amazon, you can also compare prices at Vision Forum, or you could write down a list of books to looks for at half price stores and garage sales. 🙂
Are there books that inspire virtue in girls that you would recommend? Let me know!
Did you like this post? You may also like Good Toys for Young Girls.