Bump Boosters Pregnancy Cookies
Snacking during pregnancy is a given, but it's such a good idea to snack smart! Obviously snacking healthy with fruits, veggies, nuts and cheese are great ways to make sure to keep your body and baby in good health but what happens when you crave a little treat?
I heard about BumpBoosters when I was about 6 months pregnant and was intrigued but skeptical. A packaged cookie that had benefits for a pregnant mom AND would taste good? I doubted it. So when they sent me a few of their cookies to try myself I ripped open the Oatmeal Chocolate Chip cookie (my fav flavor) package first to give it the pregnancy craving stamp of approval.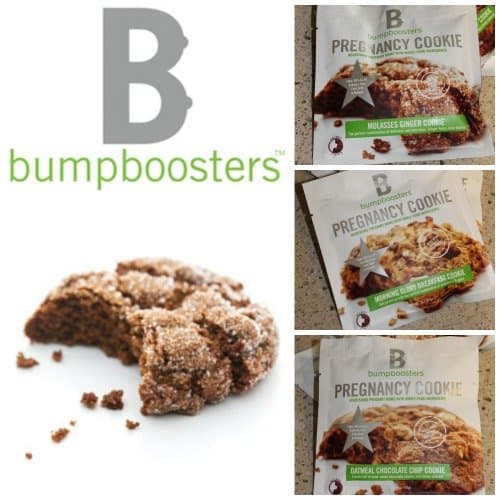 I was really impressed by the moistness of these cookies and that they tasted absolutely delicious! I was totally expecting a dry cookie with less flavor (not sure why, maybe the morning sick pessimist in me?) but I was wrong. The flavor is perfect in each of the three flavors, and while I thought my favorite would be the Oatmeal Chocolate Chip, I was obsessed with the Molasses Ginger! I could really taste the pumpkin that they add into it, and it was like eating the flavors of fall. So delicious and moist, it literally fell apart in my hand! The Morning Glory Breakfast Cookie was my least favorite, but not because it wasn't good, I just loved the other two much more.
BumpBooster Pregnancy cookies are the most convenient treat made just for expecting mommas in easy to take with you pouches. I stuck a few into my purse and would nibble on one when I felt nauseous (yes, I was still nauseous at 6+months!). And what I love best? This company was started by a mom on a mission! Emily Kane came up with MilkMakers, a lactation cookie, when she needed to boost her own milk supply and it grew into a business to help other moms. It has now expanded to include BumpBoosters cookies, helping pregnant mothers as well!
BumpBooster cookies have key ingredients to benefit your body and your growing little one during your pregnancy:
Chia Seeds
Chia seeds offer a robust nutritional profile, benefitting moms-to-be with a rich supply of omega 3s, folate*, iron**, calcium, magnesium, potassium, and antioxidants.
Wheat Germ
Wheat germ is the vitamin and mineral rich part of the wheat kernel. It's power-packed with beneficial nutrients: protein, fiber, folate* , thiamin, vitamin B6, potassium, iron**, riboflavin, calcium, zinc, magnesium, niacin, and vitamins A and E.
Pumpkin
Pumpkin is rich in fiber, vitamin E (Alpha Tocopherol), thiamin, niacin, vitamin B6, folate*, iron**, magnesium phosphorus, vitamin A, vitamin C, riboflavin, potassium, copper, manganese, and beta carotene.
Whole Grains
Whole grains are the best grain choice for promoting overall good health.
While you could make cookies like this for yourself at home, I am much too sick and too exhausted to make cookies, and ingredients like wheat germ and chia seeds are things I don't keep on hand, nor do they keep them in my discount grocery store. I really appreciate the pre-made cookies for my own convenience!
These cookies are a little pricey at $24.99 for 10, but they are very large cookies and for me, the convenience of a pre-made snack when I feel terrible and tired makes it really worth it!
*Folate is a naturally occurring vitamin known as B9. It is important for the growth and development of the fetus.
**Sufficient amounts of iron help moms sustain their growing baby and placenta and carry to term.
*I received cookies for review purposes, but all opinions are my own.