Butch and Harold's Sticker Wall Art Picture Frames: This Holiday Season's Hot Gift for Teens!
If you are looking for a fun and unique gift for a child, teen or even a special friend this holiday season, I have the perfect gift for you! Butch and Harold's vinyl wall art picture frames have officially made it on my MUST BUY gift list! I am in LOVE with these wall decal picture frames and I have already purchased several of these sets as gifts for this holiday season!
We all know that wall photo collages are all the rave these days, but actually putting one together can be an expensive and tedious process. We have a very nice family photo collage along our stairwell, but it was expensive and a pain to put up.  We spent over $200 on frames and after several holes in our wall trying to arrange the frames just right, I started to wonder just how bad I wanted a photo collage on my wall.
Then, I was introduced to Butch and Harold's wall decal picture frames and I fell in LOVE! What a genius idea—not only are these adorable they are so much cheaper and easier than using picture frames. I have the pink set of wall decals for my daughter's room and we love it.  My daughter's name is Maelie (after a Hawaiian flower) and we chose to place a bunch of Hawaiian flowers in the picture frames to decorate her room.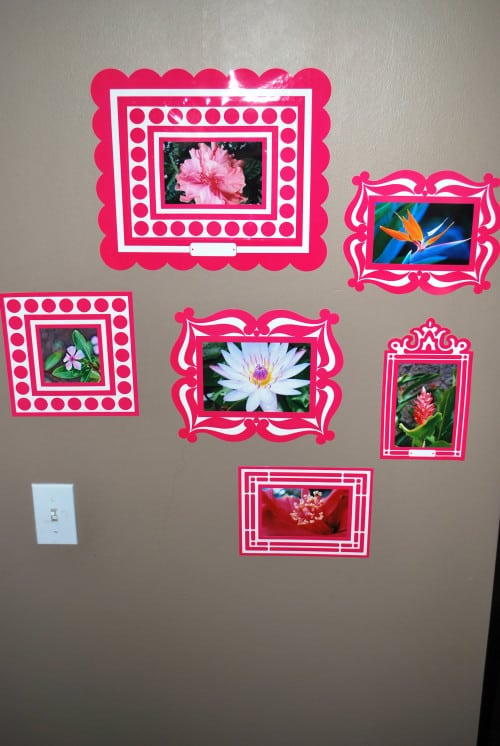 The black or brown decals would be great for any room in your home, and the multi colored or pink decals would be perfect for any nursery, a teen's room or even a great gift for a college student for a dorm room.  College students love to hang pictures of friends, family and special occasions on their wall and this is a cute and unique way to display them—I would have loved on of these kits when I was in college!
The possibilities are endless with these stickers. You can rearrange and switch out pictures easily for a fun decorating project.  You can use them all together in a creative arrangement or spread them out around an entire room; no hammers, hooks or hassles included!  All you have to do is peel the back, attach the pictures to the frames and stick them on the wall.  It only takes a couple of minutes to have a decorative wall art display that is colorful and fun!

Included in the kit are 8 vinyl wall art picture frames including:
1, 4×4
4, 4×6
2, 5×7
1, 8×10
4 mini dry erase boards (that can be place with the picture frames or without)
In addition to sticker frames, Butch & Harold also provide sticker art, sticker corners to display your child's art easily and sticker dry erase boards to write messages on or even create your own art.  Any child or teen would love any of their products; this is a MUST GIVE gift for this holiday season!
Be sure to visit Butch & Harold's site to see their adorable products and follow them on Facebook and Twitter for recent product news and specials. They frequently offer coupons, so be sure to be on the look out for them.
The opinions expressed above are honest, accurate, and not encouraged anyway by monetary donations. A sample free of charge was received from  Celebrity Baby Trend Expert , Rachel Florio-Urso.