Buttons Diapers Review -AI2 Cloth system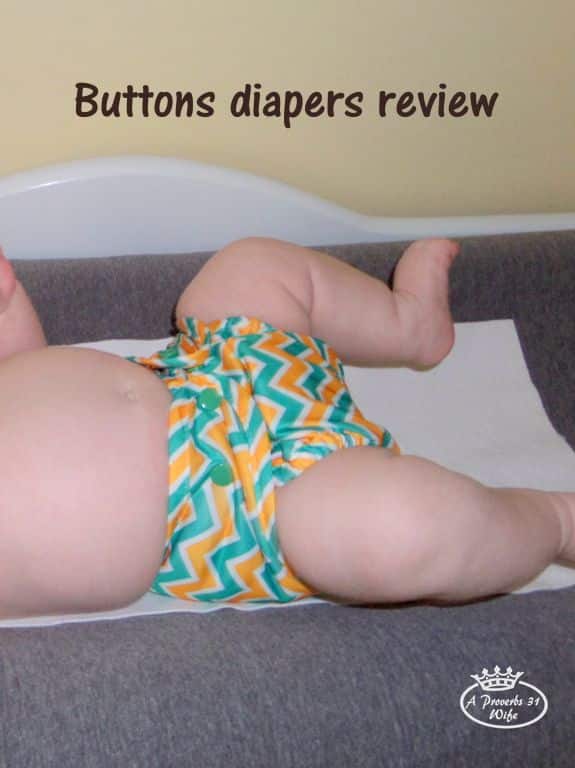 As many of you know, I use pocket diapers for little K. But I'm always open to trying new things so I've now tried out an all-in-2 (AI2) cloth diaper.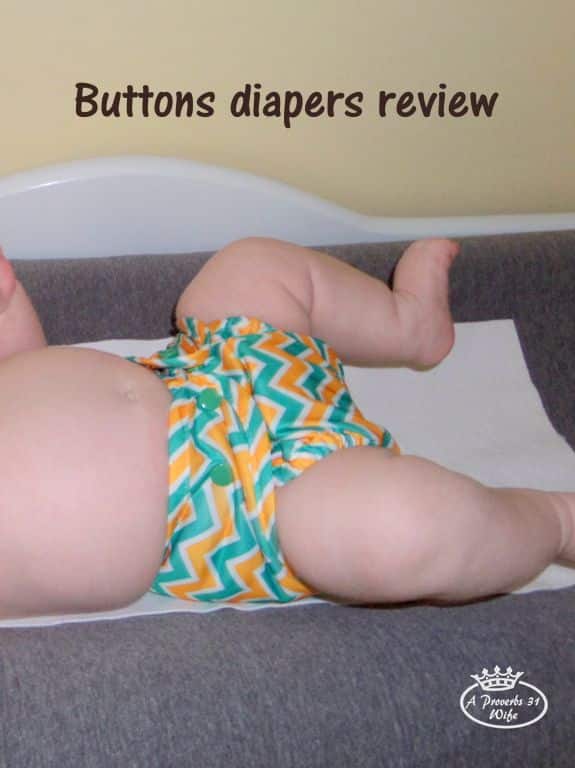 An AI2 system for cloth diapers is made up of a shell and inserts. However, unlike pocket diapers the inserts lay against the shell and against the skin.
Changing an AI2 diaper requires pulling out the insert and adding a new one while keeping the shell. This system only need 1-3 shells per day depending on how many dirties your baby has.
I'm sure many of you already knew that, but I didn't. It's a really neat idea and I'm feeling like it's a pity I built up my stash with pockets because they can take awhile to stuff. 🙂
I was sent a AI2 diaper system to review from Buttons Diapers.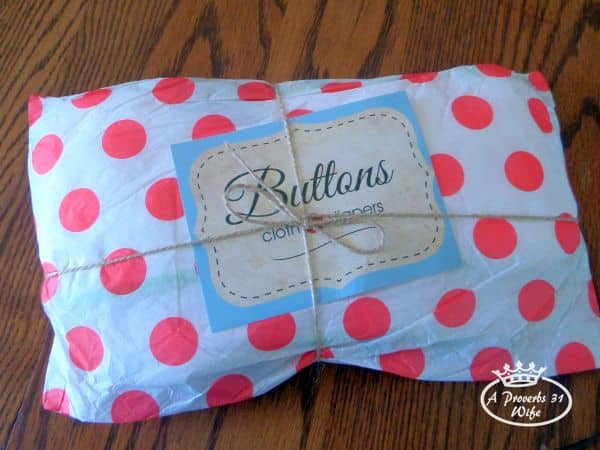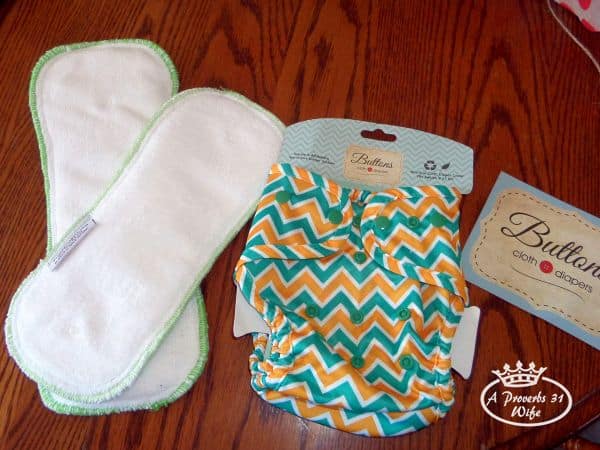 I received the one size shell in this pretty teal and orange chevron, a night time insert and small daytime insert.
The shell features a double leg gusset to protect against leaks and blow-outs.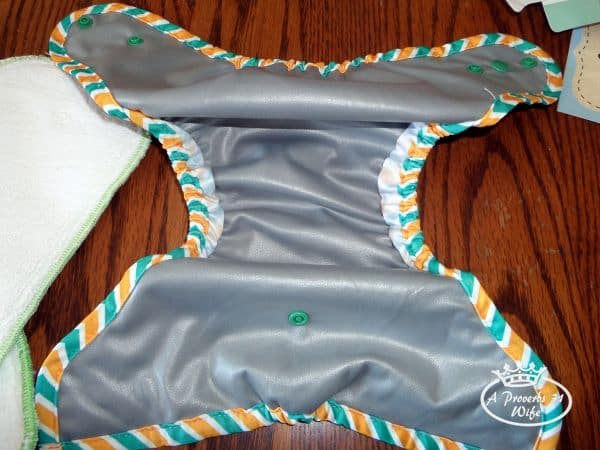 Do you see the little green snap? The liners snap into the shell and the daytime liner snaps to the overnight liner.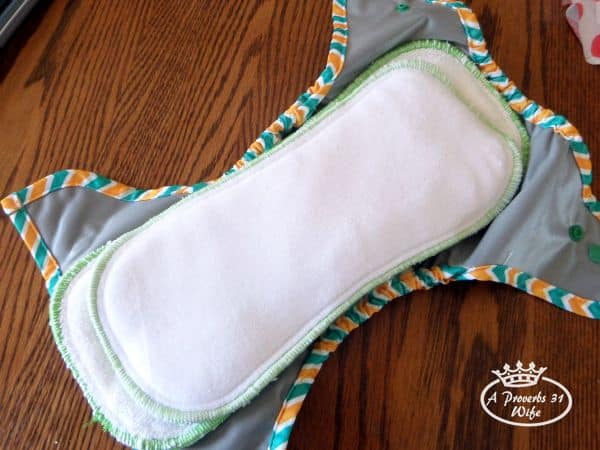 The front has riser snaps that snap down for smaller babies and up or unsnapped completely for toddlers. The shell is double lined so there is no fear of leaking through the snaps.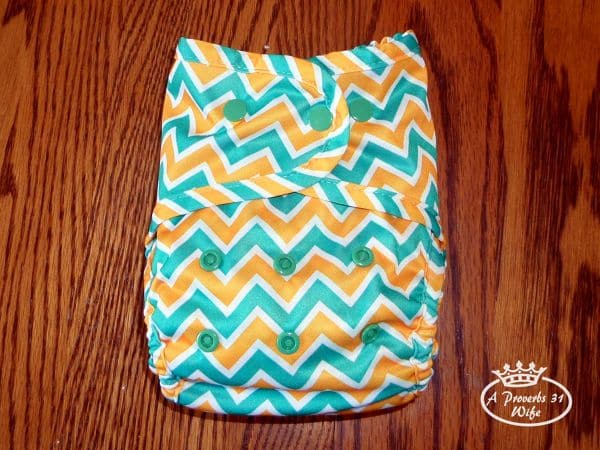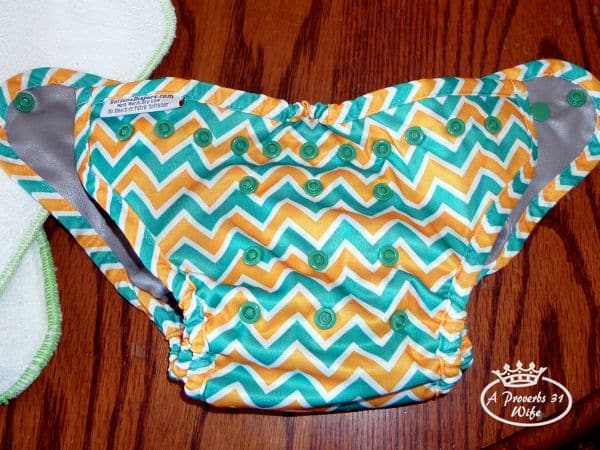 At 2 months little K still needs his diaper changed every time he eats, so basically every 2-3 hours. I put this diaper on him one Sunday and actually forgot to change him until after the second feeding (almost 5 hours). 🙁 I felt really bad for leaving him in a wet diaper that long.
The liner was soaking wet, almost to the point of dripping. However it didn't leak at all, which definitely speaks well for it.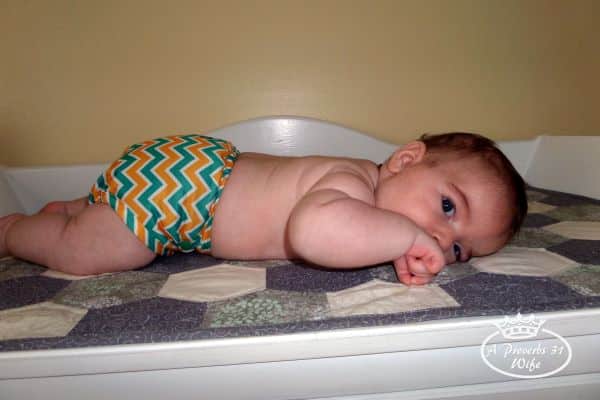 When I snap down the front, it fits him nicely.  I did notice that the overnight liner doesn't fit in the diaper at all when it is sized for a smaller baby. However, the small liner is absorbent enough that I'm not too worried about needing the bigger one right now. That and I don't let little K go longer than 6 hours between feedings at night either.
The diaper fits nicely around his fat little legs, and the back wraps around very well. It would have to be a nasty big poo to have leaking problems as well as this diaper fits.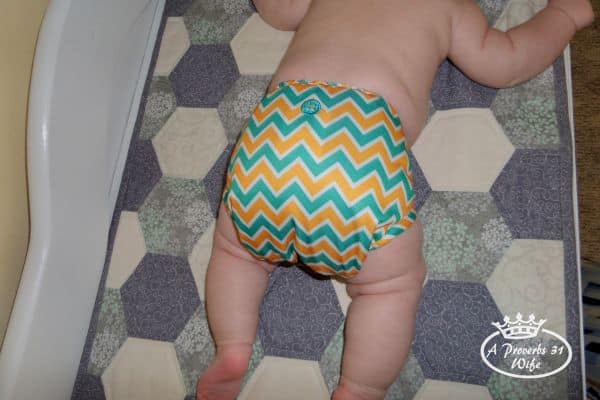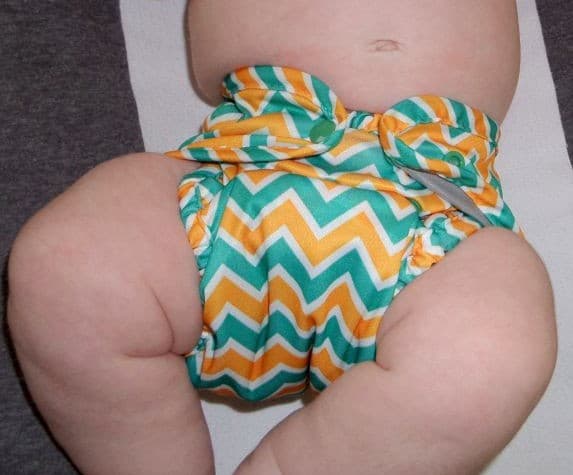 I don't know about you, but I love fat chubby baby legs. I just cannot get enough of them! Oh, and the diaper is pretty cute too. 😉
My final Buttons Diapers Review:
Pros:
Less cost as you only need 1 shell for 3 or so liners
Less laundry
Faster laundry as there is no "stuffing pockets"
Liners snap in keeping them from moving around. Fits babies from 9 pounds to 35 pounds
Double leg gussets
2 different sizes of liners
Cons:
The PUL rests directly against the baby's skin
The overnight liner doesn't fit when the diaper is snapped down for smaller babies
The front is a bit bulky in the smaller size. However, my pockets are too, so I don't count that against this diaper.
Final Verdict?
Well, I have one shell and one liner. Supposedly one shell will last through 3 liners. So I'm trying to convince my hubby that I need to buy a few more liners so I can really put this shell to use! 🙂
In looking at their prices, I feel that Buttons Diapers are very reasonable. Their starter pack contains 4 covers and 12 liners and costs $85.  That's like getting 12 diapers for $7 each!  Or you could check out their "Trial Pack" for $21. It has 1 cover and 3 liners, again that's like 3 diapers for $7 each.