Cauliflower Gratin – Inspired by Bourbon Steak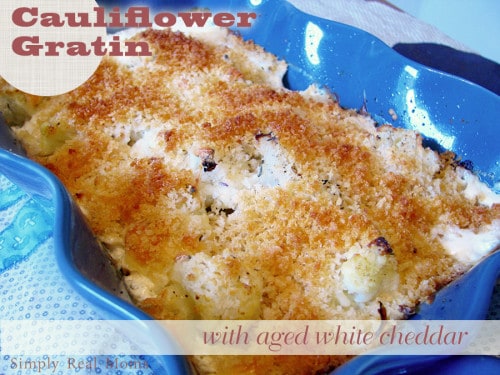 I have another recipe today, inspired by our fabulous dinner at Michael Mina's Bourbon Steak in San Francisco. Last time I shared the first course, a tasty twist on the traditional steakhouse salad – delicious butter lettuce with cherry tomatoes, avocado, bacon and thin sliced red onion. All topped with a drizzle of homemade Green Goddess dressing. If you haven't tried this salad yet, you're missing out!
I decided to test out our side dish recipes next. It took me a few tries to get this one down, but I'm happy with how this version came out! I wanted to make sure this was simple enough to throw together in your kitchen, without slaving away over a French style sauce for hours in your kitchen. You certainly can do that if you wish, but I think being able to just toss this recipe together and pop it in the oven is more appealing.
For my dish, I stuck with an aged white cheddar for the cheese, but you can use extra sharp cheddar if you prefer, or mix it up! I think pepper jack would take this dish to a whole new level, so don't be afraid to experiment. Another fun addition would be cooked and crumbled bacon right on top.
This would make an excellent side for your at-home Bourbon Steak experience, but don't stop there! Cauliflower Gratin would be a great addition to your Thanksgiving or Christmas dinner table! And I bet your guests will love it. I hope you enjoy creating this dish in your kitchen as much as I did!

Cauliflower Gratin - Inspired by Bourbon Steak
Ingredients
1 large head of cauliflower, trimmed into florets
2 minced garlic cloves
1 teaspoon dried thyme
pinch of salt
pinch of black pepper
2 tablespoons flour
1 cup heavy cream
1 8 oz brick of aged white cheddar, grated (Do not use pre shredded cheese for this, it will not melt properly)
Bread Crumb Topping:
2 tablespoons butter
2 cups panko bread crumbs
1 clove minced garlic
.25 cup grated parmesan
Instructions
Preheat oven to 350˚
Bring a large pot of water to a boil.
Add a pinch of salt and cauliflower florets. Cook cauliflower for about 2 minutes, drain and set aside.
Lightly grease a large casserole dish, and add cauliflower and top with about half the cheese.
In a large bowl, whisk heavy cream, garlic, dried thyme, pinch of salt and pepper, and flour until well combined and no flour lumps remain.
Pour cream mixture over the top of the cauliflower in the baking dish, and top with the remaining cheese.
Make bread crumb topping by mixing panko crumbs, garlic and parmesan in a bowl, and sprinkling over the top of the cauliflower mixture in the casserole dish. Dice the 2 tablespoons of butter into small cubes, and sprinkle on top of the bread crumbs.
Bake for about 25 minutes until browned and bubbly. The cheese will melt into the cream mixture to make a sauce.