Crepe Cone Recipe | A Summer Delight with Blue Bunny
This post Crepe Cone Recipe is sponsored by Collective Bias Inc. and its advertiser. All thoughts and opinions are my own.  #SunsOutSpoonsOut #CollectiveBias
Summer is a delightful time. Lots of fresh fruits and veggies there for the eating, camping trips, swimming, fireflies, nights under the stars… and ice cream! Now quite frankly I'm a fan of ice cream any time of year, but there is nothing like a scoop of ice cream to cool your insides on a hot summer day.
I grocery shop for 2 weeks at a time. I usually hit a couple different stores for the best deals and it's exhausting. Last Saturday was no different. It was crazy hot, I had a little one who fell asleep in the car that I carried through one of the stores and I considered just giving up and going home.
Walmart was my last store to hit and let me tell you, the samples they were giving out couldn't have been more welcome! I walked around the corner to the freezer aisle and there was a Blue Bunny demo stand with ice cream samples!
The lady took one look at my red, sweaty face and disheveled hair and knew I needed some cool refreshment. She set out cups of ice cream, with little cups of fresh fruit, cool vanilla and fresh apricots are a great combination. Let me tell you, it was delicious!
Since the Blue Bunny ice cream was on roll-back I grabbed a container with the idea to reward myself for accomplishing grocery shopping on such a hot day.
Today I'm sharing a crêpe cone recipe that is the perfect way to enjoy ice cream. I love how versatile crepes are, and making crêpe cones are ridiculously easy.
Crepe Cone Recipe:
A dozen or so dessert crepes (recipe below)
Brownies
Blue Bunny Ice Cream
Whipping cream (the real stuff in a can works best)
Your choice of fruit and nut toppings
Chocolate and caramel drizzle
Paper plates
Dessert Crepe Recipe:
1 cup all-purpose flour
2 tablespoons raw cane sugar
1/4 tsp salt
3 eggs
2 cups of milk
1 tsp vanilla extract
2 tablespoons melted butter
Sift the flour, salt and sugar together in a bowl. In a second bowl whisk the eggs, milk and vanilla together. Add the dry mix to the liquids and use a hand mixer to thoroughly blend. Lastly whisk in the melted butter.
Lightly butter a 10″ nonstick skillet and pour 1/4-1/3 cup of the batter in. Tilt and swirl the pan to completely coat the bottom with batter. Cook for about 2 minutes on a medium heat. Flip and cook for another 30 seconds.
Remove crêpe to a plate to cool. If the weather is dry I don't typically have issues with the cooked crepes sticking together. However, when it is humid I have to layer them between pieces of wax paper.
Now that you have all your ingredients for crêpe cones, it's time to start assembling them!
Cut the paper plates in half and roll/tape them to make paper cones that you will use to hold your crêpe cones.
Lay out a crêpe and use the whipping cream to mark out about 1/5th of the crêpe. Crumble and press a brownie into the corner and place a scoop of ice cream at the top.
Fold the crêpe in half along one line of whipped cream and roll it around the ice cream to make a cone.  Slide your crêpe cone into a paper cone and top with desired fruit and nuts, then drizzle with chocolate and caramel for a mind-blowing treat!
I made these for my family on Sunday and everyone loved them! My mom mentioned that they made her think of cream puffs and several greedy members of the family ate more than one. It wouldn't be fair to call out any names though. "ahem" 😉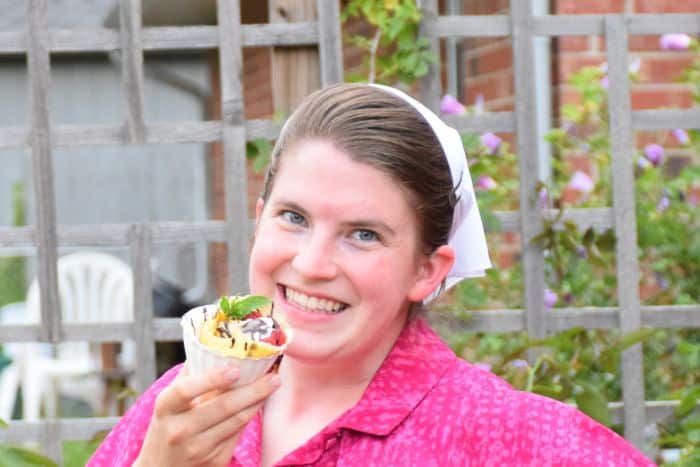 Want more ice cream inspiration? Check out this page with all sorts of ideas!
Be sure to follow Blue Bunny on Facebook and Twitter.