Crowd-Pleasing Baby Shower Appetizers
If you're planning on throwing a baby shower, I suggest serving appetizers as opposed to full-on meals. Not only is it easier, but you can also offer a variety of foods to really make your baby shower unique. Here is a list of my favorite appetizers. These appetizers are quick and easy to make, leaving you plenty of time to play hostess!
Bruschetta:
One of my absolute favorite appetizers ever is bruschetta. It can be served at any event. I found the best recipe from Our Best Bites and I am sure you will love it!
Mini Taco Dip Cups:
How cute are these individual dip cups?! It's a great way to serve seven-layer bean dip, which is always a hit at the party!
Ham & Asparagus Roll- Ups:
Super easy, delicious and filling. By adding something hearty like ham, you can be sure your guests won't leave hungry.
Fruit Kabobs:
I love the idea of having kabobs. It's a great way to reduce the bulkiness of a bowl. It not only looks cute, but let's face it, kabobs are more fun to eat, too!
Don't forget to have your guests dip the fruit kabobs in this ever-so-popular and delicious Fruit Dip!
Pasta Salad:
This pasta salad is delicious and can be made the night before. Serve it in mini cups or straight from the bowl. Either way, it'll be a hit!
Cheese Platter: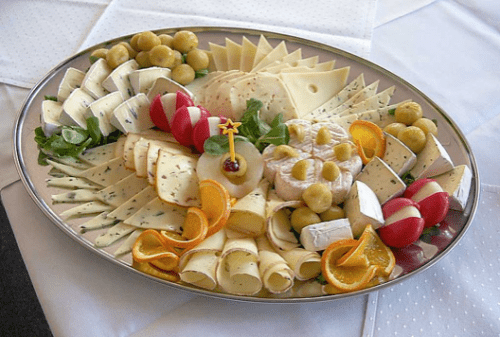 Something as easy as cheese can be the heart of the appetizers you are serving. You can really customize your platter by offering a variety of unique cheeses found at your local deli. To make it more fun, try adding varieties of olives, crackers and slices of meat.
Mini Spinach Dip Bread Bowls: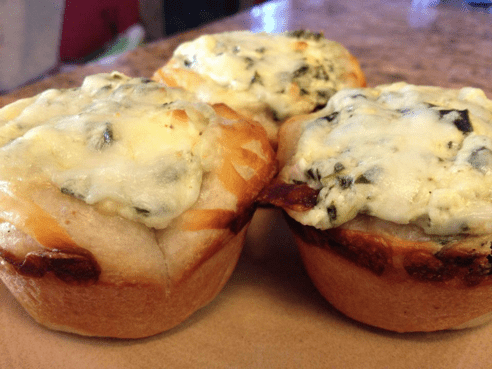 Okay, I have an addiction and it is to these Mini Spinach Dip Bread Bowls. My husband and I eat them like candy. Probably not the healthiest thing to eat a lot of, but hey, there's fresh spinach in it so it can't be all that bad. I love spinach dip, so naturally I thought these were the most genius things I've ever made.
Ingredients 
13.3 oz roll of refrigerated Simply Pillsbury French bread loaf
2 Tablespoons extra virgin olive oil
2 Cups fresh baby spinach, coarsely chopped
1 clove fresh garlic, minced
3 oz softened cream cheese
½- cup light sour cream
2 tablespoons fresh shredded Parmesan cheese
1/3-cup shredded mozzarella cheese
1/8-teaspoon Ancho Chile Pepper
1/8-teaspoon garlic salt
1/8-teaspoon salt
1/8-teaspoon black pepper
Directions
Step 1. Preheat oven to 350. Spray 10 muffin cups with non-stick cooking spray. Unroll package of French bread loaf and slice into 10 equal-size slices, about one-inch thick. Press each slice into about a three-inch round. Press into the bottom and up sides of the muffin cup. Set aside.
Step 2. Heat olive oil in medium skillet over medium heat. Cook and stir spinach until wilted, about three minutes, then add garlic, cook and stir for another minute, then turn heat off.
Step 3. Place sour cream, cream cheese, cooked spinach and garlic, Parmesan cheese, Ancho chili powder, garlic salt, salt and pepper into a medium bowl. Mix until well combined.  With a medium-sized cookie scoop or regular spoon, scoop dip into each of the centers of bread bowls. Top evenly with shredded cheese and bake for 15-17 minutes until edges start to lightly brown.
Step 4. Let cool before removing from muffin pan, place on a serving dish and enjoy!