Daddy 911: How to Cope with Your Toddler Daughter's Hair
We recently heard from a single dad who is at a loss when it comes to doing his baby girl's hair.
Dads, you are not alone. Many moms also struggle with their toddler's wayward strands. And a squirmy, crying, impatient kid does not help matters.
If you're lucky, your little girl will remain bald until she's two (I know, you desperately want a head full of curls, but trust me, it's much easier this way!). However, if you had a baby born with a head of hair that has been growing steadily since day one, here are a few tips on how to manage it.

For just a bit of hair: If your daughter has just enough hair to make her look like a boy, don't worry, there are plenty of cute headbands out there to rectify the situation. Although you may not put one on her every day, they are nice for special occasions and photos. Also, if you really like the look, you may want to put one on often so she gets used to it and doesn't pull it off.
Look for a headband made of soft, stretchy fabric (see below). Lace can be itchy and irritate a baby's sensitive scalp. And if you don't want to break the bank stocking up on headbands, buy them in white or cream to match everything (you can also buy a plain band and add different bows to it).
For when hair is getting in baby's eyes: One day, you will wake up and find your daughter's hair is hanging in her eyes. It's time to dive into the wild world of barrettes.
If your child is still a baby and you don't want anything sharp or easy to swallow near her face, look for the cloth-covered barrettes that simply slide into the hair. It is super easy for you and painless for her. And these barrettes are usually big enough that if your baby tries to put it in her mouth, she can't swallow it. However, take it out during nap time or when she's in the car seat and you can't reach her. You can buy these almost anywhere inexpensively in packs with a variety of colors. When she's older you can graduate to metal barrettes or plastic clips.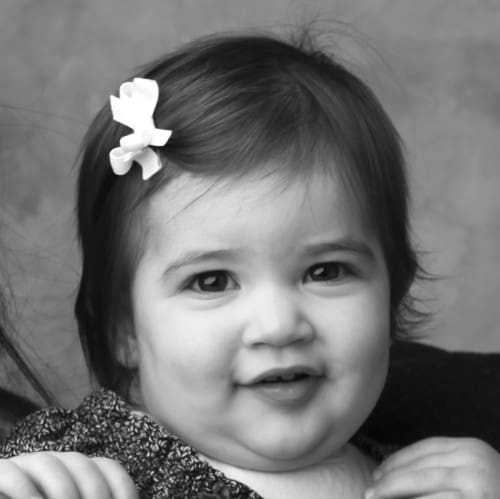 For when her hair is out of control: Ok, everyone take a deep breath—it's time for rubber bands. Yes, you are going to have to put your daughter's hair in a ponytail.
This becomes necessary when your baby is a toddler and so active that barrettes, headbands and other hair accessories don't do the job anymore. A secure rubber band is the only thing that's going to keep her hair off her face.
Don't panic. Just follow these steps:
1. Buy the proper hair bands for baby: They sell these itsy-bitsy, teeny-weeny hair bands in packs at Target (see photo below). Go get some. These are the only size appropriate for fine, baby hair in a tiny little ponytail.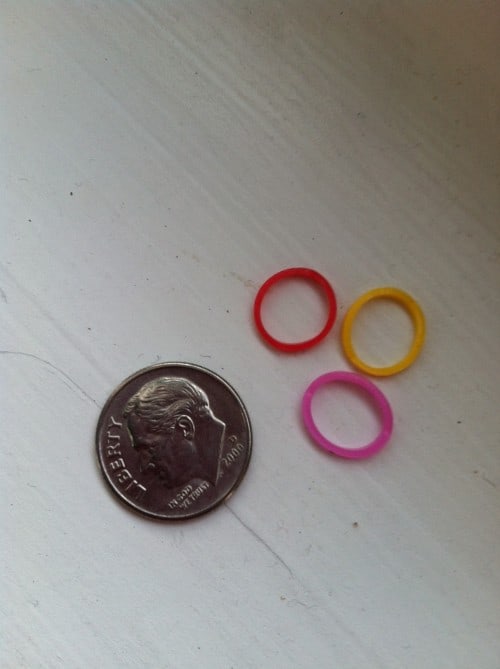 2. Distract her: Putting this rubber band in (you'll probably have to wrap it three times for a small pony in front like my daughter's in the photo below) is not going to be fun for you or baby. Give her a toy or mirror while you are changing her diaper—if you are putting the ponytail in front, lying down is the easiest position to have your child in.
3. Make it routine: I put my daughter's ponytail in every day (it's either that or cut her bangs, which I'm not quite prepared to do yet). She still is not wild about the process, but just like a diaper change or putting her shoes on, it's part of the routine and she accepts it.
4. Taking it out: Now comes the hard part: taking the rubber band out of baby's hair. Hold the ponytail at the base, underneath the rubberband. Next, gently pull band out of hair. Keep holding tightly to base so baby doesn't get her hair pulled. Rubberband stuck? Get the scissors and cut it out. In fact, if you really hate pulling that band out, cut it out every night. There are about a million of them in each pack and they are cheap!
5. Have fun with it! Once you've got that ponytail in, you can revisit your barrette collection and clip one to the ponytail for added flair (see below).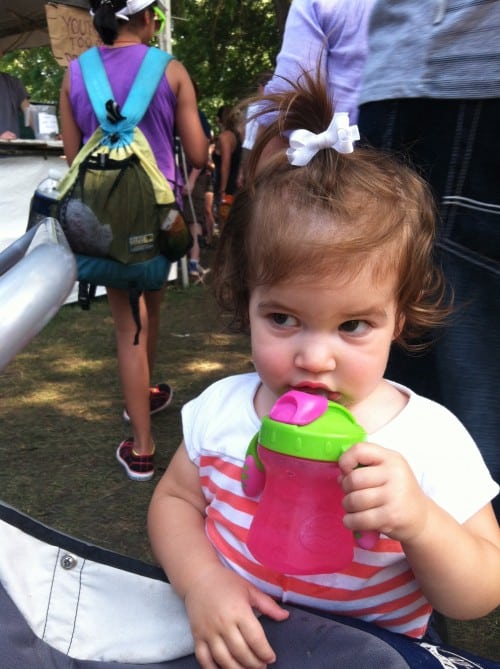 Still feel out of your depth? Take your daughter to the salon and get a good haircut with bangs, so her hair doesn't hang in her eyes. Good luck!
Is your daughter a bit older and ready for more sophisticated styles? Simply Real Mom Erin will be sharing her tips for easy styles for little girls and tweens in the upcoming weeks!