Decor and What to Wear~The Very Hungry Caterpillar Birthday Bash!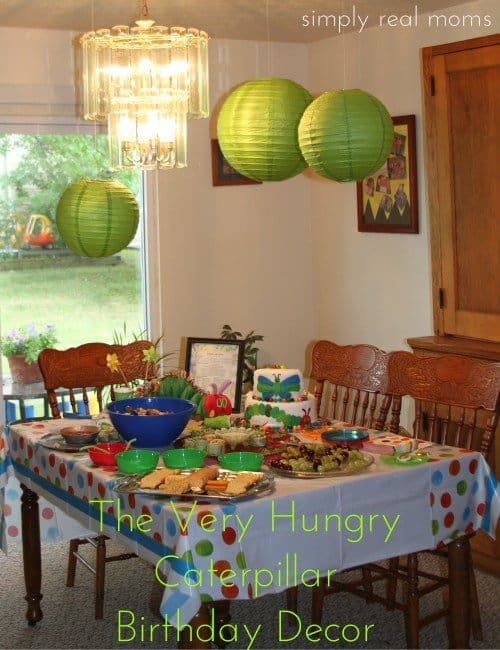 This is part 3 of a 3 part series on throwing an amazing Very Hungry Caterpillar birthday party. Read part one here. Read part 2 on food for the party here.
I had so much fun planning my son's Very Hungry Caterpillar birthday party for his first birthday. By far, my favorite thing at the party was the birthday photo banner. I also used balloons to make a hungry caterpillar, got an easy shirt from etsy, used lanterns to add a little fun, and even made a simple happy birthday banner.
I got scrapbook paper in red for the head, then different shades of green and yellow to make the body of the caterpillar. I traced a plate on each scrapbook page and used squiggle scissors to cut them, giving them a cuter effect. Then I made month labels for newborn-11 months, each with a picture of the caterpillar on it. For the 12th month, I placed a picture of the butterfly on it, signifying the caterpillar changing into a butterfly and my baby growing into a big boy!
Very Hungry Caterpillar Balloon Caterpillar
This might be the easiest decoration you have for the party! Simply buy one red balloon and four green balloons (I bought two different shades of green balloons). I made the eyes, nose and antenna on paper, then taped them to the balloons. If you can't get helium filled balloons, you could still make a balloon caterpillar by taping it to the wall, banister or even your food table on the edge!
Very Hungry Caterpillar Birthday Shirt
I got this adorable first birthday shirt from Celebration Kids Etsy! She shipped it right to my friend, who embroidered Christopher's name on the shirt. It was perfect for the party! When it came time to eat cake, he wore a green diaper and a bow tie.
Happy Birthday Banner
Using a Cricut, I cut out the letters to spell Happy Birthday Christopher. Then I used red, green and yellow (the colors of the caterpillar), to mount each letter.