Delicious Crispy Chicken Tacos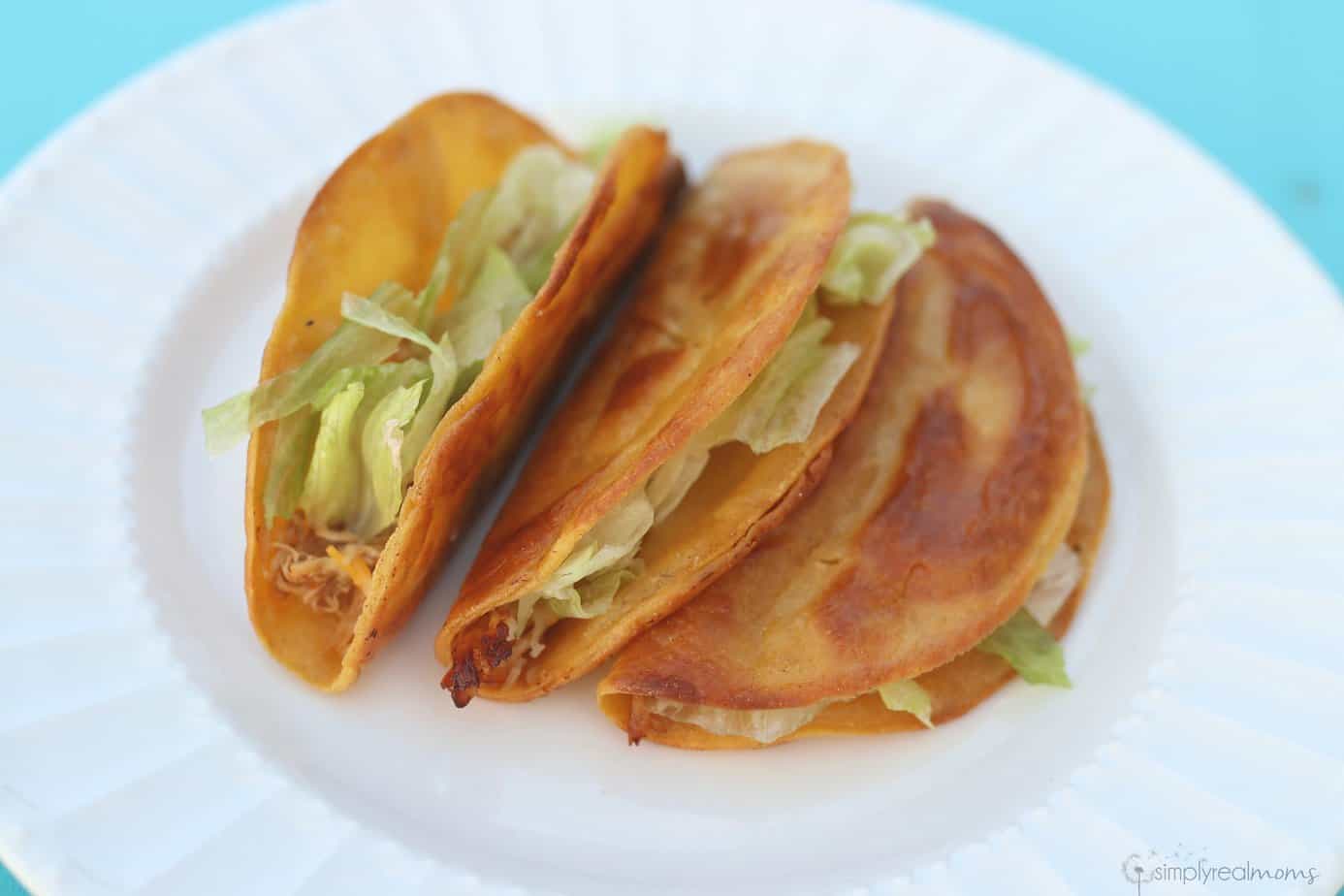 Taco night is like a holiday in our home…the kids get excited and friends ask to come over when they hear it's taco night.  We don't limit ourselves to Taco Tuesday, we have tacos whenever the craving hits and these tacos are the crowd pleasing favorite across the board! I always serve our tacos with my taqueria style rice and some sort of beans for the perfect taco night.
We cook the chicken all day so that it's juicy and tender and full of flavor and then we fry the tacos to perfection! The chicken is amazing and we use it in quesadillas and burrito bowls and to top salads but it's hands down my favorite in a crunchy taco. (Get the chicken recipe HERE)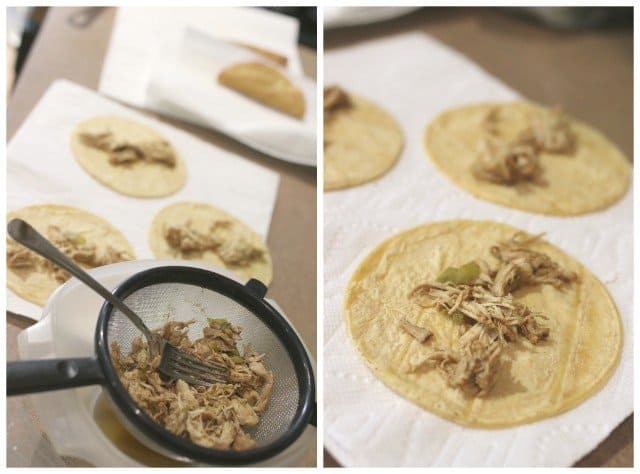 To make the tacos, I scoop some of the chicken into a mesh strainer to drain any excess juice. That extra juice is delicious but will cause the tacos to splatter in the hot oil. Heat a few corn tortillas wrapped in paper towels in the microwave, I do three at a time. Take a small amount of the chicken and place down the center of each of the corn tortillas.
Fold the tortillas over and place into the hot oil, using tongs to hold them in position until they hold their shape-about 2-3 seconds. If they open up flat (it happens), simply use your tongs to quickly fold it back over and hold in place until it stays.
Let the tacos cook until browned, about 2-3 minutes and flip over to cook the other side.
Once both sides are crispy and browned, pick up your tacos vertically to allow as much oil to drip out as possible, then place onto a pile of paper towels to catch the extra oil.
I like to take the extra step of patting the tacos with paper towels to get as much oil off as possible.
Next, while the tacos are still hot open them slightly and add shredded cheese on top of your chicken. This will result in deliciously melted cheese and it's just delightful.
Top each of the tacos as you like, my favorite combination is lettuce, sour cream and guacamole but we always have salsa, tomatoes, cotija cheese and beans out so everyone can construct their tacos as they want. These are just perfect as they are too! My youngest two prefer no toppings on theirs and they're perfectly yummy that way.

Mmmmmm!!! That delicious crunch!
Hope your family loves these as much as my family and friends do, try these out for your next taco night and you won't be disappointed!