Diaper Champ is the CHAMP
I have used EVERY diaper pail under the sun.
No really, I have.
I have likes and dislikes about each one, some have WAY more dislikes, but I want to tell you about the only one I would recommend to a mom-to-be.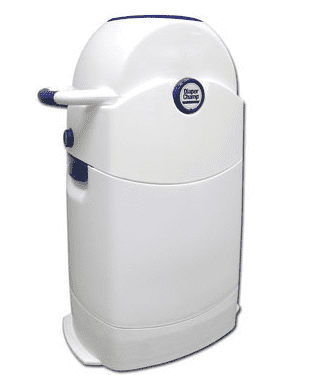 Seriously. Let me give you just a few reasons why I will never recommend another pail.
The Diaper Champ doesn't need a bag insert, like all the other diaper pails. They do sell inserts, but it is made so that you can totally use your own garbage/reusable bags!
It is SUPER easy to use. Unlike their competitors, I never needed to be shown how to use it. Really! Just toss a dirty grenade into the hole on top, then flip the handle over!
It's easy to take the diapers out. Just pop open the top and pull out your bag. No cutting, twisting or weird tying to figure out.
Smells are kept inside. Not sure what magic they use (and we also use disinfectant spray every time we change it) but we don't have smell issues.
I can't recommend this pail enough! I have actually called friends and family to tell them they had the wrong diaper pail on their registry. Nicely. And they always mention later how much they too love it!!!
Diaper Champ is made by Baby Trend, and you can find them at pretty much any store baby items are sold!
** I was not compensated in any way for this post! I personally own and love my Diaper Champ! **