DIY Baby Butt Balm-Safe for Cloth Diapers!
This post is brought to you by Amanda.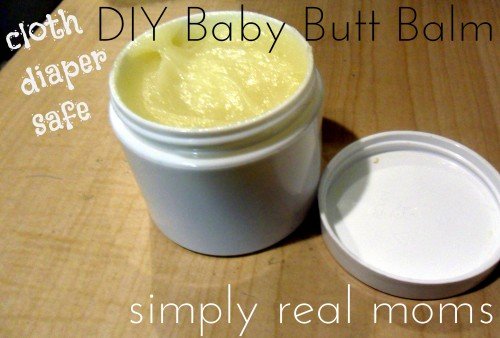 We come from a line of very sensitive skinned, allergy prone folks. We try to live as naturally as possible which got complicated when we began looking at products to use for our kids. I can't tell you how much the idea of paying $18 for a tiny tube of diaper cream makes me cringe. After buying a few different natural, cloth diaper safe brands of diaper cream I decided to look for a better solution.
Here is a quick, easy, cloth diaper safe, all natural diaper balm you can make yourself in about 30 minutes.
Ingredients:
1 oz Beeswax
1 C Organic Virgin Coconut Oil
20 drops each Lavender and Melaleuca Essential Oils
Directions:
Melt the beeswax and the coconut oil using a double boiler method over medium heat until combined.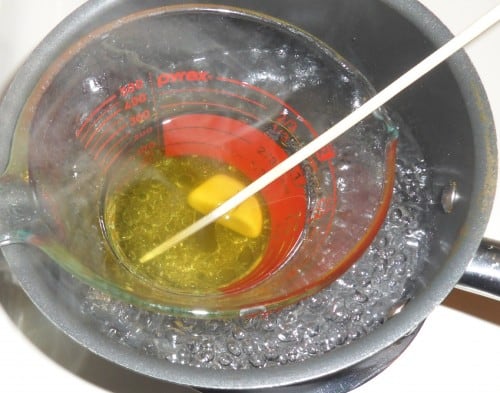 Remove from heat and add essential oils.
Pour into container of choice for use. When making this for my own use I just use a Pyrex dish and set it on the changing table.
It is as easy as that!
Why use these ingredients?
Coconut oil is antibacterial, anti-fungal, anti-inflammatory, anti-microbial/infection fighting, antioxidant, has no harmful or discomforting side effects and is non-toxic to humans and animals. It is soothing and nourishing to an angry baby butt and is safe for cloth diapers. This is where I get mine.
Beeswax is used to thicken the salve and form a nice breathable barrier on baby's bottom. Excellent emollient and support for moisture. It protects skin from damaging environmental factors and is anti-inflammatory, antibacterial, anti-allergenic, germicidal and has antioxidants. I buy my beeswax here.
Melaleuca (Tea Tree) Essential Oil: Is used for many things, in this recipe we are using it for its analgesic, antibacterial, antifungal, anti-infections, anti-inflammatory, antioxidant, antiseptic, and tissue regeneration properties.  It will soothe skin and promote healing as well as killing any bacterial, viral, fungal or yeast infection in the area.
Lavender Essential Oil: Lavender has many benefits, some of which are: analgesic (reduces pain), anti-fungal, antihistamine, anti-infectious, anti-inflammatory, antimicrobial, antiseptic, regenerative and sedative oil. It fights any infection in the diaper area and soothes damaged, sore, red and angry skin. It also encourages cellular regeneration and healing. The scent is calming to you and your child helping release emotional and physical tension associated with the rash.
Essential oil quality is very important as impure essential oils can beat best ineffective, at worst harmful to your health. Look for 100% Pure Therapeutic Grade Essential Oils. I get mine here or here.
This balm is very effective and easy to use. Use it at every diaper change as needed. It is cloth diaper safe and very soothing. We have used it on cuts, scrapes, burns, bruises, eczema, and just dry skin. I hope it helps you and your family as much as it has mine.
About Amanda:
Amanda is a mother of two energetic children. After dealing with a lot of health issues, including infertility, she decided to live a more clean and natural life style. Since making some simple lifestyle changes Amanda has had two successful pregnancies resulting in her two beautiful children. Her hobbies include going to the park with the kids, wildcrafting, herbalism,cloth diapering, gaming, re-enactment, reading, and other various nerdy things. Her healing journey can be followed on her website Natural Living Mamma.