DIY Easy Hostess Gift – Stenciled Tea Towels
Ever found yourself in need of a quick hostess gift for a last-minute party? This diy easy hostess gift is just the ticket. It took me less than 10 minutes to make and needed about 4-5 hours to dry.
Ever woke up and realized you had a party to attend that evening and you didn't have a hostess gift? Well I have just the thing for you!
These stenciled tea towels are so easy to make that I highly suggest you make several different styles and keep them on hand for "emergency" gifts. 🙂
DIY Easy Hostess Gift – How to Stencil Tea Towels:
You will need: 
Cotton flour sack tea towel (I love the ones from IKEA but these are nice too)
Stencil or cut-outs
Masking tape
Sponge
Double stick tape
Your tea towel needs to be prewashed and iron before starting. 
I have a paper stencil with evergreen trees on it. I was going to use the stencil and paint green trees on the towel, but as I'm punching out the little trees I had a better idea!
I used the masking tape to create clean, evenly spaced lines to paint between. Then I used the double stick tape to adhere the trees between the tape lines.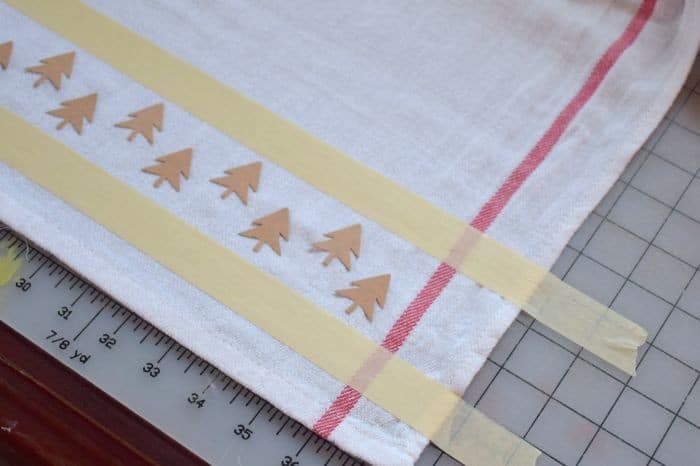 If you are using a stencil, I recommend using the double-stick tape and the masking tape to keep it in place as well. You want the edges to lie as close to the fabric as possible to prevent bleeding.
Another idea would be to use shaped stickers between your masking tape lines. Star or candy cane stickers would be one such example. You can place them perfectly even or stagger them a little the way I did.
Because these are paper cut-outs, the wet paint makes them want to curl up a little. I had to paint quickly and evenly.
I found that it worked best to get a good layer of paint on my sponge and just quickly dab one area good before moving to the next area.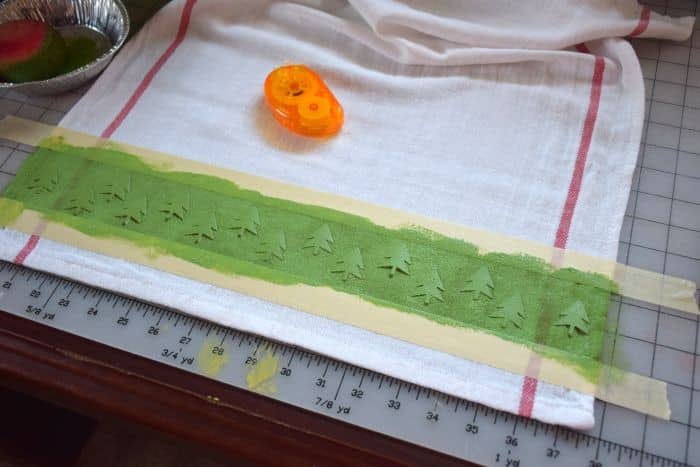 Let your paint dry for 5-10 minutes before carefully peeling up your stencil or stickers.
So pretty!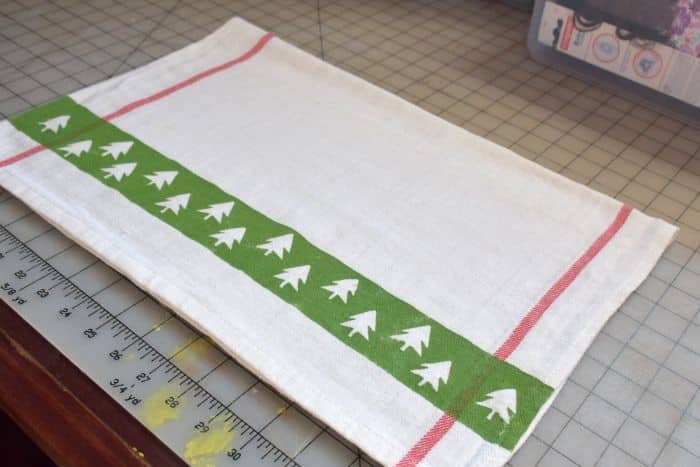 Let dry for 4-5 hours. This paint dries pretty quickly so it should be completely dry in 4 hours or so.
Fold it pretty, add a cooking utensil or anything else you want and tie a ribbon around the entire thing. Perfect!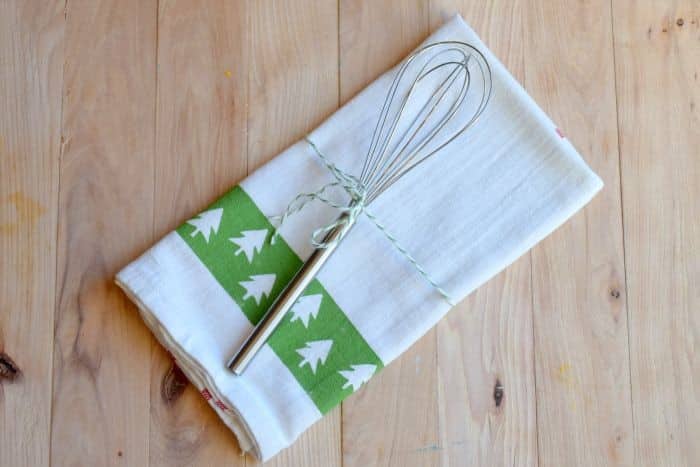 The multi-surface paint is great on fabric. It does leave the painted area stiff, so I suggest painting only a small area of the towel.
Would you enjoy receiving this DIY Easy Hostess Gift?