Every other year, my husbands entire family comes together for a joint vacation. The cousins play and the siblings catch up, a great time is had by all. It's a lot to put together, but my mother in law pulls it off flawlessly each time.
One way she keeps things running smoothly is she gives each of the families one night to cook dinner for the whole family and then host a fun activity after. This way, no one is left making dinner every single night and we get a great variety of different foods and activities! In the past, we've done things like games, art projects and movies and this year my husband and I wanted to host something fun and memorable.
We thought that building something together would be all of that, but it needed to be a project that was small and easy to take home long distance. After looking at hundreds of kid-friendly projects, we settled on making custom marshmallow shooters.
These were quite possibly the most fun to make and fairly simple to prepare to make for a group, so this would make a super fun party activity!
We designed the shooters that we wanted to make available to build and measured the amount of PVC pipe and fittings that we would need. We had originally designed shooters with many different fittings but to keep things a little more budget friendly we changed the designs to all use pipe, t's, elbows and caps only.
We were hoping to build around 16-18 shooters. At a hardware store, we bought 3 1/2″ PVC piping in 10 foot long pieces, and 30 each of the t's, elbows and caps. We finished our shopping with a PVC cutter, which cost only about $12 as a sprinkler accessory kit. All in for 18 shooters we spent about $50.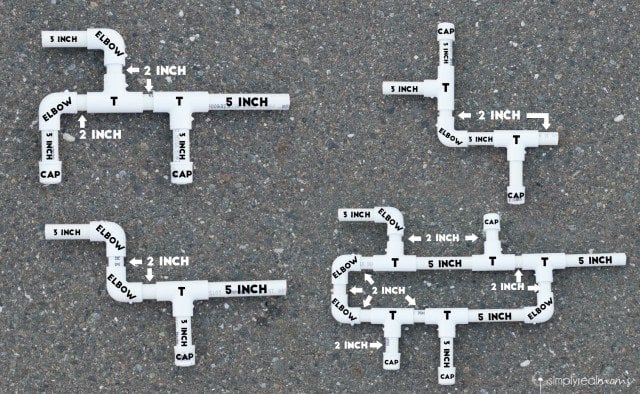 We cut the PVC pipe into 2 inch, 3 inch and 5 inch pieces with the cutter and placed each of the sizes and fittings into separate piles. We displayed the different designs we had come up with and let the kids go for it! Some of the kids got creative and even customized their shooter's designs.
Then we let them loose with the marshmallows!
To use them, simply put a marshmallow into the mouthpiece, then blow! 
They come out pretty fast and shoot rather far. Marshmallows did get stuck every once in a while, but nothing that taking apart the gun or flushing with hot water couldn't fix!
This activity was a hit with the kids. It was a hit with the DADS! A good time was had by all, and the kids were more than willing to clean up the mess in exchange for popsicles for dessert.
We hope your family has a great time building your own marshmallow shooters!